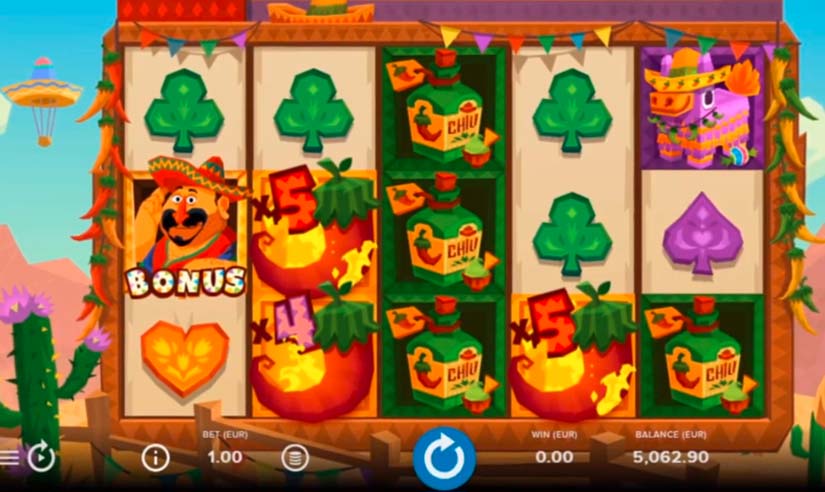 NetEnt are famous for creating some of the world's best loved slots such as Street Fighter 2 and Piggy Riches. Time after time they have demonstrated their capacity for developing excellent games, and Willy's Hot Chillies follows in this pattern. From the graphics to the gameplay, every element is in its place to make this a slot classic in the making.
The game unfolds across five reels, which stand three positions high. In each reel position you'll see a symbol, which tends to be either a chilli, a Mexican delight like a taco or hot sauce, or a suited card symbol. The suit symbols start things off, appearing most frequently to deliver lower value wins for combinations of three or more. When you get to the higher value object symbols, you're looking at the bigger payouts, as a multiple of your per spin bet.
The amount you win depends on the value of the symbols in the combination, and the number of symbols in that combination. This is then multiplied by your bet to determine how much you'll win from that spin. Betting starts from just £0.20 so it's accessible for those that want to play on a limited budget. But if you fancy going that bit spicier, you can do so, with bet ranges right up to £400.00 per spin.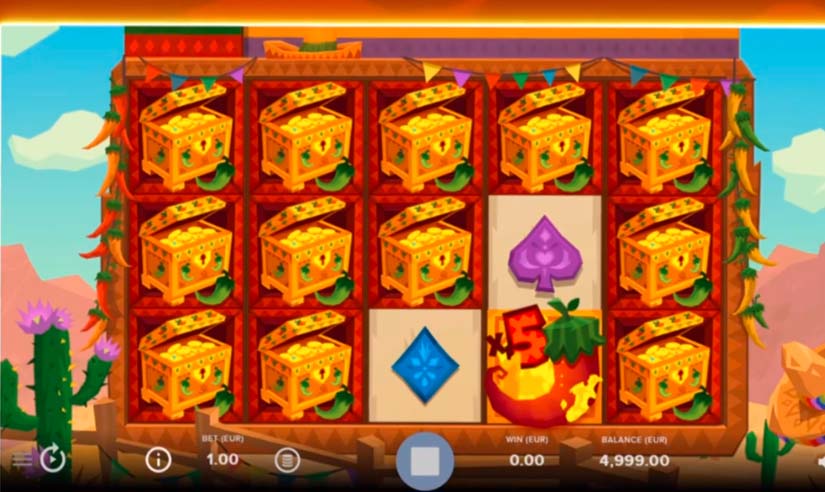 The maximum win stands at 3,000x, so it's easy to see how this adds up, especially when you're playing for higher stakes. Full details of all the symbols, their values and combination payouts are available in the game's paytable information screen.
The return to player percentage, or RTP, is one of the best ways to compare different slots. This tells you how much of the game's takings it pays out as prizes, and gives an indication as to where the best odds can be found in your slots play. In the case of Willy's Hot Chillies, it's 96.00%, a clear percentage point above the landmark 95.00% threshold.
This compares favourably to other similar slots games, so taking this slot for a spin is really a no brainer…if you think you can handle the heat.
Feature Symbols
The chilli symbols in Willy's Hot Chillies are the wilds, and you'll see these landing on your board throughout the game. They are presented with a number attached to them, ranging from 2x to 5x. This is the multiplier associated with that wild, and any combinations that run through it are applied to that multiplier. The wilds work in the usual way, substituting for any symbols you're missing. But with the added help of the extra multiplier, this means you can be in line for bigger wins than if you'd landed the combination in true numbers. And if you use two or more wilds in your combo, the multipliers are added together for an even bigger multiplier effect.
There's also the option to pick up Fire Pointers, which can trigger a host of other bonus features, such as extra spins, as well as an instant coin reward that can fall at any time as you spin through this game.
Bonuses & Jackpots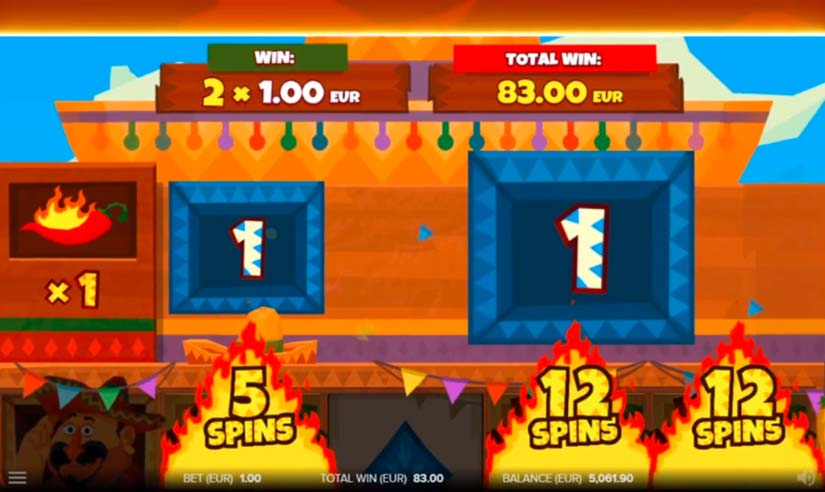 The bonus feature is triggered by three or more of the bonus symbols, which feature Willy himself. Here you get the opportunity to build up your Fire Pointers, to deliver the best possible feature wins for your game.
The Fire Pointers are your key to the bonus features in Willy's Hot Chillies. These are marked below the reels, and give you the opportunity to build up a balance of free spins, adding 3 at a time to your total as you collect symbols throughout the game. You also get the chance to collect multipliers to apply to your feature win, adding these together to create a larger total multiplier effect.
The maximum win from the base game is 3000x, with some big wins to be had during this bonus feature.
Play Willy's Hot Chillies Slot
Willy's Hot Chillies is yet another incredible slot from NetEnt, showing the extent of the creativity and skill with which they operate. The robust 3000x jackpot would be enticing enough on its own without the high RTP, the bonus rounds, or the wild multipliers. But when you combine these factors together, it's clear this is a slot for those that like their action extra spicey.
Try it out today and see if you can handle Willy's Hot Chillies at the best UK online casinos.