Dreamcatcher Casino Game is the flagship offering from live game specialists Evolution Gaming. Combining exciting gameplay and high quality streaming in an entertaining format, it's proven popular with live gaming fans for a number of years. Now it's back, better than ever, with Dreamcatcher Remade, bringing more big multiplier wins into your live gaming world.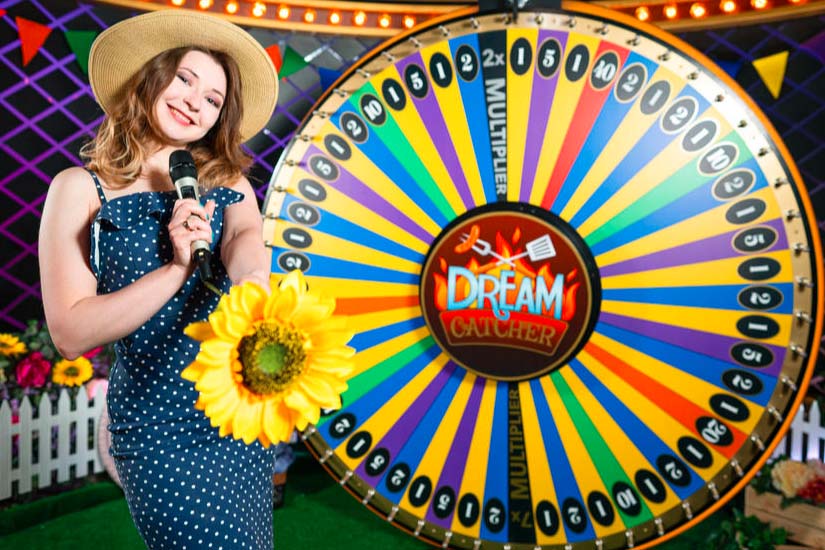 Best Dream Catcher Casinos
In similar fashion to Crazy Time, If you've played Dreamcatcher before, you'll know the drill, with every outcome decided on the spin of the Dreamcatcher wheel. For those that haven't, here's a quick rundown of what you can expect.
How To Play Dreamcatcher
Dreamcatcher was developed for the live stream format, so it's surprisingly simple to get involved. The game is run by a pair of hosts, who spin a large central wheel to determine – the Money Wheel, as it is known. Players place bets depending on where they think the wheel will land, with betting handled from an interface on screen as you watch the hosts run the game. When the wheel stops spinning, the segment to which the arrow points is the winner – and all those that have bet correctly are paid out.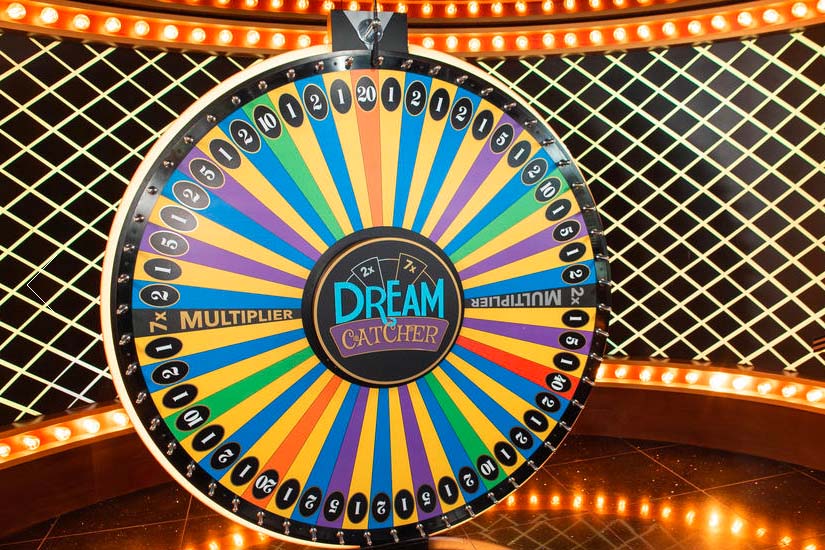 Bets are placed in accordance with a traffic light system, with green indicating players can place their bets. Amber is the warning that the betting window is about to close, before the red light means no more bets.
Different segments pay out at different rates, depending on how frequently they appear on the wheel. Yellow pays out at even money because there are 23 yellow segments on the wheel – by contrast there's just one red segment, which pays out at 40 to 1. The house edge varies by corresponding measures, with the optimum RTP at 96.58%. This puts Dreamcatcher favourably against even high paying slots, and when you factor in the added novelty and social factors, it's a more than competitive offer.
There are also multipliers on the wheel which can help you land bigger wins. This can multiply the payout of the next winning number by either 2x or 7x, depending on the segment you land, for even bigger bumper wins.
When a multiplier lands, all bets are locked in place and the wheel is spun again. The multiplier is applied to the payouts, which can make for some sizeable feature wins. Consecutive multiplier spins are combined, and in theory, there's no limit to the run of multipliers that can be in play, save for the maximum payout of £500,000.
Graphics & Interface
The game itself is great fun, and the hosts make it highly engaging. But the experience in Dreamcatcher Remastered is only as good as the software. Fortunately, the latest version makes this an almost seamless experience, every time you play.
The live feed is broadcast quality, robust and very secure. You are unlikely to experience interruptions in the feed or lost connections, which means a more reliable session, even compared to some other live games. The software interface has a quality feel too, and is intuitive to understand from your first spin of the wheel.
Moreover, the whole atmosphere in Dreamcatcher is infectious, and players find themselves caught up in the chance to land a life changing win. Luckily the game's betting structures support that possibility, with big potential returns nestled on that money wheel.
Play Dreamcatcher
Live casino gaming offers a much more sociable, and for some more enjoyable gaming format. Dreamcatcher is particularly well suited to live gaming, having been developed as a sort of game show-come-betting game. The upbeat hosts really add to the experience, but the wins speak for themselves. With a high RTP and some great jackpots on the line, the remastered version is everything the original was, but better.
Try it out for yourself – see if you can catch your dreams today with Dreamcatcher – available at UK online casinos.