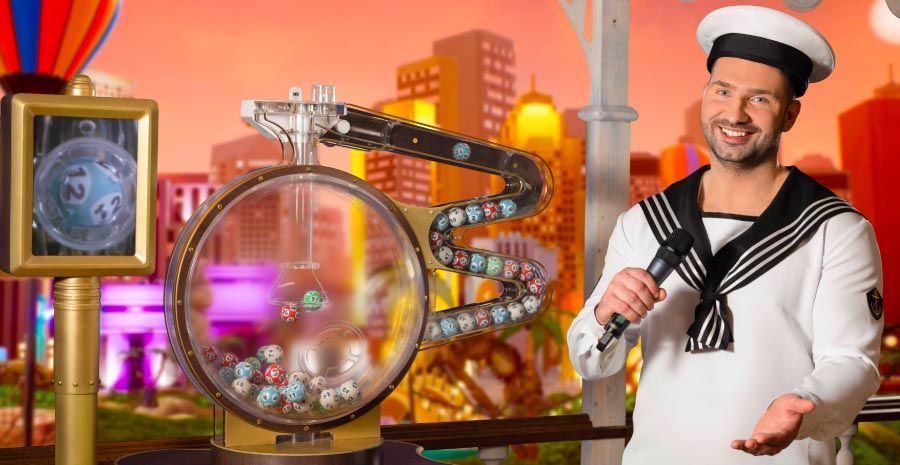 Evolution Gaming is back, adding to their popular series of live casino games that includes the likes of Crazy Time and Lightning Roulette. In addition to this, they also released Monopoly Live. This game quickly became one of their most popular titles to date, with this game being the sequel that punters around the world have been waiting for.
Monopoly Big Baller plays the same way as Bingo but also contains a few exciting features to keep players on their toes. Matching a line or full house will award players just like in a classic game of Bingo. However, random multipliers can enhance any potential winnings.
Featured Symbols
The main thing that players will be looking out for in Monopoly Big Baller is the numbers drawn by the large bingo machine, located in the middle of the studio. Punters will have the option to bet on up to 4 single cards during a round, alongside the two bonus cards, which will be mentioned later on.
After placing the desired bet, players will need to choose which type of card they would like for the upcoming round. The two options are free space cards or chance cards. Free space cards will mark the centre square, meaning that players need one less number in order to achieve certain matching combinations. Chance cards will add a random multiplier value to the central square.
During the game, additional free spaces can be granted, with the same being true for multipliers. There are three types of multipliers, number, line, and global. Number multipliers appear on one number only, and any matching combination that includes it will receive the boost. Line multipliers will award players with extra potential winnings for certain lines. Finally, global applies to any combination on the card!
Bonuses And Jackpots
Now for the aspect of the game that most players look forward to, the bonus mode! Should a player have an active bet on the 3 or 5 rolls card and all of those numbers are drawn, they will be taken to the bonus board. Like the original Monopoly Live, this will be a giant version of perhaps the most recognizable game board of all time!
The main premise of the bonus is for players to follow Mr. Monopoly around the board, as he picks up any multipliers. Each property will have a fixed value, which is collected throughout the round. Apart from properties, players can also be taken to jail, meaning that they must roll a double to be released.
There are also chance and community chests, which will incur a potential win, or a deduction of the multipliers collected so far. Income tax and supertax will reduce the potential winnings by 10% and 20%, respectively. Finally, if a double is rolled, an additional spin will be credited.
Play Monopoly Big Baller Live
For anyone that was a fan of the original Monopoly Live, this version offers a different way to play but with the same style of bonus. While each round can last longer with Monopoly Big Baller, the game itself certainly feels like it's being played at a much faster pace., with new balls being drawn at regular intervals!