Street Fighter 2 Slot: The World Warrior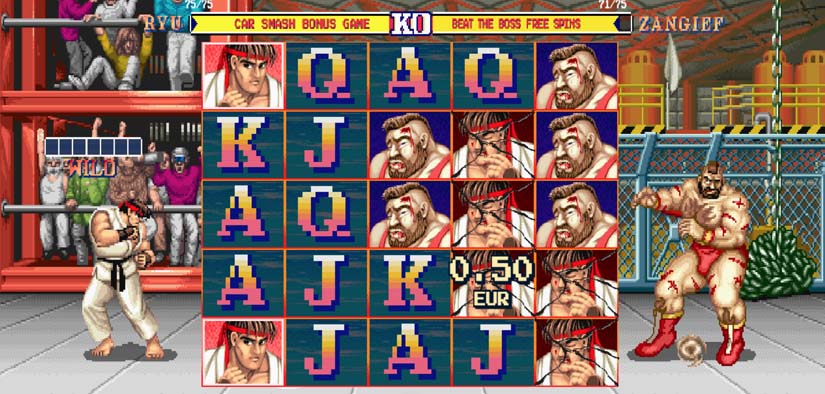 But it seems as though some thirty years on, Capcom has decided to bring back its' fighting classic in the form of the Street Fighter 2 Slot Machine, teasing afficionados with the same beloved characters, detestable bosses and glorious fighting graphics that we fell in love with all those years ago. But before we talk about how you can play Street Fighter 2 Slot, we wanted to take a step back in time and remind you about all the great characters you can find.
Street Fighter 2 Slot Main Game Characters
Ryu:
The main protagonist in the game, Ryu is a Japanese Karate master – as noted by the white gi he wears – and was introduced to the series in the original 1987 game. His bonds with Ken and Chun-Li show him as a likeable hero and his stage setting in the game pays homage to Sun Tzu's Art of War in his fūrinkazan (fast as the wind, quiet as the forest, daring as fire and immovable as the mountain). While he may seem simple and even submissive in his character, this helps to offset Ken's explosive personality and his inevitable journey to victory in the game is cemented by his mantra – Kono michi o susumu nomi / This is the path of my destiny. When you Play the Street Fighter Slot game – his aura is the same and alongside his famous 'Hadouken' move – there is even the chance to control his character much like the car smash-up in the original game.
Ken:
The Mr Hyde to Ryu's Dr Jekyll, Ken Masters dyed sleek blonde hair and red gi have been a stable addition to the Streetfighter universe since the very beginning. While he shares the same belief as Ryu in his value for honour and friendship, his alpha-male and dominant personality is the polar opposite – clearly noted by his catchphrase Itsu demo ii ze! Kakatte ki na / I'm ready for you, bring it on! In the Street Fighter 2 Slot Game, Ken is one of the main 8 characters on the reels and with 4 different bosses to face, perhaps the greatest homage to him is his role in the Streetfighter 2 Slot Bonus rounds.
E. Honda: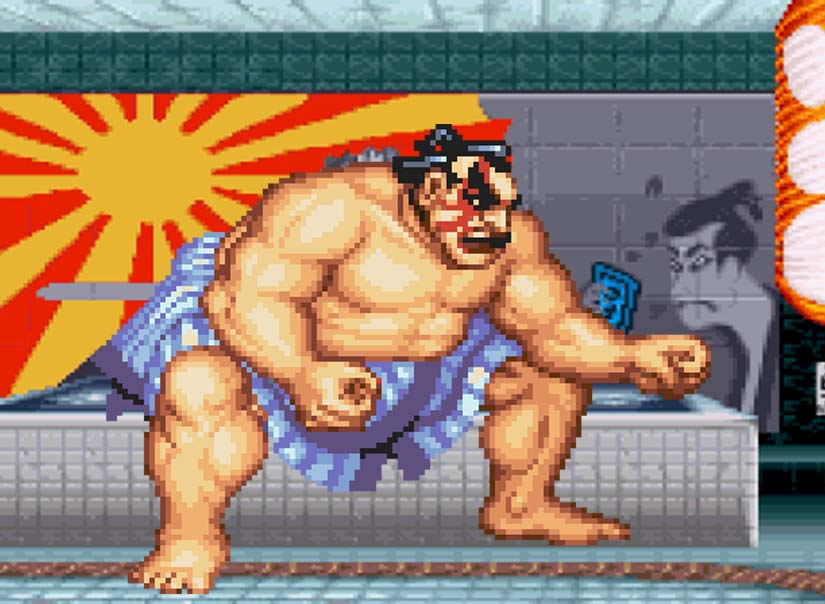 A sumo wrestler hailing from Japan, Edmond Honda's obese yet muscular frame clothed in a light blue mawashi has delighted many young fans since the outset. Ambitious in his determination to show people that sumo wrestlers deserve to share the stage, something he echoes in his chant, 'It's only natural that a Sumo should become the World's Strongest!', his honour and friendly nature shine through his fighting styles. With his 100-hand slap as his signature move, he has been an asset to the game since the beginning. In the Streetfighter Slot game, his iconic image and painted face will ensure that fans of the series are not disappointed.
Blanka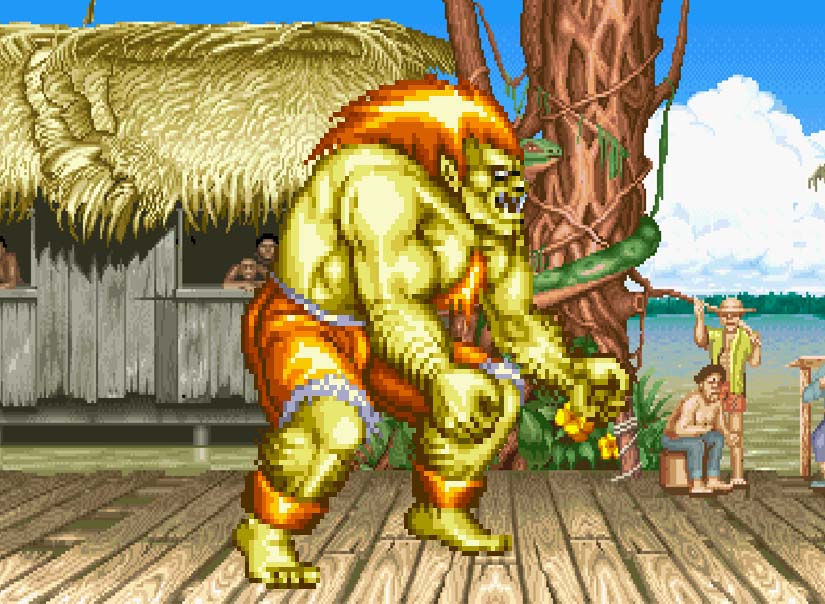 Feral in nature and green in colour, Blanka originates in the Brazilian jungle (or in the US-version gained his colour in a plane crash) and can produce electricity. While he may have scared many a player in the past, his untoward appearance of red hair and green skin actually masks a calm demeanour and at the end of the game he actually reunites with his mother and we learn his name was Jimmy. His put down 'Seeing you in action is a joke' couples well with his signature move of electrocuting people, and many players of the Street Fighter 2 game will remember the frustrations of being pinned in the corner of a stage trying to avoid it. In the Street Fighter 2 Online Slot, he shares the top RTP average of 96.08% and stands out from all the other characters with his vivid colouring, ensuring that no arcade-savvy gamers are left dismayed by his reincarnation here.
Zangief
The glorified Russian Hero, aka the 'Red Cyclone', was the epitome of machoism and weighing in at over 400lbs and standing 7ft tool meant he always stood out on the Street Fighter roster. His black beard, red cloak, mohawk and hairy shins are etched in the minds of every player while his fearless and tactical fighting styles, coupled with his motto 'Waga hagane no nikutai ni, shikaku-nashi / My iron body is invincible, so beware' meant he was a fan-favourite from the outset. In the Street Fighter 2 Game, he shares the highest 'player' RTP of 96.08% and his imagery further endorses both his brawn and his size.
Chun-Li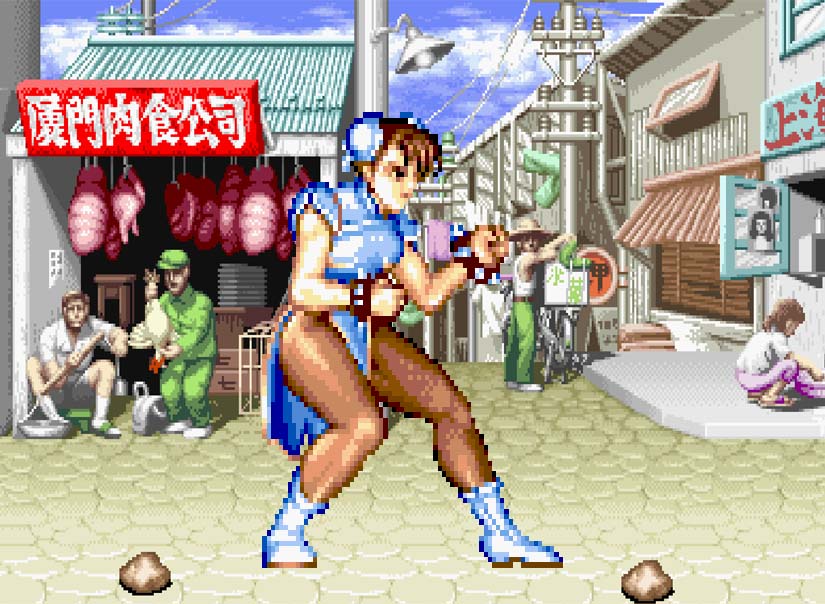 The number one female protagonist in the Street Fighter series, is both an Interpol office and expert kung-fu martial artist. Her blue qipao with gold detailing and spiked bracelets are infamous among players and her muscular physique ensured she never looked out of place with her male compatriots. Boasting 'I am the strongest woman in the world' to her opponents, her Spinning Bird Kick and Lightning Leg Kick moves ensured that she was one of the fiercest fighters in the game. Not much has changed in the Street Fighter 2 Slot Machine, where her joint-first 96.08% return to player and striking graphics ensure she remains as intimidating and impressive as her spot in the original games.
Dhalsim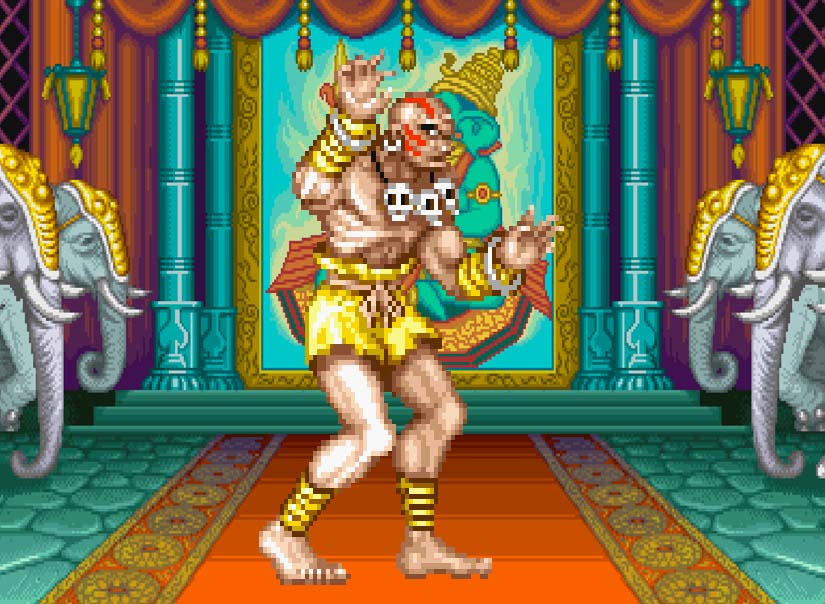 A Hindi mystical yogi with pupil-less white eyes and contortionist abilities, his altruistic beliefs and pacifist nature made him a fan-favourite, rising to number 5 in Japan's 'Gamest Magazine' of best characters of 1991. Dhalsim's character feels constantly at odds with itself, best described by two of his commentaries 'I'm not very fond of conflict' vs 'I will meditate and destroy you'; yet his torn yellow clothing and skull-necklace, reminiscent of Kapalika's (who meditated on corpses and supposedly practiced cannibalism' help him fit in amongst a group of hardcore fighters. His Yoga Fire and Floating Head Drill are some of his most notable moves, and whilst you don't get to see these when you play the Street Fighter 2 Slot Game, his stoicism and hardcore stare are well-depicted in the games striking graphics.
Guile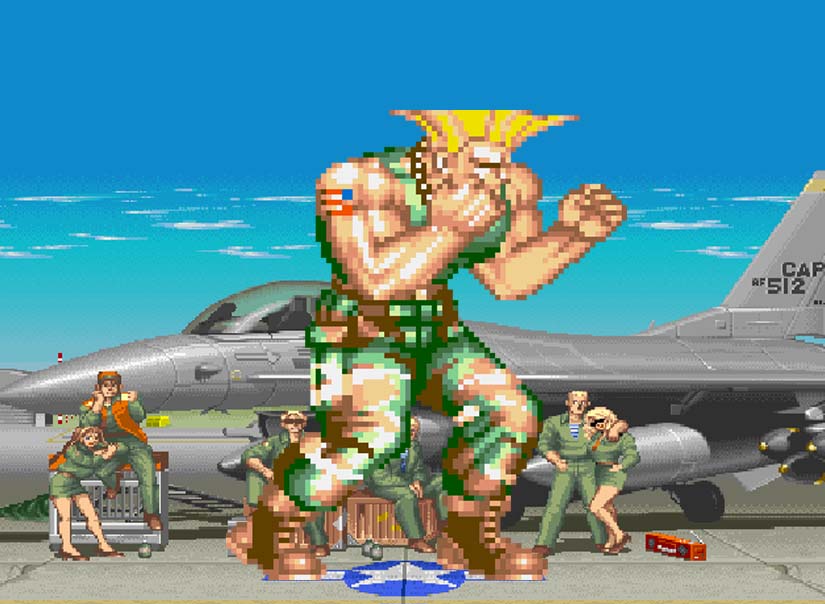 A United States Air Force major who is as Americanised at it gets, was rumoured to have been brought into the series to appeal to the US audience. His flattop haircut and endless testosterone stand out from the otherwise predominantly Asian character set, while his ego and statements such as 'Are you man enough to fight with me?' or 'Gotaku wai, hajimeyo / No need for talk, let's do this' can be as alluring as they can off-putting to players. Adorned in US flag tattoos and military attire, his Sonic Boom move and Somersault kicks inflicted heavy damage on almost every character he fought against. When you play the StreetFighter Slot Game, there's no loss of American pride or change of attitude here and despite the fact that most Americans won't get to join in thanks to the gambling laws, they can be proud that the Net Ent featurette stays true to his character and keeps patriotism flying high.
Street Fighter 2 Slot Boss Characters
Balrog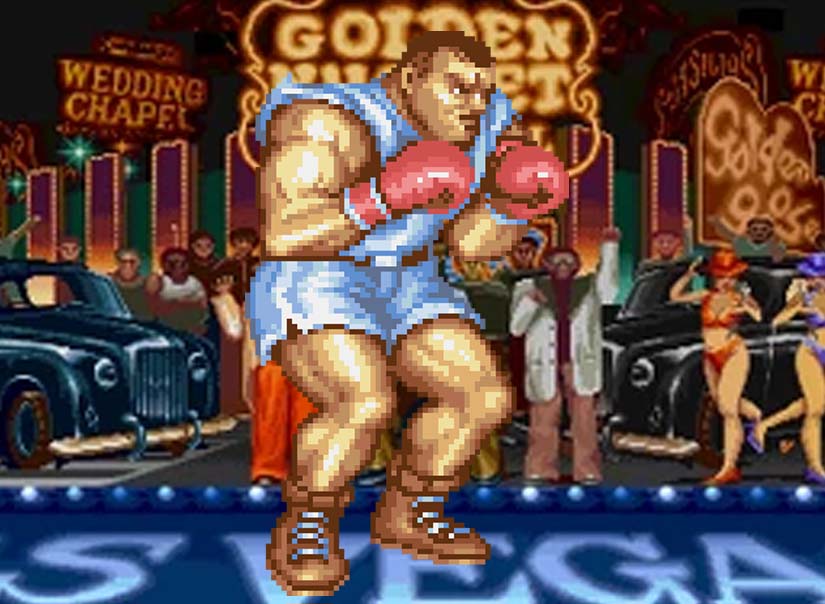 A tall, muscular African-American boxer, Balrog's hard stare and greedy nature make him the perfect first-boss. Non-playable in the original game and quite clearly based on the image of Mike Tyson, from his short haircut to his boxing shorts and boots – and the fact that in Japan this character is called M. Bison rather than Balrog – he is vicious pugilist and sadistic character who always looks to cheat to gain the upper-hand. While the character was always benchmarked as a unforgiving 'bad guy' – heavily measured in his comments – from 'Get up, you wimp!' to 'I'll make you regret that you were ever born, you two bit chump', his Buffalo Headbutt and Alternating Uppercuts meant that most players were able to pass his round without too much sweat. In the Street Fighter Slot version, he is the first of four playable boss bonus levels and easily identifiable by the attention to detail paid in the graphics and design.
Vega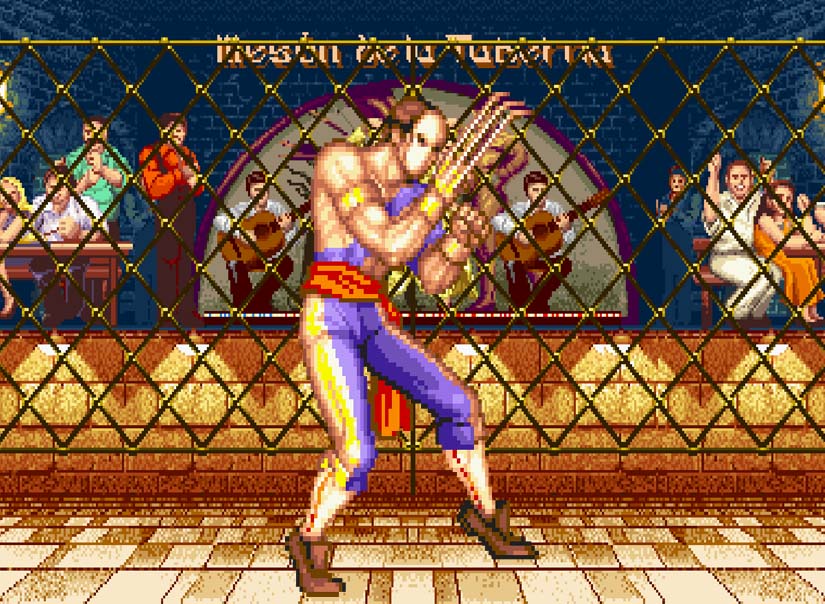 This narcissistic Spanish ninja is as sadistic to others as he is vain in himself. Unmatched in his ego and spouting lines like 'Handsome fighters never lose battles' and 'Waga bi ni yoishireruga ii / Let my beauty intoxicate you' – his arrogance helps to make him a worthy boss for the game. Wearing a mask his fights, not to hide his identity but to protect his face from getting marked, his Aerial Claw Slice and Fake Wall Dive proved difficult for players to overcome, often having to wait until he used his sweeping move to capitalise on him. Much like his character in the main game, the Street Fighter 2 Slot Game kept him as a boss and uses him in the second-stage of the bonus round for those who were fortunate enough to defeat Balrog.
Sagat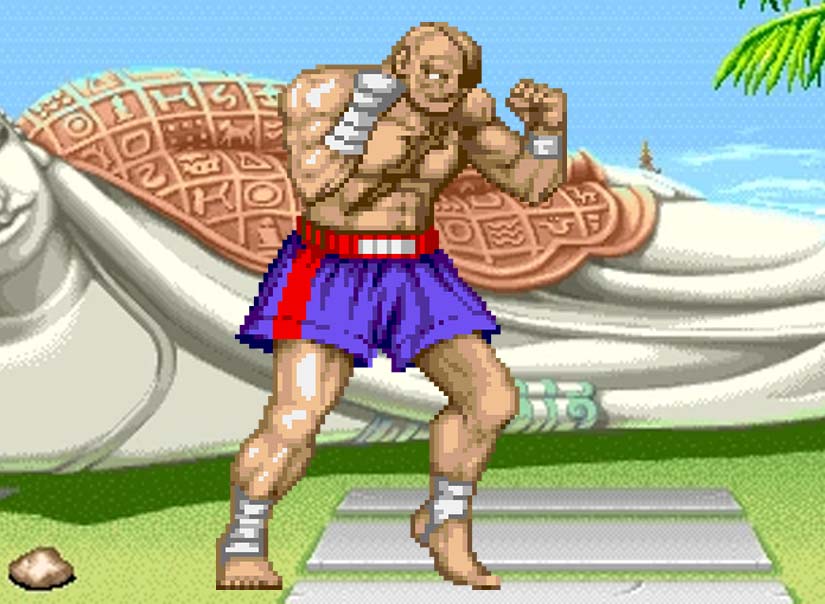 This towering Muay Thai practitioner stands at 7ft 5in and unlike the two previous bosses, is a proud fighter rather than an egotistical sadist. With a black eye patch and a huge scar down his chest from his loss in the first game to Ryu, his bald head and incredible height make him a daunting opponent, topped only by Bison in difficulty level. With his signature 'Tiger Knee' move and philosophical statement 'A strong fighter is not one who always wins, but one who stands after defeat', he has the most redeemable qualities of all the Street Fighter 2 Bosses. In the slot game, his size is hard to show but his eye patch and hulking frame are instantly identifiable, while he fits as the third boss of four in the Street Fighter 2 Slot Bonus Rounds.
M. Bison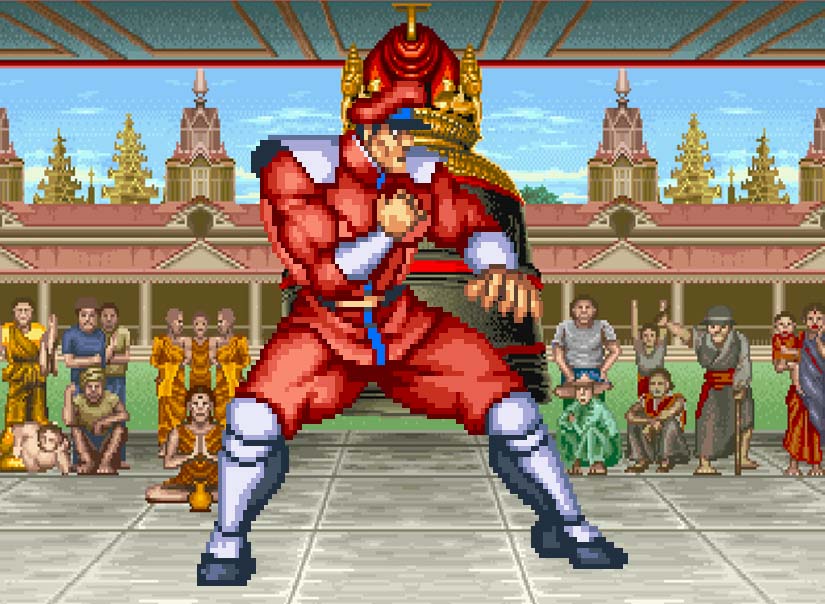 The primary antagonist in the series, this megalomaniac dictator dresses in a Red military uniform with silver shoulder pads and cape, is reminiscent of an SS office in the Nazi regime. Set on world domination and borderline psychopathic, phrases like 'Get lost, you can't compare with my powers' and his hardened stare make him a perfect final boss for players to face. His Psycho Crusher move can cause devastating damage and anyone who attempted to beat him when playing the game, often had to try a few times before the succeeded. Unrevealed to only those who get to the final bonus round in the Street Fighter Slot Game, his whopping 10x multiplier offers players the chance to win big and the dramatics of his villainous nature aren't lost in the gameplay and scene settings which fans will be pleased to hear.
Street Fighter 2 Slot Machine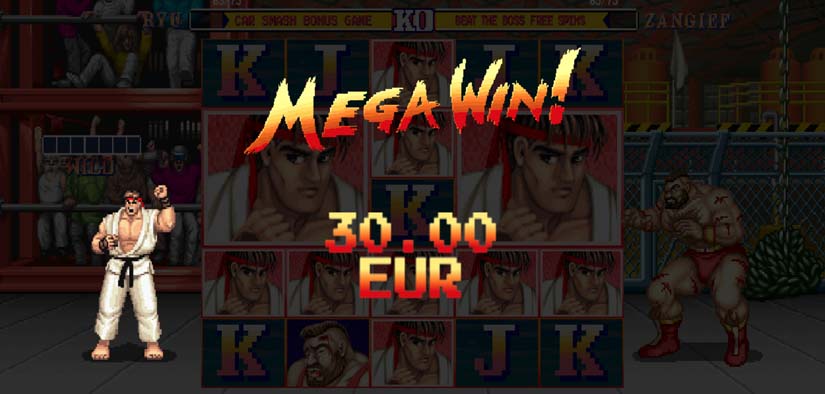 The slot machine itself is a 5-Reel, 5-Row slot machine by NetEnt and allows users to bet between £0.20 and £700. While it doesn't offer a Jackpot feature, it's multi-level Bonus round and Car Smash Bonus Game are more than enough to keep players on their toes. The game features Cluster Paylines and depending on which character you pick, you will get different modifiers in Wilds, RTP and win volatility.
Ryu – 3 Wild Symbols on the same row
Ken – 1 or 5 Wild Symbols on the same row
E. Honda – 3 Wild Symbols on the same reel
Blanka – 1 or 5 Wild Symbols on the same reel
Guile – 2 Wild Symbols across 2 vertical stacks
Zangief – 2 Wild Symbols across 2 horizontal stacks
Chun-Li – 2 or 7 Wild Symbols placed randomly
Dhalsim – 3 or 4 Wild Symbols placed randomly
Each round is depicted like a battle against another player, where the aim is to achieve a streak of wins to fill the Wild Gauge with high-paying symbols so you can activate your characters signature features and defeat your opponent. When you manage to do this, you enter the Street Fighter 2 Slot Bonus Game which is a 4-level fight scenario against the various bosses. As you progress through the bonus levels, the multipliers increase:
Balrog – x2 Win Multiplier
Vega – x3 Win Multiplier
Sagat – x5 Win Multiplier
M. Bison – x10 Win Multiplier
If, unfortunately, you lose the round, there is a chance to activate the Street Fighter 2 Slot Car Smash Game where you can win between 5x to 15x your stake.
What is the Street Fighter 2 Slot RTP
Depending on which of the eight featured characters you choose to play as, not only does your modifier change, but the Return to Player values are affected:

Ryu – 96.02% RTP
Ken – 96.06% RTP
E. Honda – 96.05% RTP
Blanka – 96.08% RTP
Guile – 96.04% RTP
Zangief – 96.08% RTP
Chun-Li – 96.08% RTP
Dhalsim – 96.04% RTP
While the margins may seem a lot, they are deviated based on the volatility of the slot and the different modifiers that each of the characters have been assigned from the outset. Due to these almost marginal changes, with many players not planning to stake enough to truly offset their losses and justify their win rates, we assume that the Street Fighter 2 Slot RTP will be just a side-note against the true sense of nostalgia and wild modifiers available when players choose their favourite characters.
Conclusion
Capcom and NetEnt can be proud of this arcade-inspired slot game. Staying true to the script and keeping all the main beloved characters and abhorrent bosses, the Street Fighter Slot Machine helps users recapture their child hoods and pays homage to one of the greatest arcade fighting games of all time. The choice of characters and different bonus stages will keep users coming back for more and with the chance to win huge sums of cash and to try it out in a StreetFighter 2 Slot Free Play mode – players both young and old will no doubt list this as one of their all-time favourites in years to come.