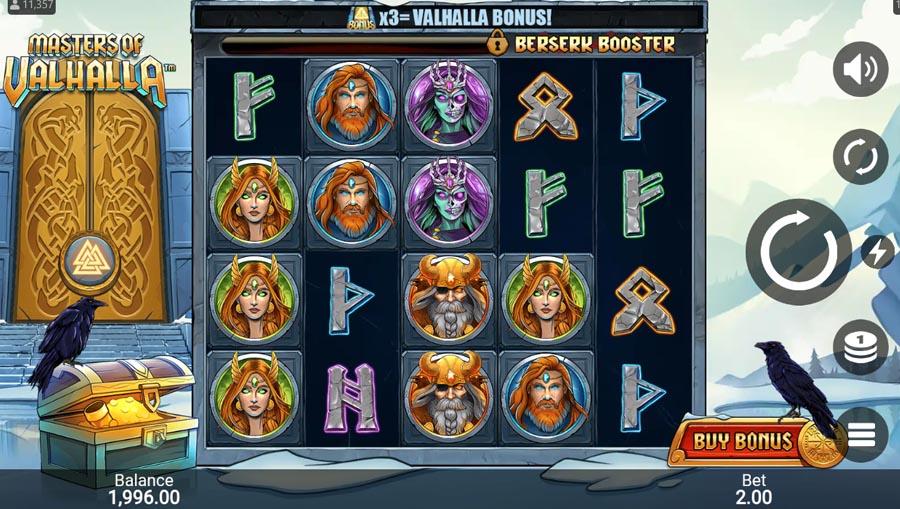 While Valhalla may conjure up thoughts about movies or even Norse Mythology for some people, in this instance, it refers to the setting of this unique slot. Valhalla is thought to be a place of rest for Viking soldiers that were tragically lost in battle, with the door to the left of this slot representing exactly that! There are also two ravens, one of which is perched atop a treasure chest, perhaps guarding the treasures within.
This game was produced by Snowborn Games, who have created a variety of different online slots in the past. Some of these include the likes of Cats of the Caribbean and Legend of the Sword, both of which contain a whole host of different features. Masters of Valhalla is no different in this sense, containing many bonus modes that will be touched on a little later in this review!
Featured Symbols 
Norse symbols are the first icons within the Masters of Valhalla game. These are the least desirable, but they do offer a nice twist on the standard 10, J, Q, K, and A icons that are seen in most online slots.
Next up from here is a selection of Gods and Goddesses, also from Norse Mythology. There are 4 in total, each of which has a different main colour theme. Purple, blue, green, and red characters can be found, with five matching symbols awarding 2x, 2x, 2.4x, and 3x the bet size, respectively.
There are also four different wild symbols, which match the colours of the aforementioned God and Goddess icons. The final symbol within Masters of Valhalla is the scatter symbol which is displayed as a golden gate!
Bonuses And Jackpots
As previously mentioned, Snowborn Games are known for including a variety of different features and bonuses into their slots. In Masters of Valhalla, there are 3 in total, with the first being known as Wild Gold Respins. This mode has the chance to activate if a wild becomes part of any matching combination. One additional spin will be granted, with anywhere from 1 to 19 extra wilds being added across the reels. All God symbols will also transform into the same one, depending on which colour wild triggered the bonus.
Next up is the main feature, known as the Valhalla bonus, which is triggered when the golden gate scatter symbol lands across reels 1, 3, and 5. This mode contains the popular respin mechanic, and players will start with three lives. If a symbol lands on the board, the number of lives will reset. Each icon that appears will be linked to a different multiplier, which will be applied to the bet size and awarded at the end of the bonus mode.
Symbols within this round include wooden shields and golden shields, which can award 1-9x and 10-50x, respectively. Thor has a value of 1-9x and adds an additional row. Freya contains a value that will be applied to all icons during that spin and all spins in the future. Next is Hugin & Munin, which will use a fixed multiplier to all existing symbols on the board already.
Odin has the same ability as Hugin & Munin; however, it will be activated at the end of every spin in the future too. Garmr has a multiplier value of its own, before collecting all of the existing ones in play. Finally, the Hel symbol will collect all the existing values for each remaining spin.
The last bonus within Masters of Valhalla is Berserk Booster. Whenever a scatter symbol appears on reels 1 and 3, but not 5, progress will be added to the berserk bar. Once this is full, the next Valhalla Bonus will see players start with 4 lives instead of 3.
Play Masters of Valhalla Slot
With a wide range of features, it's clear that Masters of Valhalla has a lot to offer. Besides the gameplay itself, the graphics are highly detailed, and all of the animations are incredibly smooth. Masters of Valhalla also stays true to the Nordic theme, with virtually all elements of the game being kept consistent.