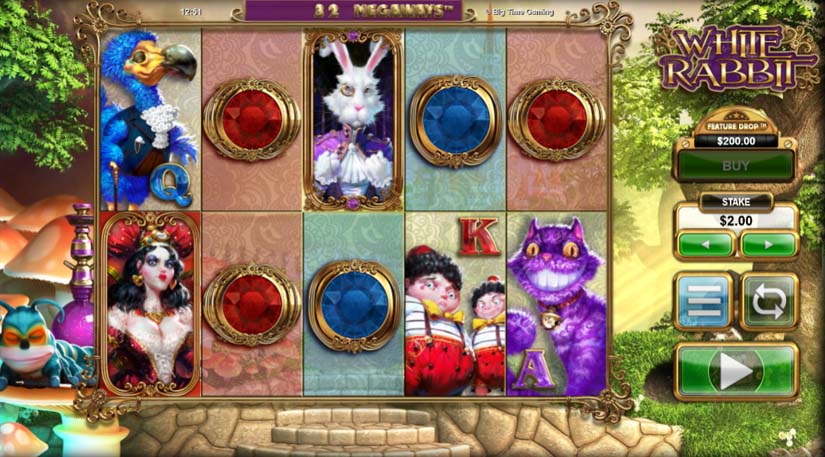 Lewis Carroll probably never imagined that his literary creations would one day spawn an entire genre of slots. With Alice's Adventures in Wonderland, that is exactly what has happened, with several different slots games going on to take on elements of the story. It's easy to see why developers have picked this as inspiration, with its colourful characters and theme elements. In the case of White Rabbit by Big Time Gaming, it's inspired one of the leading slots in the BTG stable, adored by fans of slots and the literary original in equal measure.
White Rabbit is of course based on the white rabbit from the novel, as will become immediately apparent from the graphics, if not the slot's title. He's joined on reels that look like something from a high end video game, deploying some of the best visuals we've ever seen in any slots game.
The game is set up across six reels, which is a bit of an adjustment for players not used to this kind of format. Most slots have five reels, with each of a consistent height – in the case of White Rabbit it's six reels of varying heights, which introduces new dynamics to the board. As a result of the board structure, there are some 16807 paylines, or ways to win. Line up combinations of three or more matching symbols on any of these payline ways and you'll walk away with a winner.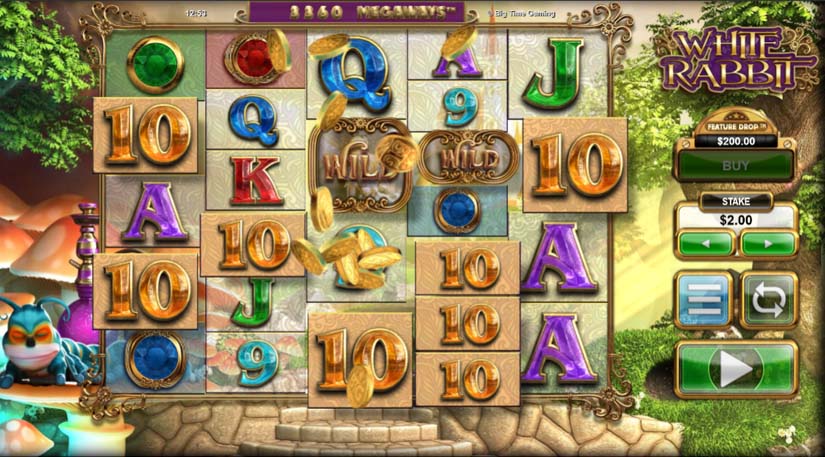 Betting gets underway from a mere £0.20 per spin, ranging right up to £40.00 per spin. The amount you bet determines the size of your prize, so it's worth it to land combinations at bigger per spin amounts where possible. The main game jackpot comes in at 25x, which is decent when you factor in the larger per spin bet amounts – not to mention the wins available during the bonus features.
White Rabbit is often cited as one of the highest paying slots games around, with its RTP ranging from 97.39% at worst, through to 97.72%. This is ultra high, meaning the house edge is as low as you're going to find basically anywhere else. While this won't guarantee you're going to win any more during your session, it does mean the odds are more in your favour than with other slots games.
In addition to the main game symbols, there are also several additional bonus features which can help you on your way to the black during your spinning session.
Feature Symbols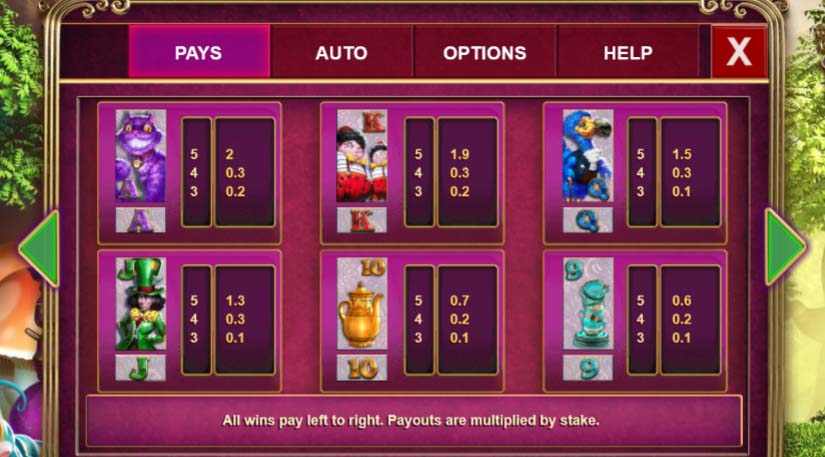 The wild symbol in White Rabbit is Alice, which appears on the internal reels 2-5 only. This acts in the normal way by substituting for missing symbols, helping you complete or extend paylines whenever she falls in view. Note that in this slot, Alice appears stacked over a number of reels. The exceptions to the rule are the scatter symbols and any Feature Drop symbols, which won't be substituted by the wild.
There are two types of scatter symbols, the White Rabbit and the cupcake symbols respectively, which are responsible for triggering some of the game's added bonus features.
White Rabbit Slot Bonuses & Jackpots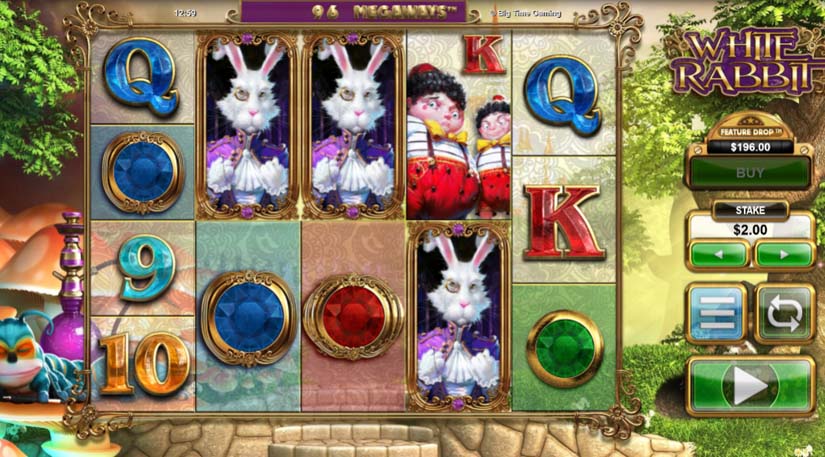 Landing three of the White Rabbit symbols triggers the main game bonus round, a free spins feature where players can pick up some huge feature wins. This is also where the cupcake symbols come into their own: land these during the free spins round and you'll split their position into two randomly chosen symbols, giving you more chances to win with every cupcake that lands.
The free spins begin immediately after your triggering spin, with fifteen free spins initially. It is also possible to increase the number of free spins available during the round, and players report hitting their stride with a lucky streak, where building up bigger wins becomes possible.
There's also a random caterpillar wilds feature, throwing more wild symbols onto the board at random intervals.
Play White Rabbit Slot Game
This Alice in Wonderland-themed slots game couples strong design with some intriguing gameplay features. Whether it's your first spin or you are a returning player, there's plenty of action here to keep any slots fan going.
Disappear through the looking glass and try this slot out for yourself today.