But just in case you've never heard of Power Reels before, you might think that the grid with eight reels and six rows looks overly big – at first. And you might be shocked by the relatively few paylines in comparison with this huge slab of a grid, just 30 exist here, and they zig-zag their ways across the reels in typical Red Tiger fashion. Visually, the developers have done well to leave room to create a mining atmosphere despite the grid's enormous presence. In the background, you'll be able to see pickaxes, lanterns, sparkling mining finds and train tracks. The greatness in the game is not in the visuals, however, so don't expect anything trailblazing when it comes to mining-themed slot games. But one nice touch is the characters added to the game, which inject some more personality and fun to the slot arena.
Like other Power Reels slots, the title targets slot gamers who are causal players looking to have some fun and a laugh rather than gambling with the highest stakes. You can wager between 10p and £80 per spin. The game boasts a medium volatility, and the default RTP is equivalent to the market at 95.75%. The biggest win available on the Treasure Mine Power Reels slot is x1,172, which is far from the best but nothing to scoff at. You can play Treasure Mine Power Reels slot on any sized device from smartphone to desktop.
But would you want to? Find out in the rest of our Treasure Mine Power Reels slot review.
Treasure Mine Paytable Symbols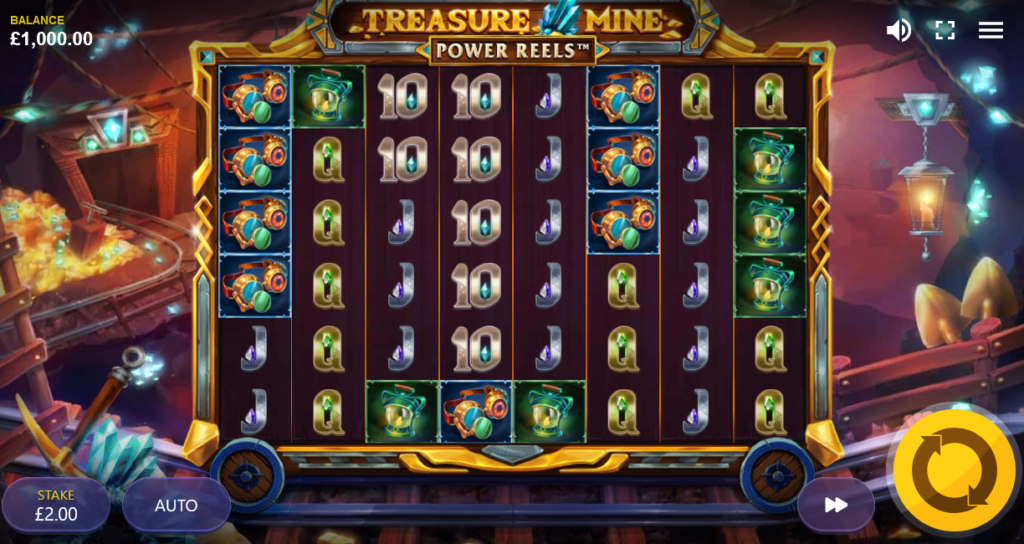 To generate a cash prize, you must match at least three symbols from the leftmost reel across a zig-zagging payline. The lowest value symbols in Treasure Mine Power Reels are the standard card symbols, this time ranging from 10 to Ace. The slot's premium symbols include a shimmering green lantern, a device that resembles a type of steampunk, a mining helmet with a glittering crystal on top as a light source and a Mjolnir type hammer. If you manage to land eight matching premiums across a fixed payline, you'll win at between x12.8 to x25.6 your bet.
There's more than one Wild symbol in Treasure Mine Power Reels. There are standard Wilds that fit a single space on the grid and substitute for any of the low value or premium paytable symbols. And if you manage to land Wilds across a payline, you can win up to x30 your wager. The other Wild symbols are three different special Wilds, which we've covered below in the bonuses section of our Treasure Mine Power Reels slot review.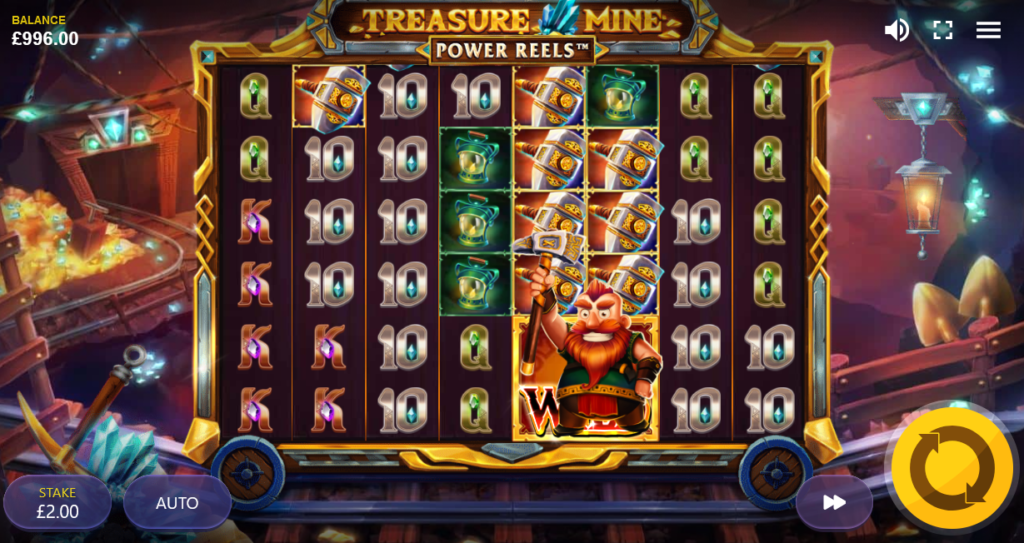 Treasure Mine Power Reels Bonuses
The Treasure Mine Power Reels slot features centre around three character Wilds and the different ways each of these Wilds affect one another. There are three character Wilds in total, namely a Miner, Dragon and a Diamond. It's important to note that any of these Wilds can only come into view once per spin, but you can land a combination of the character Wilds within a single spin. When multiple character Wilds come into view from one spin, they appear on a 2×2 tile instead of taking up a single space.
All three character Wilds can also substitute for symbols from the paytable, meaning there are four Wilds that can help create winning paylines. But the three character Wilds are most beneficial when they land together.
This is how things can play out:
1. If a Miner and Dragon Wild are in play, the Dragon aims fire at the Miner, forcing the Miner to run away. He'll run around the grid leaving a trail of regular Wilds in his wake. These regular Wilds will guarantee a win.
2. If the Miner and the Diamon land together, the Miner starts chipping away at the Diamond Wild with his hammer. A cash prize is revealed, which is then given to the gamer.
3. If a Diamond and Dragon Wild comes into view, the Dragon will again shoot off fire at the other Wild. This breaks the Diamond Wild up into smaller pieces of diamonds, which fly off and land on the grid at random.
But what happens if all three character Wilds come into play at once? We're glad you asked…
If all character Wilds are in play, the Dragon blasts fire towards the diamond, sending smaller diamond Wilds into random positions on the grid. Afterwards, the Miner Wild charges around the grid and mines each diamond to award the player multiple cash prizes.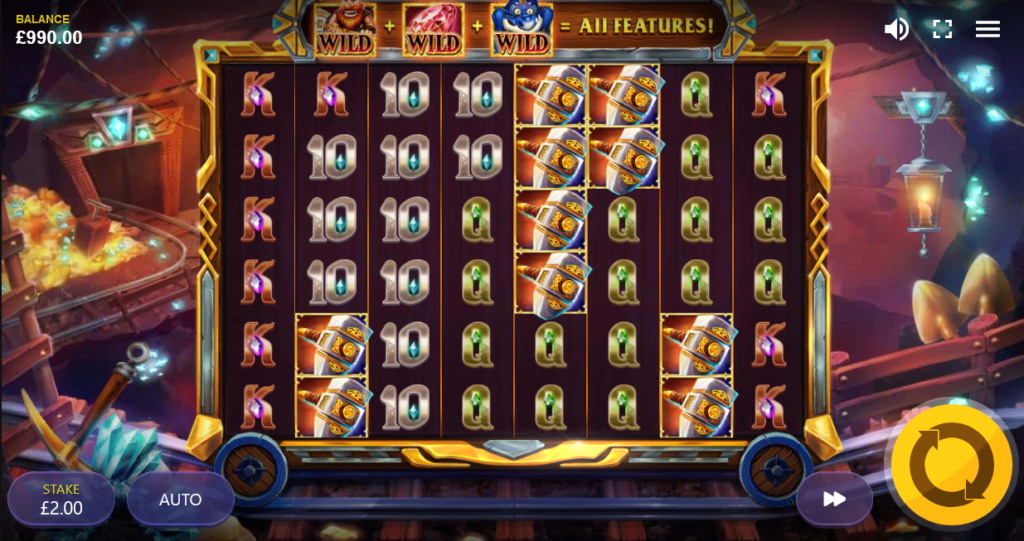 Play Treasure Mine Power Reels Slot
We can only think of Fast and Furious as something they're probably going to release more than ten of. If Red Tiger has a market for ten slot games within the Power Reels series, they must be doing something right. Players clearly enjoy these types of slot games, and the introduction of character Wilds in this mining slot certainly adds some differentiation while keeping the game loyal to a winning format. Most people will already know if they're for or against Power Reels slots, but if you're new to slot gaming and want to try it for yourself, then you can do just that here at Smash Casino.