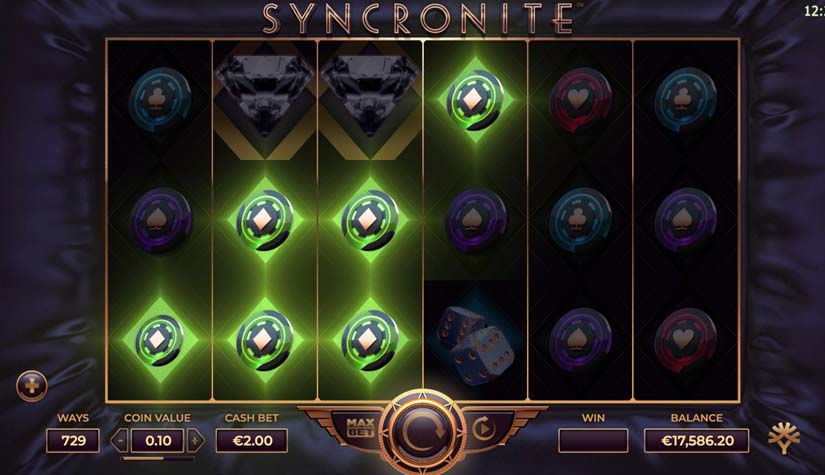 Don't just rely on the visuals, of course – it's the game mechanics that make this game truly stand out. There are 6 reels in play here, one more than you would typically expect to find in slots of this kind. This is in part due to the split reels functionality, an innovation from Yggdrasil that makes the gameplay here all the more exciting – more to come on that in a moment.

With the help of the 6th reel, there are a huge number of paylines in play, with no fewer than 21,168 ways to win on any given spin. In reality, this means you just need to line up three or more matching symbols pretty much anywhere on the board to have a winning spin declared.

The amount you win depends on the contributing symbols, both their value and the number of symbols you've landed to form the combination. The highest value symbols are the icons like the dice and the bells, which pay out biggest returns. The lower value symbols, which appear more frequently, payout less – these are the suited casino chips. Full details of the payout rates of each are available on the game's paytable information screen.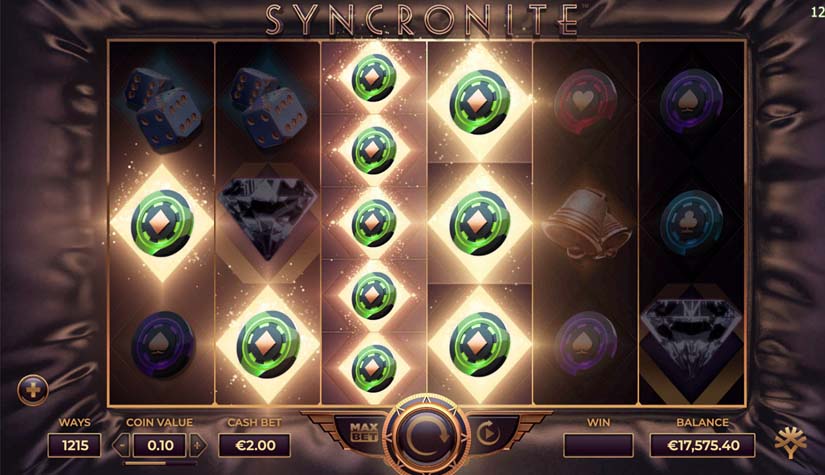 Betting kicks off from just £0.10, ranging up to a maximum of £10.00 per spin. It's entirely up to you how much you want to bet, but bear in mind that the maximum win varies depending on the size of your stake. Max jackpot comes in at 64,000x, so there's some big money to won here if you hit a lucky streak.

The RTP stands at over 96.00%, meaning there is a smaller house edge here than on many comparable slots. However, be aware this is a high volatility game, meaning you can easily swing from purple patches to barren spells, and make sure you budget accordingly to give yourself the best chance of success.
Feature Symbols
There are no feature symbols as such in Syncronite Splitz, at least not in the usual format you might expect. Most slots games deploy wild symbols which replace missing symbols to help form paylines, and/or scatter symbols which trigger separate bonus features. But in Syncronite Splitz, the bonuses are more built into the DNA of the game.

The first example is the lion symbols, which appear stacked on the reels. When these pop up, they deliver the Splitz function, which is where some of the biggest wins are to be found. There are also Synced Reels which can happen from time to time during your game, all of which add up to giving you the same kind of impact you'd usually expect from slots bonus features.

This is pretty common with Yggdrasil slots by the way – all part of how they make their games stand out from the crowd.
Bonuses & Jackpots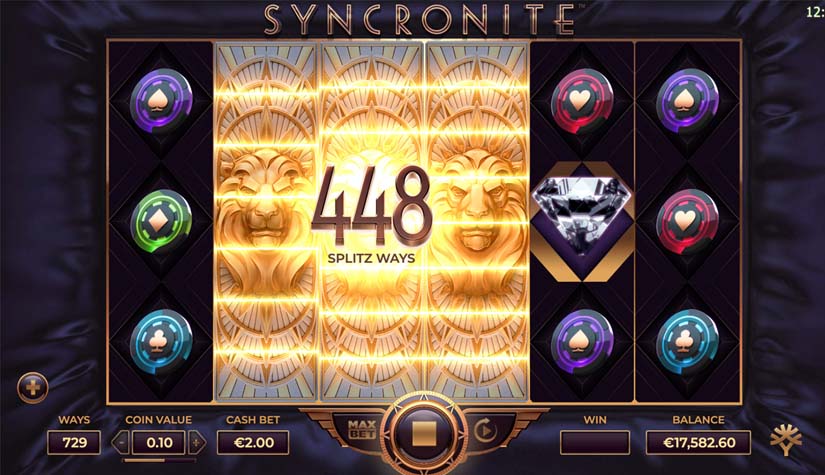 The lion head stacked symbol is the Splitz symbol, and you need to land two of these stacked the full height of the reels on adjacent reels to deliver the bonus pay. Once triggered, these symbols split into a number of matching symbols, which fill in the blanks on the reels. These are then set against your existing symbols in view to determine whether any combinations can be paid. And because you're landing a large number of the same symbol at once every time this happens, you're virtually guaranteed to be on to a winning spin here.

The Synced Reels can appear from time to time, locking two reels into one motion. This means they spin to reveal the same symbols, giving you two in a combination, ready made just waiting for a match. This also improves your chances of landing a winning spin, similar to other types of bonus rounds.
Play Syncronite Splitz Slot
With a sky-high RTP and some truly innovative bonus features, slots like Syncronite Splitz don't come around too often. Particularly recommended for fans of art deco and the glamour age, this is a slot that is sure to keep anyone entertained.

Try it out today and take Yggdrasil's Syncronite Splitz for a spin – it's available at the best casino sites.