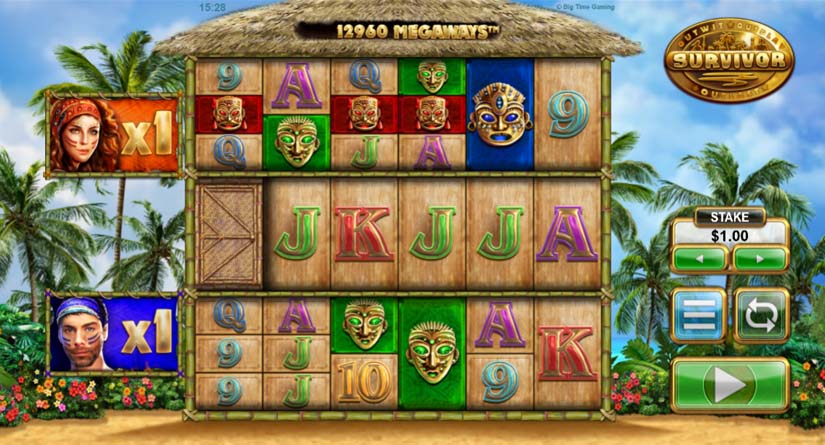 As reality TV shows go, they don't come too much bigger than the global hit Survivor. Contestants are shipped off to a tropical island and set challenges as they attempt to adapt and survive in their new home. Rich pickings then for the slots developers at Big Time Gaming, who have put together some impressive game action around this theme.
Survivor employs the Megaways game engine, an innovative slots construction that builds loads of extra features alongside standard slots action. This means there are many more ways to win than in regular slots, while keeping the game action fresh and different for veteran slots players.
The first thing you'll notice about this slot is the reel configuration. It's unlike most other slots games in that it is split into three sections – top, middle and bottom. There are six reels running left to right across the board, and each of the reels stands at a non-standard height – ranging from 4-7 positions high.
The aim of the game as always is to line up matching combinations of three or more of a kind in order to win a multiple of your per spin stake. And because of the Megaways angle, there are some 100,842 ways to win from each and every spin.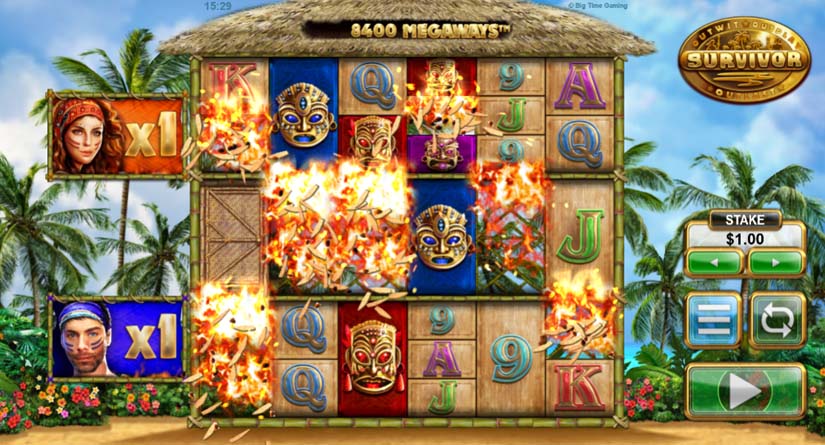 The highest paying symbols in Survivor are the colourful masks, and combinations of three or more of these pay out at the highest rates. At the bottom end of the paytable is the high card symbols, which pay out at lower multiples. The more symbols you match in any combination on adjacent reel positions, the bigger your pay out will be. This is calculated automatically at the end of each spin and applied to your bankroll with each and every win.
Betting starts from just £0.20 per spin, so you can budget five spins for every £1. Obviously the more you bet the bigger the wins can be, so it makes sense to play to the limit of your budget – betting ranges up to £40.00 per spin, where the biggest jackpots will be available.
The return to player percentage, or RTP, stands at a juicy 96.47%, delivering a house edge that is a little over 3.5%. This means Survivor is not only fun to play, but also a high paying slot into the bargain.
Feature Symbols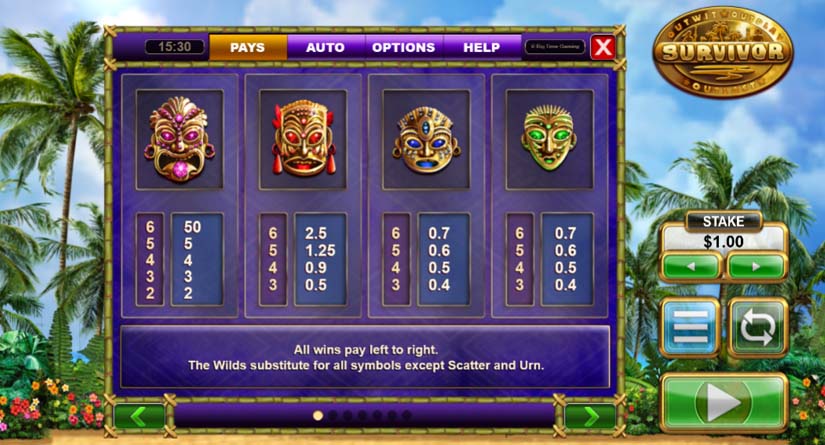 There are two wild symbols in Survivor – the male contestant and the female constant, respectively. They only appear on the centre reel which runs horizontally, but they work in the usual way. Any combinations that can be made with the help of the wild will be totalled at the end of each spin, with multiple wilds offering even more chances to complete a combination on a given spin.
The only exception to the rule is the scatter symbols, which is the Survivor logo. This cannot be switched for a wild symbol, so you need to land these in true numbers in order to trigger the bonus feature. You need to land three of a kind to fire up the bonus round.
Bonuses & Jackpots
Three scatter symbols falling in view on any spin triggers access to the bonus round. This starts with 15 free spins for three of a kind, with 5 extra spins added for every additional scatter. Wild multipliers during this round accrue and do not clear, meaning you get progressively greater multipliers as the round moves on. Three more scatters during the round will retrigger the bonus feature, so it's possible to keep the bonus round running when the reels fall in your favour.
With every combination you match throughout the game, symbols in the combination disappear. This creates gaps in your board, which causes symbols to fall from above. As they do, new symbols appear on the reels, giving more chances of completing winning combinations from each spin.
Play Survivor Megaways
Survivor has been a long running TV smash, so it's slots incarnation has a natural audience. But even for those who are not particularly fans of the show, this game offers a compelling proposition – great gameplay, coupled with excellent bonuses and top notch jackpots.
Try it out for yourself and see if you can become the ultimate Survivor.