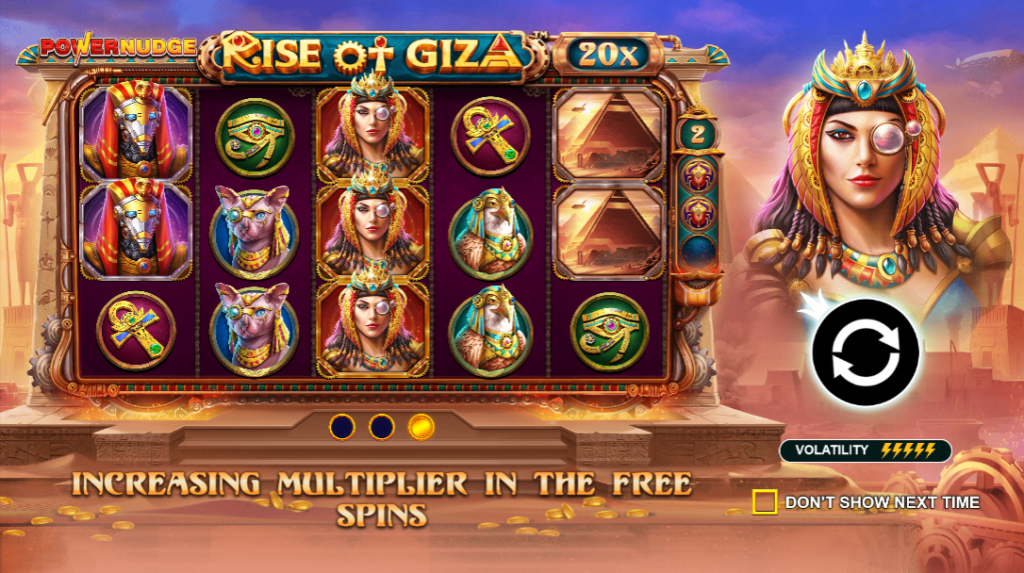 With a list of Egyptian slot games as high as the pyramids themselves to choose from, it's great to see that Pragmatic are trying to take the theme to new places, metaphorically. But this isn't the only difference you'll experience in this new slot game. Pragmatic Play has also added an innovative new mechanic called PowerNudge, hence the game's title.
The game's aesthetics conjure thoughts about apocalyptic endings and the world oppressed by further global warming. It's fiery with purple skies and mists of dust in all directions. And the detail on the symbols and scenery is outstanding, making this truly a modern video slot game. This is good because the game's five-reel grid with ten fixed paylines takes up most of the screen space. There's just enough of a view around the edge of the grid to get a glimpse of where you're at – and it's unmistakable with Egyptian statues and pyramids that have yet to fall victim to the crumbling world around it. Maybe a nod to the timelessness of the theme itself?
Although the treatment of this theme has sparked some innovation and novel touches, the mathematics behind the scenes is typically predictable and pragmatic from the namesake developer. The default RTP of the online slot is set at 96.49%, which is the same if you decide to buy free spins, which is possible. And the game is highly volatile and equipped with multipliers and, as aforementioned, a free spins game. Learn more in our Rise of Giza PowerNudge slot review right here.
Rise of Giza Paytable Symbols
Pragmatic has also made this slot machine novel in the way wins are awarded. You need to land a minimum of three matching paytable symbols across one of the ten paylines for a cash prize. The unorthodox aspect is that these symbols don't necessarily need to start from the leftmost reel. The reason for this is likely to do with the PowerNudge feature, which we will reveal later in this Rise of Giza slot review.
The game has seven paytable symbols that can win you between x1 and x12 your stake for five of a kind. These symbols are monocled empress, robot Pharaoh, the pyramids, Bastet, Horus, Eyes and Ankhs. All of these symbols are of high quality with exceptional detail.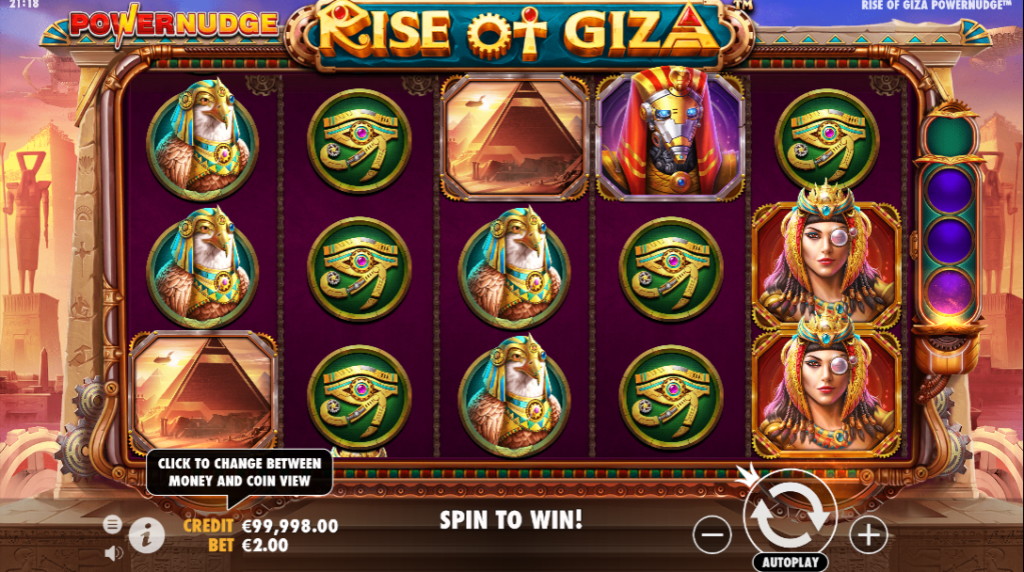 Rise of Giza Bonuses
The flagship feature of the Rise of Giza online slot is the PowerNudge mechanism. The PowerNudge can be activated at any phase of gameplay from the base game to within free spins when a progressive multiplier is also active. So, what really is this PowerNudge?
The PowerNudge is an equivalent of the cascading win system where new symbols fall into the place of winning paylines which are removed, with a couple of significant differences. When a combination of winning symbols is created the prize for those symbols is first paid out. And then any reel that holds at least one of the winning symbols nudges down one place, revealing a new set of symbols at the top of each of those reels. If new combinations are made through these moves, the slot pays out again. The fact that the winning paylines don't have to begin from the leftmost reel makes this more exciting than it otherwise would be. The PowerNudge feature only ceases when no more winning combinations are created.
The PowerNudge is also connected to the game's scatters which then unlock free spins. The scatter symbol is identified by a tiny crab image on top of a regular paytable symbol. They are acquired during sequences of PowerNudge. Once three have been bagged, eight free spins are awarded, and you'll receive a further two free spins for every additional scatter collected. Free spins are merged with a multiplier feature starting with x1 and increasing by 1 for every nudge or following free spin. The free spins game can be extended in the same way you unlock them in the main game, i.e., with more scatters. When you activate the free spins and do not win x5 your bet, additional free spins are given until you win at least x5 your wager as a type of guarantee.
You can purchase a spin with a minimum of x3 crab scatter overlays. The cost to buy into the free spins game is x80 the total bet.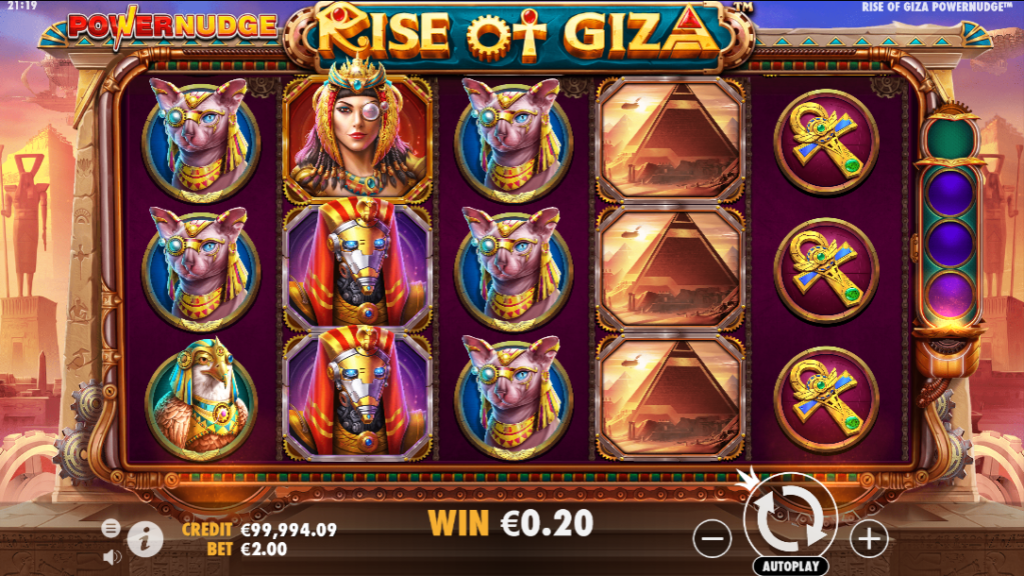 Play the Rise of Giza PowerNudge Slot
The Rise of Giza PowerNudge slot game is a fantastic new alternative for those gamers getting a bit tired with the same old cascading slot features and similar Egyptian slot themes. PowerNudge brings a new and exciting option to the table, made possible with winning combinations possible from any starting reel. It's not exactly a Megaways slot game, but it has something to offer those not seeking a Megaways experience. It's going to be interesting to see how Pragmatic Play take the PowerNudge to the next level after this debut outing in Rise of Giza.
If you've enjoyed this Rise of Giza slot review and want to give it a spin, you can do just that at Smash Casino. We have a host of excellent slot games by top developers like Pragmatic Gaming and co. Play the Rise of Giza PowerNudge slot with us today!