Respin Circus Slot Review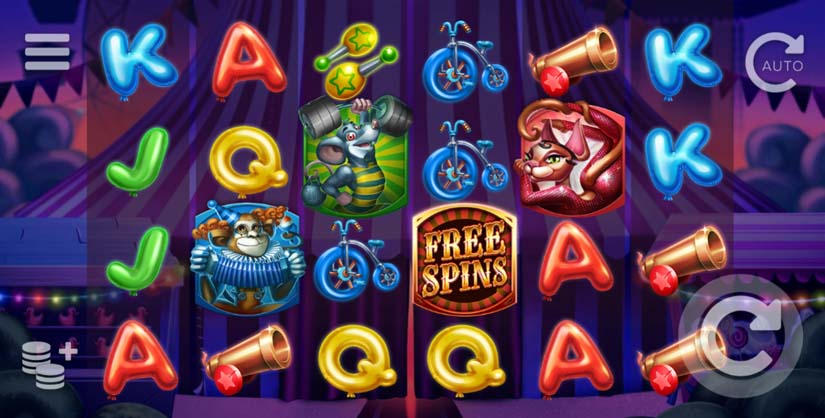 A trip to the circus used to be a rite of passage for children the world over. Regarded as a fun day out for all the family, they've fallen out of favour in recent years due to allegations of the mistreatment of animals and concerns around health and safety. Fear no though, because the fun need never die with slots games like Respin Circus, which owe everything to this traditional form of family entertainment.
Developed by Elk Studios, Respin Circus is a game that turns the circus concept on its head. Instead of featuring in the show, the animals in this game actually run the show! OK, so this is not the world's most serious slots theme, but the result is a game that is both fun to play as well as potentially high paying – the perfect combination for any slots fan.
The first thing you'll notice about this slot is that it's somewhat different to the average slots game. Rather than a standard five reels, you're playing across six. This gives slots a slightly unusual feel, especially if you've played a lot of five reel games, but once you get used to it, you see there are actually some advantages.
The main upside is that you're playing with 64 possible paylines – basically ways in which you can win by landing combinations of three or more of a kind on a set direction. This nets you a payout, which is calculated by multiplying your stake by the value of your symbol combination – check out the paytable for a full run-down of how each symbol combination pays out.
The highest value symbols on the board are all circus themed – bicycles, clowns, juggling equipment and the rest. They're joined on the board by high card symbols from a standard deck of playing cards, running J-A, styled as balloons for that extra circus feel. The high cards are the most common symbols so they pay less, compared to the circus symbols which hold the key to the higher main game wins.
This is a medium to high variance slot, with an RTP standing at 96.3% – far beyond the threshold for what we consider high paying. This means the house edge here is slimmer than on other slots, so you're in with a better chance of a lucrative session when you play this, rather than lower RTP slots.
Betting gets underway from £0.20 ranging up to £100 for those who want to push the game as far as it can go. With the help of some of the feature symbols and extra bonuses, there's some big money to be won at this circus if you happen to get lucky during your spin sessions. The main jackpot is a staggering 2500x.
Feature Symbols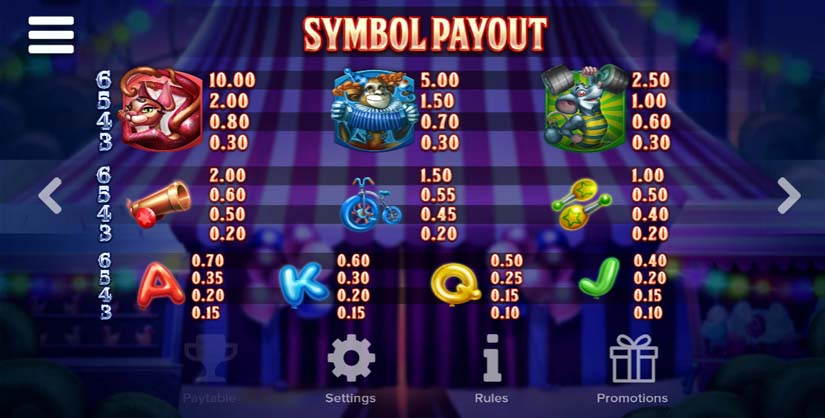 The magic rabbit is the wild symbol in Respin Circus, which is a symbol you want to see appearing as much as possible. It works like the wild in other slots, substituting in place of any advantageous symbol you need to complete a paying combination. Run a number of symbols through a wild and you'll end up getting paid as if you had landed a true combination. And with wilds versatile to all other symbols and paylines, there's the chance to use these wilds towards some very big wins indeed.
There's also a bonus symbol which you can land three times in order to trigger the main game feature. This is where some of the biggest wins are to be had, so listen up – it could be worth a packet.
Bonuses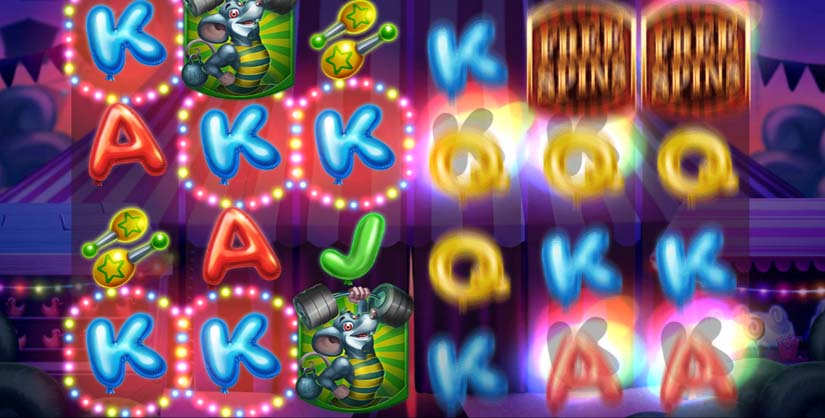 The main bonus round is a free spins feature, which you trigger by landing three or more of the bonus rounds. On your triggering spin, the symbols lock in place for a respin, during which time you get the chance to collect more free spins tickets. These are added up to determine the number of free spins you'll carry forward to the bonus round, up to a maximum of 24 free spins, which is not exactly a bad way to kick off your feature round.
During the free spins round, more scatters contribute one additional free spin to your total per scatter, so there's the chance to keep the free action rolling once it gets underway.
One of the best elements of this game actually weaves throughout every winning spin – the respin feature. Land a winning combo and you get another respin immediately afterwards, giving you a second chance to win on any winning spin.
Play Respin Circus Slot
Respin Circus is an example of Elk Studios at their finest, a stylish game with great graphics and an atmospheric soundtrack that takes you right back to the circus. Even if you're not a great fan of circuses, you'll love the action this game has to offer, including the chance to land a sizeable jackpot win, or a significant bonus from the free spins feature.
Try it out for yourself and take Respin Circus for a spin (then a respin) today.