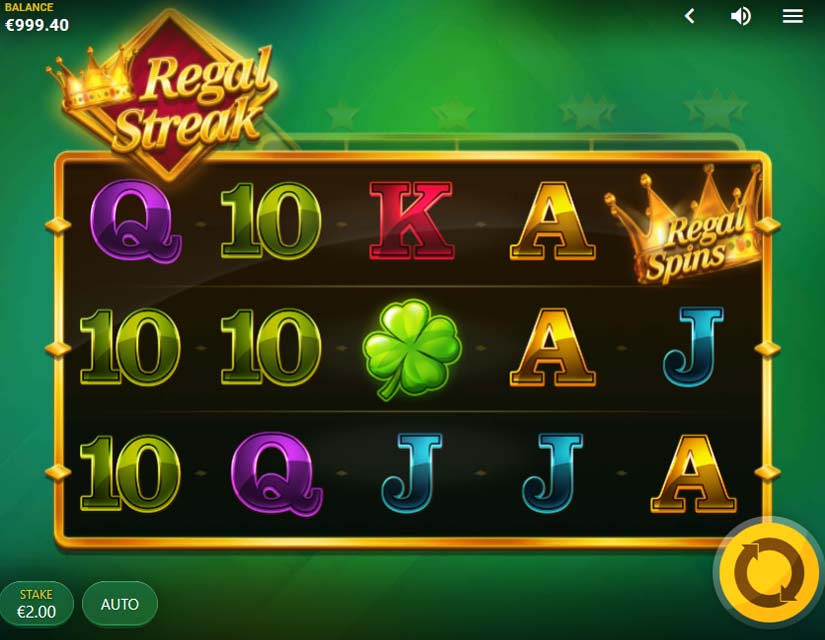 Regal Streak from Red Tiger sits somewhere between these two extremes. On the one hand, it has all the hallmarks of classic slot machines – think cherries, lucky number 7s, and bells. But it also incorporates several key elements from more advanced slot machines, including bonus features like free spins and multipliers. This combines to create a game that is fun to play, while still staying true to the origins of classic slots.
Regal Streak lines up across five reels, each of which stands three positions high. In each of these positions you'll find a symbol, either a high card or a character symbol, which can be matched in combination to deliver prize wins. There are only 3 paylines on the board, and you need to line up your combinations of three or more on any of these paylines in order to trigger a winning spin. The amount you win depends on the value of the combination and symbols you land, as well as the size of your per spin bet.
Per spin betting starts at just £0.10 per spin, which is enough for players to work a decent spinning session out of even the most constrained budget. At the upper end, you can push as high as £10.00 per spin, which will push the game to its absolute limits. The maximum win available comes in at 9,500x, so with a bit of quick maths, you can see how this can add up to a serious jackpot prize.
The best way to compare different slots for value is to look at the RTP, or return to player percentage. This is the share of game takings paid out as prizes, and anything beyond 95.00% represents good value for the player. In the case of Regal Streak, you're looking at 95.96%, comfortably beyond this margin.
Alongside the main symbols on the reels, you'll find feature symbols which are your ticket to the other features this game has to offer.
Feature Symbols
The bonus symbol is the Regal Spins logo. You need to land this three times on the same row in order to trigger the bonus feature, up to a maximum of five times on the row. This will win you somewhere between 15 and 25 free spins, which can be retriggered during the bonus round. There is no wild symbol as such. However, that doesn't mean the bonuses are any less potent – with a lucky streak in the free spins feature, you can still find yourself walking away a significant winner from your spinning session.
Bonuses and Jackpots
Before each feature game starts, a symbol is chosen at random to be the multiplier symbol. This ties in with the multiplier bar above the reels, which moves up to a maximum multiplier of 28x any winnings from your spins. It's also possible to boost this number by landing more Regal Spins logos during the feature, which also gives you more spins to benefit from.
The main jackpot is a whopping 9,500x, which when combined with the RTP, makes this a deceptively high money slot.
Play Regal Streak Slot
Regal Streak doesn't mess about – it's a straight up and down slot, which packs a punch of its very own. With a high jackpot potential and a great bonus feature, you certainly won't miss the wild. And if you're a fan of classic fruit machines, this is a slot that is guaranteed to be up your street.
Take Regal Streak for a spin today and see how lucky you can be.