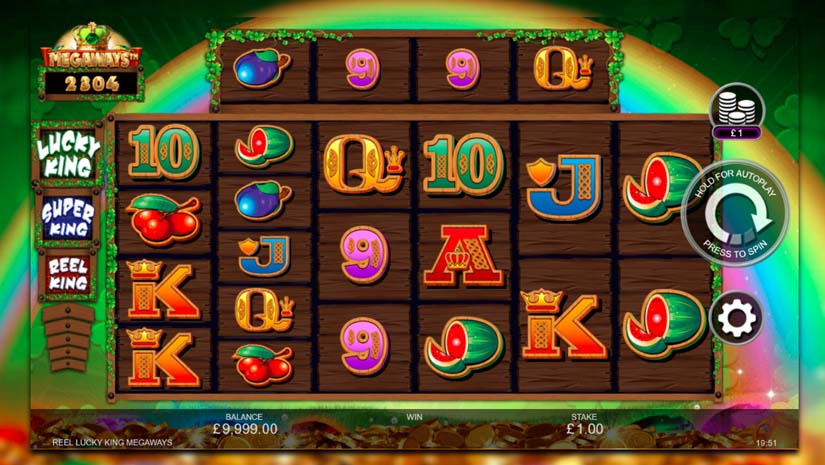 As noted, you will be able to spin six reels when you play this game. An extra reel is added above the central four reels, and this one spins horizontally. Due to the fact that Inspired has licensed the Megaways function from Big Time Gaming (BTG), you have the potential to win in up to 117,649 ways in this slot. That's not something that you have the power to change, and the number of ways to win will differ from spin to spin. You can still select a preferential bet, though. This is done by clicking on the button with coins on it. Doing so will allow you to choose a wager of between €0.20 and €20 per spin. You can also hold down the spin button and this will set the reels off spinning in autoplay mode.
What to Expect on the Reels and How to Play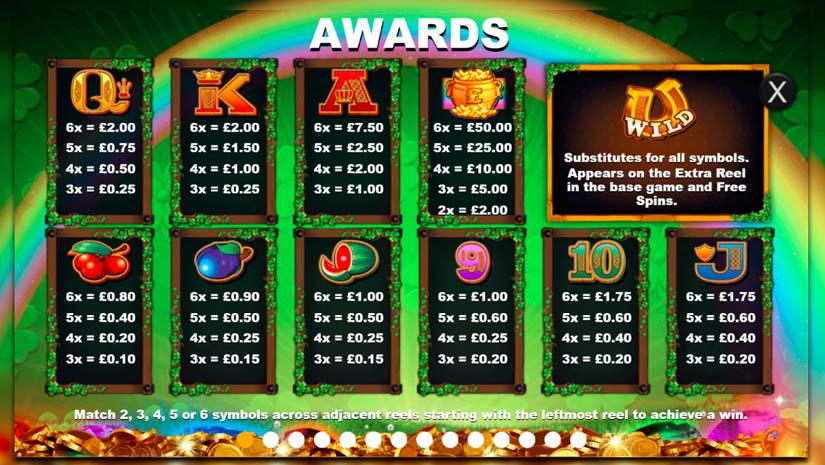 Reel Lucky King Megaways does make use of the traditional theme very well. This means that you will not specifically get much outside of this in terms of imagery. The background has a simple rainbow against a green wall with four-leaf clovers on it. That gives the nod towards the underlying Irish theme that this slot contains. You will also see piles of gold coins at the bottom of the game screen. At the same time, the top-left corner has the Megaways figure counter. With every spin of the slot's reels, this will display how many ways to win are in action for it.
On the six reels of the game, you will get to witness the variety of symbols that have been included in it. These start out with three different fruit symbols, which are the cherries, the plum and the watermelon. It is once these have gone by that the playing card symbols come into action. They run from 9 through to A, offering higher payouts as you ascend up them. However, it is the game's pot of gold symbol that works as the overall highest paying standard addition. This symbol has the ability to provide a maximum payout of €1,000 when it forms a win.
You can expect to get some great payouts from this slot, with the maximum win possible standing at 12,500x your stake. After you load Reel Lucky King Megaways up, you will see that to the right-hand side of the six reels are the buttons you require. These start with the coin button for changing your bet and then the spin and autoplay button is below this, while the cog button allows you to view the slot's paytable.
Special Features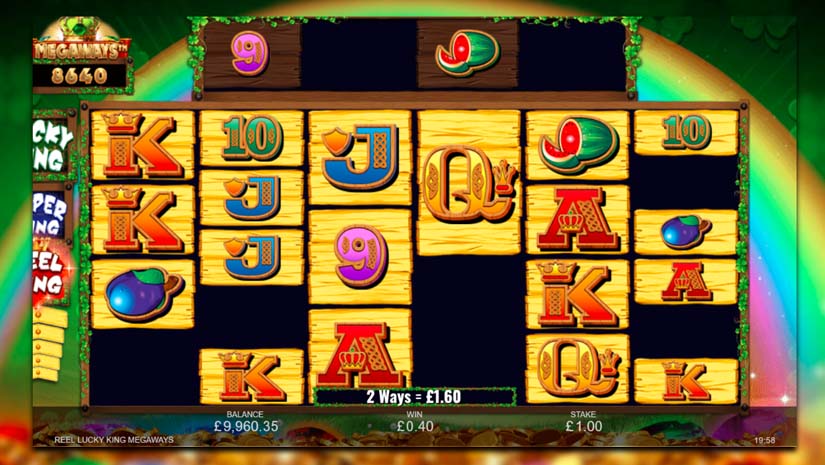 A Megaways game is always going to be imbued with a couple of special features for you to try and experience. In fact, the Megaways in itself is a special function, too. Each win that you form is also part of a reaction and cascade process. So, the symbols that are included in a win will explode and disappear, leaving space for new symbols to cascade down from the top. Should another win form, that process will repeat itself for you. This gives you the possibility of forming multiple wins from just a single bet spin.
During the base game, you'll see up to six of the reels illuminate yellow and a 'Ding' sound will play. These dings occur from left to right consecutively, starting from the very leftmost reel. For each subsequent cascade that occurs, one extra reel is lit yellow. Managing to light up all six of the reels will trigger the slot's Reel King feature. A further cascade after this advances you on to the Super King feature instead. And anything cascading beyond that point will advance you on to the Lucky King round.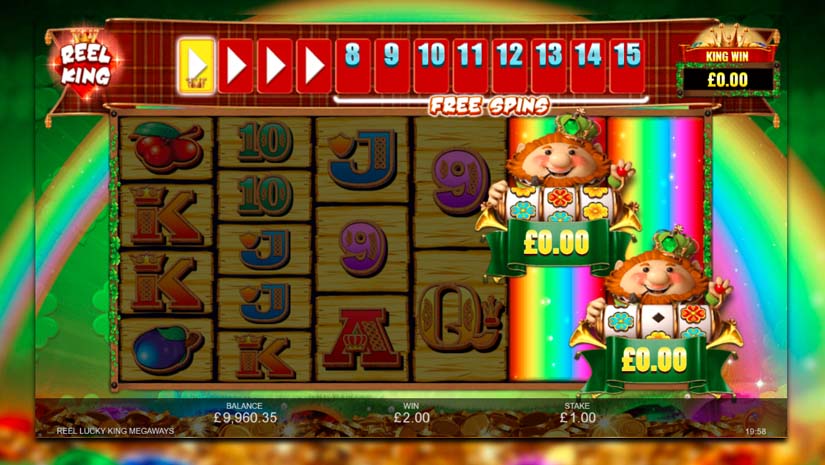 You can see the three different King features on the left-hand side, which will illuminate when you manage to access one of them. Each of these has a different free spins trail associated with it. A minimum number of Reel Kings can appear for each one, with up to 2 in Reel King, 3 in Super King and 6 in Lucky King. These Reel Kings appear over the reels, with the player beginning on the leftmost position on the free spins trail. Each King then spins his reels, with various prizes being available for forming winning combinations.
If all three reels of an individual Reel King become lit when landing, you will advance an extra position along the free spins trail. When a King spins to a losing combination and has less than three lit reels, he disappears. This feature will end when no Kings remain on the reels. If a free spins trail position is reached, you will advance to this round straight after.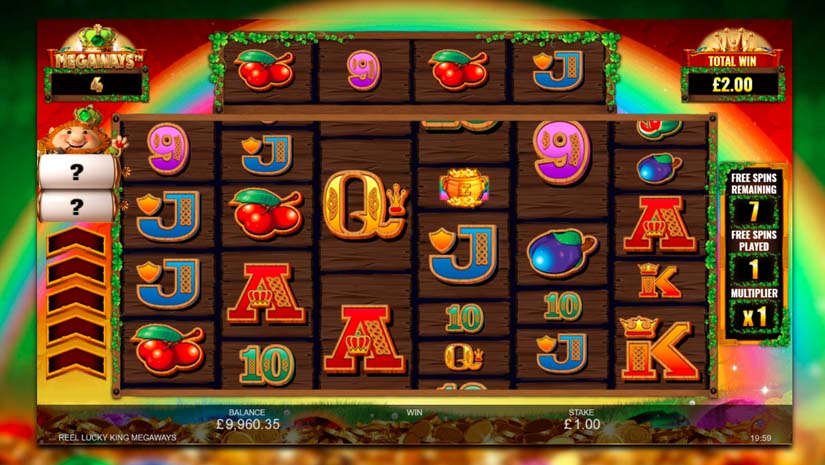 During free spins, an unlimited multiplier is in action, increasing by 1 after every cascade. Each cascade also lights one reel red consecutively from left to right, and these remain lit until the sixth reel is reached. When all reels are red, the Reel King character shoes up and the number of free spins remaining or the multiplier in action is increased by up to 3.
Play Reel Lucky Megaways Slot
Reel Lucky King Megaways is a truly inviting game to access from Inspired Gaming. The graphics are tip top, the inbuilt specialities bring additional tones to the game and overall, it offers a thoroughly entertaining game release to play.