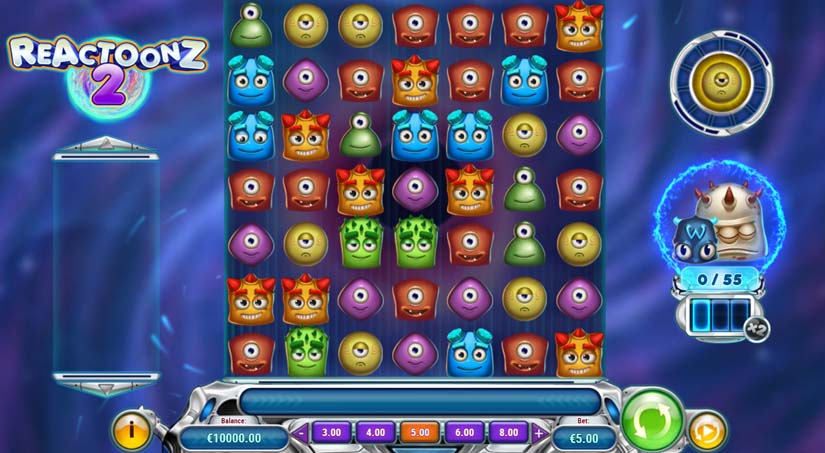 Reactoonz 2 is a follow up to the original Reactoonz slot, which has proved enduringly popular since its launch. The game premise is that of an alien invasion, where players are tasked with grouping together colourful cartoon alien creatures (Reactoonz) to form combinations. These fall onto the board in a 7×7 grid which is instantly reminiscent of gemstone and candy themed mobile games. Your job is to find clusters of the same symbols in order to explode them into prizes.

There are no reel symbols as such – just various different Reactoonz of different colours. There are no high paying or low paying symbols as with a traditional slot. However, there are also no fixed paylines in play. Instead, it's simply a case of lining up the best combinations with the most possible symbols to get the biggest payouts from your spin. The biggest wins come from the 4 separate bonus features, which we'll look at in more detail in a moment.

The amount you are able to win from any given combination depends on the per spin bet. These start at just 20p per spin, so it's perfect for those playing on a budget. If you're looking to push the game further, you can play for up to £100 per spin at the top end. The maximum prize is a very enticing 5083x, so it's clear to see there is some big money on the table for those that are able to hit a lucky streak with Reactoonz 2.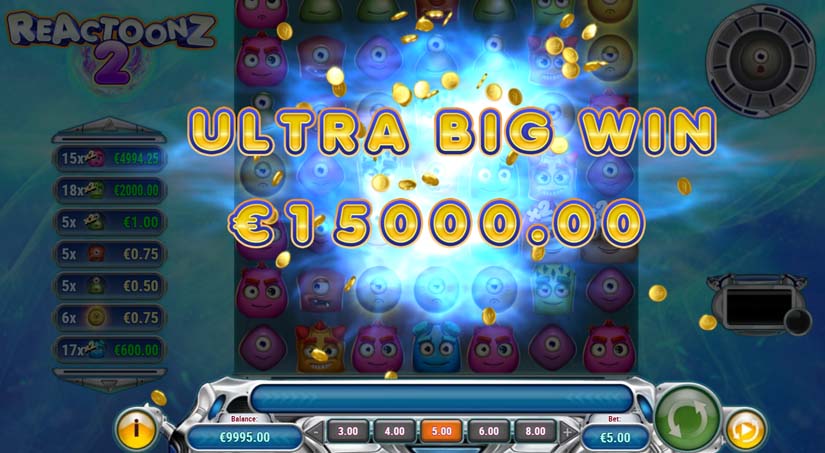 Before jumping in to any slot, we always recommend checking out the RTP, or the return to player percentage. This is the share of the game's bet receipts it then pays out as prizes, and indicates the house edge against the player. Anything over 95% is judged to be good value for the player – at 96.2%, Reactoonz 2 goes way above and beyond this threshold. Yet one more reason to take this NetEnt slot for a spin.
Feature Symbols
There is a wild symbol in Reactoonz 2, which takes the form of the Wild Garantoon. This plucky character is helpful whenever it appears on your reels, acting in the usual way by substituting in place of any missing symbols to form winning combinations. There are also two other additional wilds available in the game, the Electric wild and the Energoon wild respectively.

There is no separate scatter symbol in the game – instead bonuses occur when you max out Reactoonz meters, which happens through landing cascading wins and big combinations.
Bonuses and Jackpots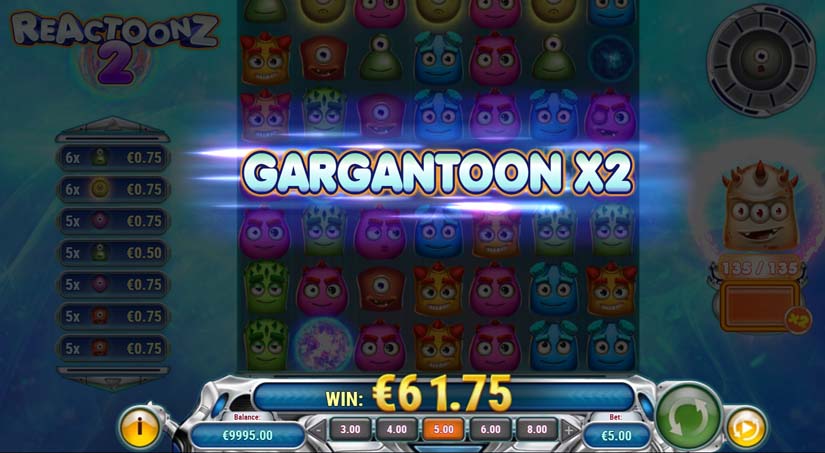 Cascading wins are in play throughout this game, meaning you always stand to benefit multiple times from every single winning combination. When a combination is matched, it bursts from the reels, creating vacant reel positions into which symbols fall from above. As symbols fall, they can make new combinations, which can pay out again, and the process repeats all over. Cascading reels occur whenever you land combinations of 5 matching symbols on more anywhere on the board.

Electric wilds build up as you match combinations, then appear on the board to zap away other symbols. When electric wilds feature as part of winning combinations, they charge the meter, which eventually delivers an Energoon wild. Line up enough of these and you get a 3×3 wild with a 2x multiplier in play.
Filling up the Fluctometer leads to the delivery of more electric wilds to your game, while the Quantumeter is your ticket to the giant Gargantoon wilds, with multipliers in play.
Play Reactoonz 2 Slot
The bonus features in Reactoonz can be a little difficult for players to understand at first. But within a few spins, this somewhat unorthodox game format starts to make perfect sense – especially when the wins start flowing.

If you were a fan of the original, you'll love what they've done with the sequel. Even if this is your first play of a Reactoonz slot, there's a lot to like here, and plenty to keep you coming back for more.

Try it for yourself today and take Reactoonz 2 for a spin at our favourite online casinos.