The action plays out on a standard five-reel and three-row grid, creating a total of 25 possible paylines. The setting of Raptor DoubleMax is of course, a dim and overgrown jungle with exotic touches. The artists behind Raptor DoubleMax have almost made the scene feel alien and avatar-ish; after all, it would have been a whole other planet when dinosaurs roamed our sphere. A notable and well-executed contrast has been created with the soundtrack in the slot. The background music is gentle and may even be described as relaxing. This puts it at odds with Raptor DoubleMax's toothy and dangerous gameplay. In a way, it makes gamers more suspicious and heightens the tension with every spin.
There have been many high volatile slot games made in the past, which some gamers flock to. But there have been very few slot games made as volatile as this one. The developers behind Raptor DoubleMax even describe it as "super-high" volatility. We think this aspect matches well with the dino theme as everything is on the line when faced with one of these beasts. The double-up multiplier feature experienced within the bonus has the potential to go bananas and provide excellent returns. For the statisticians amongst us, the RTP of the game is a dinosaur's scale above 96% and the hit frequency measures in at 30.5%. You can place your bet between 20p and £60 per spin, catering to both low and high rollers.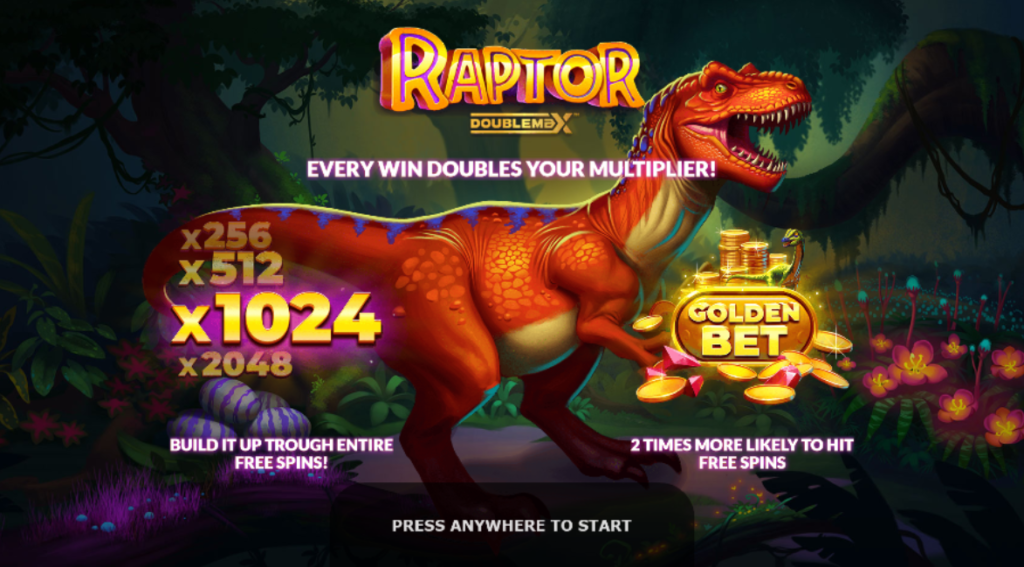 Raptor DoubleMax Paytable Symbols
Raptor DoubleMax slot has 25 fixed paylines that all start from the leftmost reel. There are a bunch of card symbols that feature as the lower-value symbols, namely J, Q, K and A. The slot then has four premium symbols which will give you more bang for your buck when found together across a payline. These premiums are four different dinosaurs, easily differentiated by their appearance and colours. Landing five of the highest value premium dino across a payline will win you x5 your bet.
The Raptor DoubleMax online slot also has a Wild symbol. They will appear at random and substitute for any lower value or premium symbol to help you create winning paylines and earn cash prizes. Wilds are also essential for some of the game's bonuses and extras.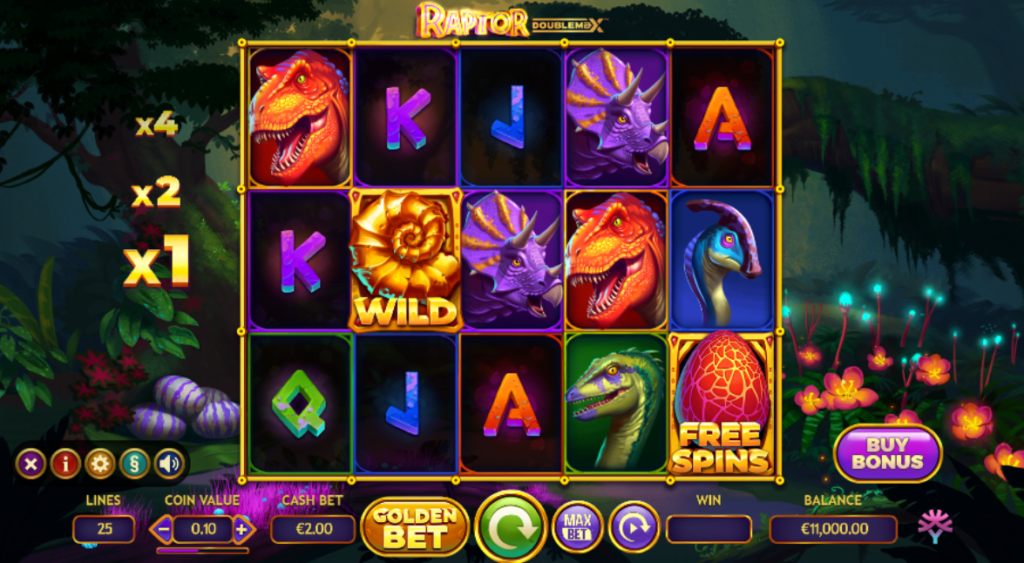 Bonus Games and Extras
The Raptor DoubleMax slot has a selection of fantastic bonus games, including a cascading feature called Dropdown, Golden Bet, free spins and a free spin gamble – plus a multiplier that grows in increments we haven't really experienced before.
Within the base game and any bonus game, a Dropdown feature is active. It works by removing winning payline symbols (after you've won cash!), and the empty spaces are filled with random symbols. However, one of these symbols is always a Wild. This repeats if you win again from the new mix of symbols and Wild. It only ends when no winning combination is made. But that's not all! Every time you win from a new Dropdown, the win multiplier doubles and is applied to current wins. This multiplier resets after no winning payline is created.
If you get three scatter symbols in view, a free spins game will be triggered. But before you're awarded these free spins, you have the option to gamble what you've won for more. If you win 7 or 10 free spins, you have the chance to collect or gamble for 13 free spins. However, you lose all the free spins if your gamble doesn't pay off. The free spins game is identical to the base game with one significant difference. The multiplier does not reset in between Dropdown wins, which means there is a chance your multiplier could grow to Dreadnoughtus-sized proportions.
There is more than one way to unlock this free spins and growing multiplier game. The Golden Bet feature doubles the chances of the free spins game activating. However, it comes at a cost by increasing the stakes by 25%. On the other hand, you can always just buy into the free spins instantly, but this will cost you x100 your stake.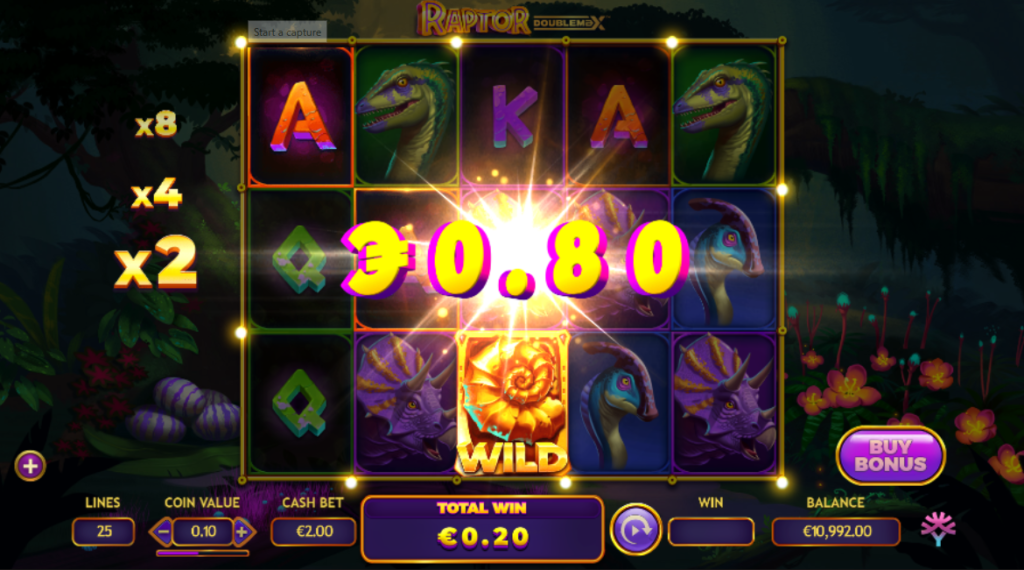 Play the Raptor DoubleMax Slot Game Now!
The Raptor DoubleMax online slot is a fantastic progression from MultiFly and will undoubtedly attract dinosaur hunters who like playing highly volatile slot games the most. But don't be fooled into thinking this is just another Multiply; it's a new species altogether, especially the ever-growing multiplier potential when combining free spins with the Dropdown.
Of course, growing multipliers don't rock the boat too much and can be found on an array of the best slot games online. However, having them continue to increase is something new and throws the pigeon among the dinosaurs in the world of online slot games. This is why Yggdrasil has gone on record to say this game achieves the highest multipliers in slot gaming. They've been clever in not trying to do anything new and innovative but instead pushing an existing feature to the extreme.
And that's why so many people are enjoying the Raptor DoubleMax slot. And you can now take that time machine back to the dino era and play Raptor DoubleMax slot at Smash Casino.