Raging Rhino Megaways Slot Review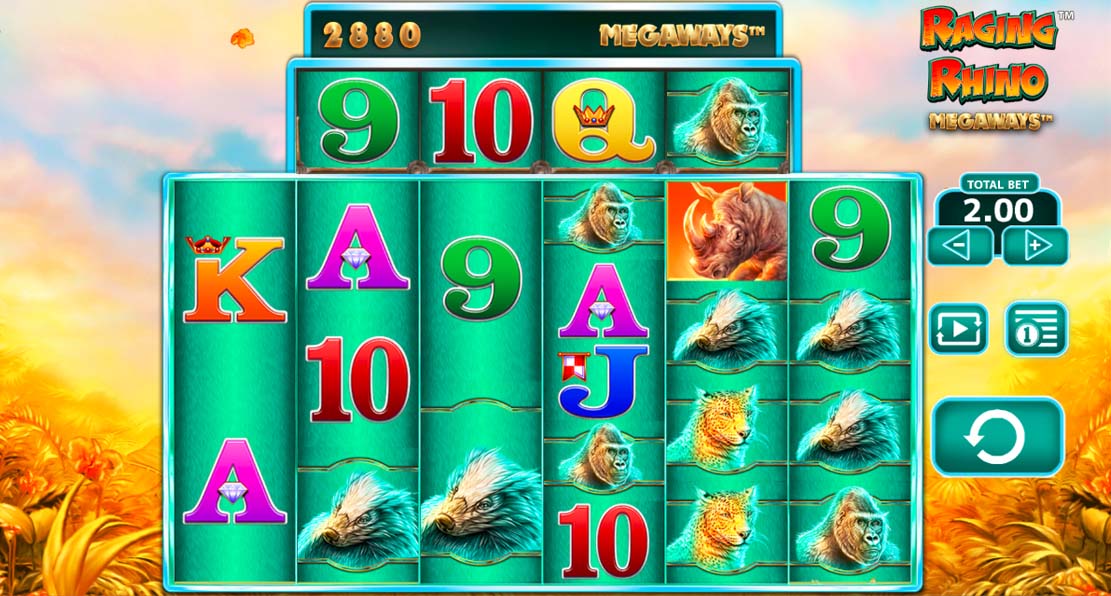 Who doesn't love nature and the great outdoors? Wildlife and animals themes are everywhere you look in the online slots world, but few manage to get the balance right between great gameplay and great winning potential. Raging Rhino is one such slot, offering players the chance to compete for serious wins in a game that's packed with some seriously good gameplay – including its bonus rounds.
Raging Rhino comes from the team at SG Digital, having been originally launched under the WMS Gaming banner. Rather than the classic slots format, the game is organised slightly differently, which paves the way for a larger number of paylines than are available in most cases.
The game sets out across six, rather than five reels – on which there are four rows. This means there are 24 symbols in view at any one time, and it's possible to make combinations without being restricted to the usual payline structure. Instead, any combinations of matching symbols on the board are paid their value, wherever they fall on the reels, meaning there are effectively 4096 ways to win on any given spin.
The symbols themselves are themed around African wildlife, so expect the likes of gorillas, cheetahs, alligators and of course, the titular rhino. These are the highest value symbols paying the highest combinations, as opposed to the lower value card symbols – these range from 10-A, and pay out according to the size of the combination at a lower rate. However, because they appear more frequently, you stand a better chance of landing lower paying combinations with each spin.
The betting begins at £0.40 per spin, so a slightly higher minimum than in most other similar slots. This ranges right through to £60.00 a whirl, which is slightly lower – so it's basically a narrower band of betting options, compared to other slots. However, with a jackpot that stands at 100x, there's still some big money to be won if you land on a lucky streak.
RTP is always the best way to compare different slots, and Raging Rhino scores well here too – it clocks in at 95.91%. The average for online slots of this kind is around 95%, and at nearly a full percentage point higher, that's all the more reason to take this game for a spin.
In addition to the main reels, there are also some fairly lucrative extras and bonus features to be had, triggered by the game's feature symbols.
Feature Symbols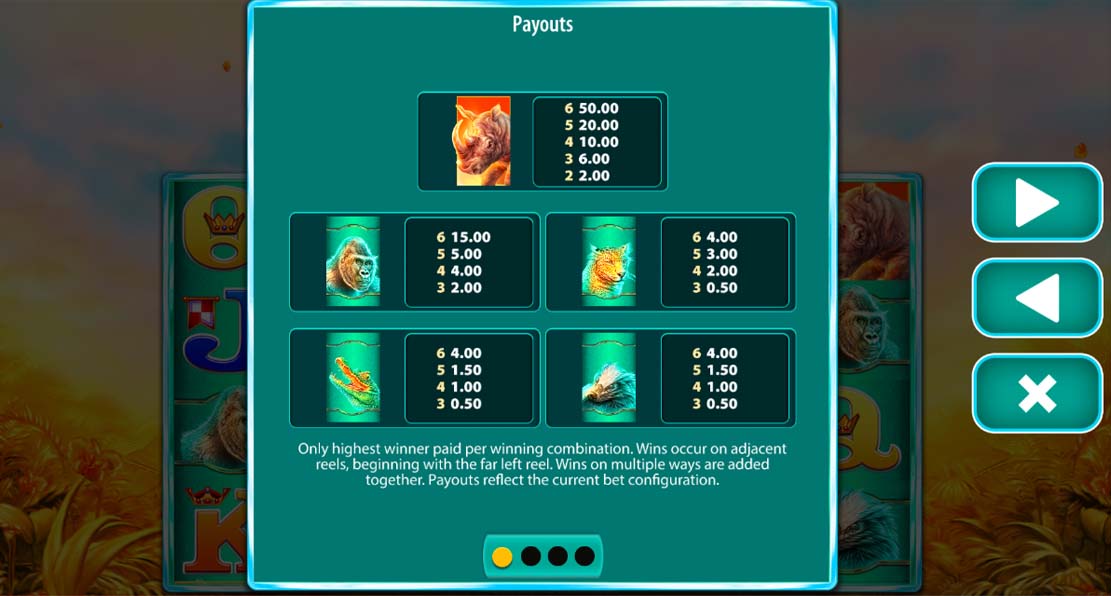 The wild symbol is the golden sunset on the African plains, somewhat more idyllic than most wild symbol designs. This falls on reels 2 and 5 only, but brings with it the usual features for your game – that is, it substitutes for any of the value symbols you're missing that run through it to complete paying combinations. The only symbol not affected by the wild is the bonus symbol, which must be landed in true numbers in order to trigger the bonus.The bonus symbol is the diamond, and you need to land at least three or these to trigger the bonus feature. However, with six reels in play, there's the opportunity to land up to six of these at a time, which will buy you an even better bonus feature.
Bonuses & Jackpots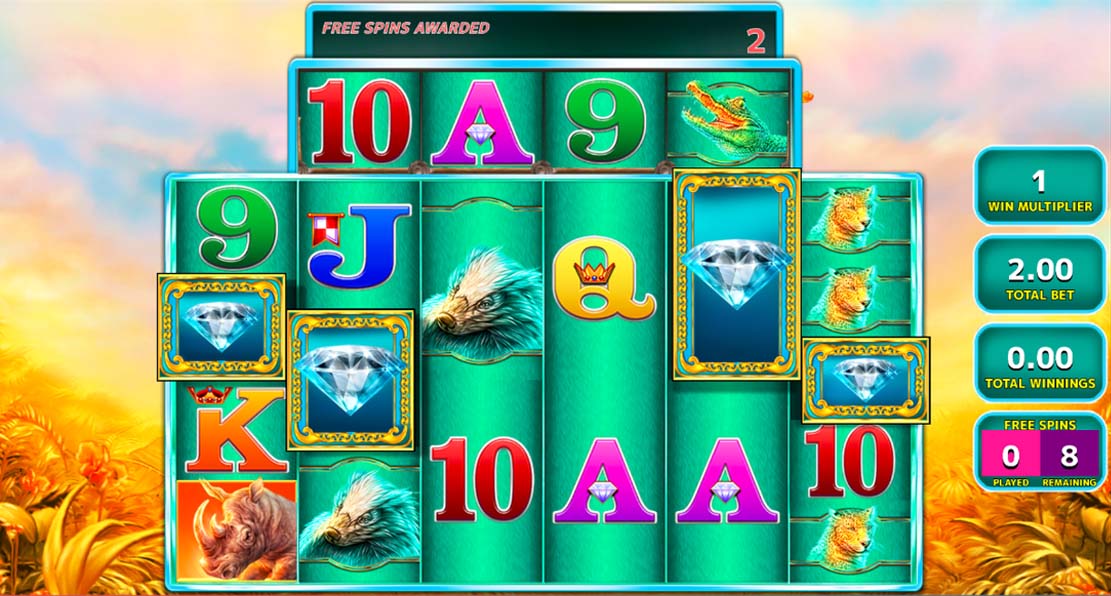 The main bonus feature is a free spins round, triggered by at least three diamonds anywhere in view. Land three diamonds and you'll be in line for 8 free spins – with extra free spins available for landing two or more diamonds during this round. You also get a 2x or 3x multipliers for any wins running through a wild symbol during the bonus feature.
Land six triggering bonuses, and you pick up 50 free spins for your round – and with a reputation for big feature wins, this can be amongst one of the most generous bonuses you're likely to come across.The main jackpot pitches in at 100x, which means there's some serious money to be won – but only if you manage to tame the Raging Rhino.
Play Raging Rhino Megaways Slot Game
Raging Rhino is a stylish slot that doesn't play by the usual rules. With 6 reels and over 4000 paylines, it's unconventional – but that doesn't mean it's not a big payer. The jackpot is good, but the bonus round is where most players will see maximum potential. If you fancy something a bit wilder than your usual slots play, Raging Rhino is well worth the spin.