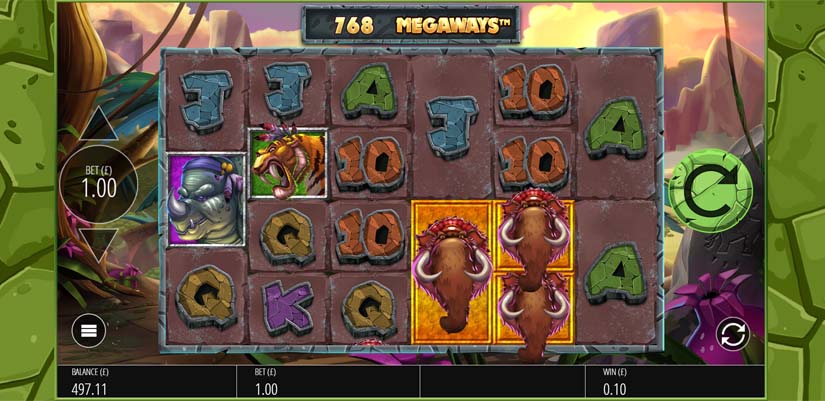 Animal themed slots appeal to players from all walks of life, intrigued by games that play to their shared love of the animal kingdom. Primal Megaways from Blueprint Gaming takes this theme a stage further, by introducing a host of primeval animals to the arena. Set around the dinosaur era, the games gives you a glimpse into what animal slots might have looked like in a prehistoric age, complete with all manner of extinct beasts to keep you entertained.
The action unfolds on a reel set that is unmistakably of the period. Large rock formations form the background, framing animals and other symbols, each of which is drawn in a cartoon style clearly inspired by the period. A Megaways slot by design, the game incorporates a number of innovative features that set it apart from the crowd, and make it a potentially very lucrative slot for those looking to take their chances with some serious spinning action.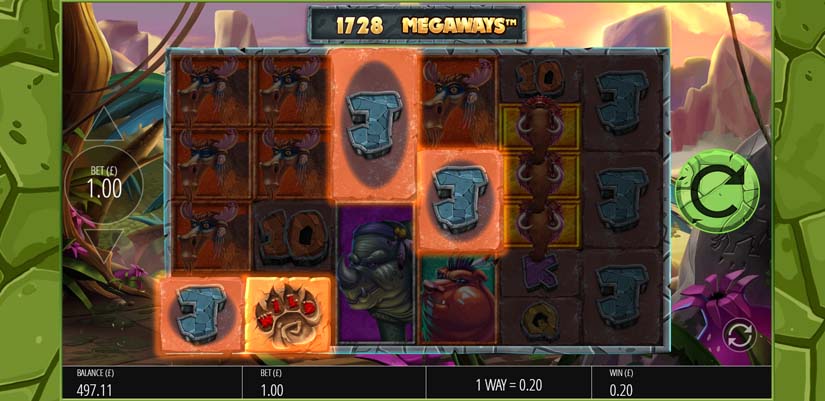 Fans of other Megaways games will instantly recognise the reel formation – six in total, running left to right. Unusually there is no horizontal reel here, which reduces the maximum number of winning combinations to a degree. However, this is still far and away higher than those you'd find in most slots, clocking in at a whopping 46,656. If you can't find a win amongst those win ways, you must be doing something wrong.
The symbols themselves are all well drawn in keeping with the theme. The animal symbols are the highest payers, sitting at the top of the paytable in terms of the multiples of your stake paid for winning combos. They are joined by high card symbols from a standard deck of playing cards, which fill in the gaps at the lower end. Note that the value of a symbol is directly linked to how frequently it appears, so you'll likely end up winning more frequent lower value combinations to help contribute to your overall bankroll.
Betting determines the payout you'll get for landing winning combinations. It starts at just £0.20 per spin, ranging through to £150.00 per spin for those pushing the top end of the budget. The main jackpot of 50x quickly adds up to serious money, especially for those playing at their budget maximum per spin.
In terms of RTP, Primal Megaways slot compares very strongly to the crowd, posting 96.76%. Anything above 95.00% is typically regarded as good value, so it's clear this slot is a high payer with room to spare.
Feature Symbols
The pawprint is the wild symbol, and the most common of the feature symbols to appear as you spin through this game. When it lands, it substitutes for any missing symbols to make paying combinations more likely. The wild effectively transforms into any symbol you need – think of it like a wildcard. This only appears on reels 2 and 5 in Primal Megaways, but it does replace all other symbols with the exception of the bonus.
The bonus symbol is the tusk, and landing three or more of these is your ticket to the bonus round, where some of the biggest wins are on offer. There's also a mystery symbol represented by the fire symbol, which can appear at any time as you spin through the game.
Bonuses & Jackpots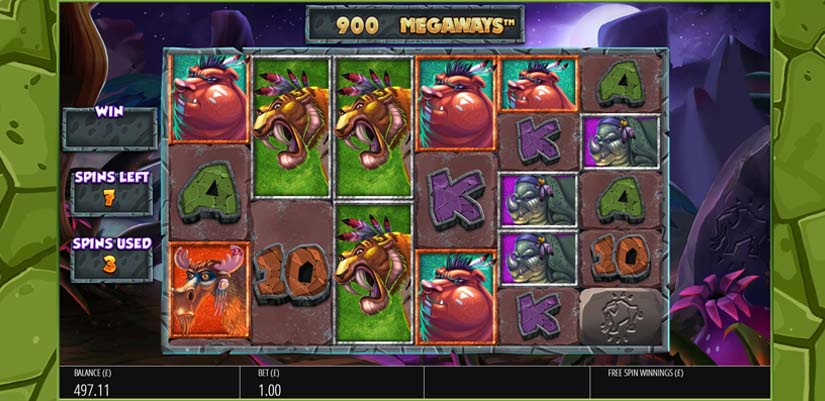 Three or more tusks grants entry to the bonus feature, a free spins round with guaranteed minimums and multipliers. Three lands you 10 free spins, up to a whopping 30 free spins for six triggering symbols. Multipliers run from 2x to 6x, and each additional wild you land during the free spins session contributes 1x to the total multiplier.
If you're unlucky enough not to win 10x from your feature round, you'll get another allocation of free spins at the end of the round to bump up your winnings, guaranteeing you'll at least walk away with a 10x win from the round (though in many cases, it's much more).
The mystery symbol transforms in all instances to one randomly selected value symbol, making it easier to complete combinations when this falls on your reels.
Play Primal Megaways Slot
Primal Megaways slot might be set in the long distant past, but there's nothing old fashioned about this game. With over 46,000 win ways in play on every spin, plus some great bonus free spins and multipliers, it's set up for you to have a crack at walking away a big winner.
Join one of the best online casinos and see how you get on when you take Primal Megaways for a spin today.