Panther Pays Slot Review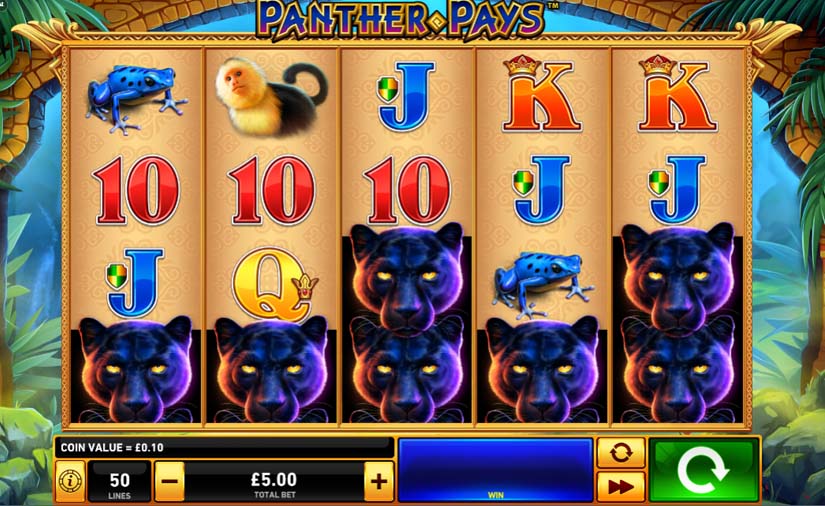 Wild animals are an all-too-common backdrop to slots games. Entire series of games have been devoted to animals, with African wildlife in particular overrepresented when it comes to game themes and concepts. Panther Pays from Playtech is, at first glance, more of the same – another slot that is built on the theme of panthers and jungle animals. But when you go further into the mechanics of the game, it's clear there's a lot more going on here than just the graphics.
This is not the world's prettiest slot, but sometimes that's a good thing. In many cases, the most visually attractive slots are actually not that attractive when you get stuck in to the features, the variance, the RTP and the jackpots. Yet with Panther Pays, you've got a slot that is still good fun to play, without sacrificing any of these hugely important elements to your game.
The action takes place on a basic 5×4 reel set, something experienced slots players will be all too familiar with. These reels are made up of symbols, which vary from animal symbols at the highest end of the paytable, down to high card symbols which pay out lower wins for combinations. Line up any three or more matching symbols on the game's 50 paylines and you'll be in for a treat – this is the key to winning back a multiple of your stake, which ranges depending on the value of the symbols and the extent of the combination you land.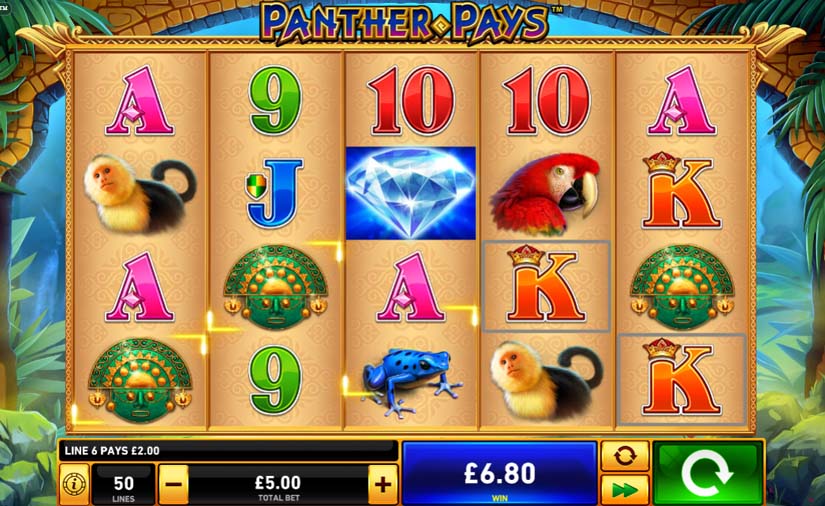 The betting range in Panther Pays is huge, so there's room for anyone on any budget to give this a spin. Start from just £0.10 a whirl, right up to £500 for those with deeper pockets to push the game to its limits. The maximum jackpot available stands at 50,000 coins, which isn't too shabby – especially when you're playing with larger per spin bets, which can add up to some serious jackpot slot wins.
In terms of RTP, Panther Pays also performs strongly. A 96.25% payout rate is far higher than you would expect from a slot of this kind, and way beyond the 95.00% threshold we recommend for high paying slots. This means a slimmer house edge, which means over the long term you should receive more from playing this game versus lower RTP slots.
Alongside the main game combinations and the jackpot, it's also possible to build up big feature wins through the game's bonus rounds. These are triggered by the feature symbols, which we'll look at in more depth now.
Feature Symbols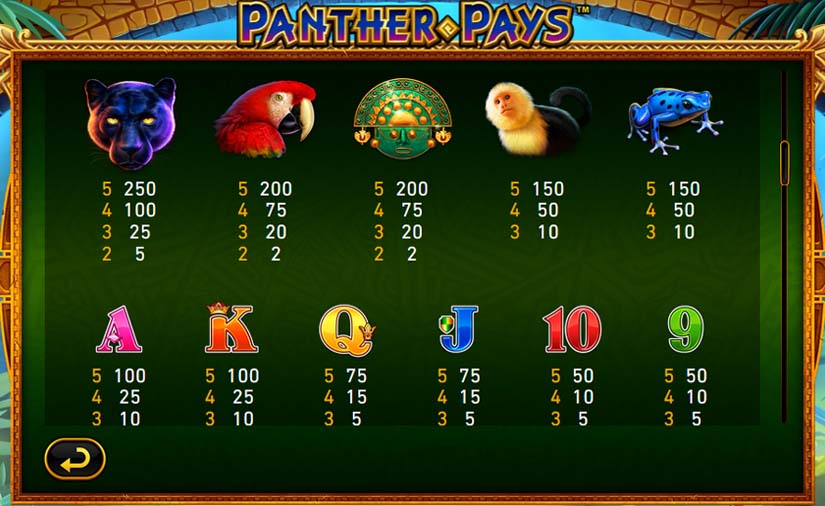 The wild symbol in Panther Pays is the diamond, which appears only on reels 2, 3, 4 and 5. This substitutes in place of any symbols you're missing to make up your combinations – so two matching symbols either side of a wild will pay as if you had three. The only instance in which this doesn't apply is with the scatter symbol, which needs to land in true numbers in order to trigger the bonus feature or deliver the scatter pay win.
The scatter, or bonus, symbol in Panther Pays is the emerald, which pays a scatter win for landing any three or more. Three kicks off at 5x, ranging up to 100x for five of a kind. There's no need to land these on a payline either – anywhere will do to kick start the bonus feature.
Panther Pays Slot Bonuses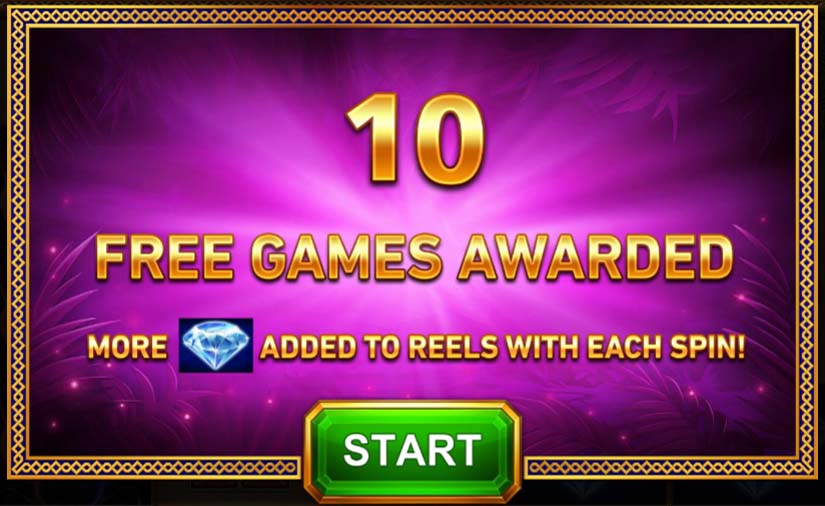 The bonus feature is a free spins round, which comes with the benefit of added wilds. One additional wild is added to each of the reels on which it appears, giving you more chances of landing one or more of these on your bonus spins. You can land up to 10 additional wild symbols during this feature, which can really help when it comes to maximising your feature wins.
Any three scatters turned up during this round keep the momentum going by adding a further five free games to your balance. Anything you win during the feature is added up and allocated to your bankroll at the end of the round.
Play Panther Pays Slot Game
Panther Pays is a basic looking slot, but it's one that certainly packs a punch. With the scatter bonus feature in particular, and the help of plenty of additional wilds, Panther Pays can deliver some substantial feature wins. And with a high RTP and sizeable jackpot on the line, this is the perfect game for slots fans looking to try something new.
So channel the power of the panther today and take Panther Pays for a spin.