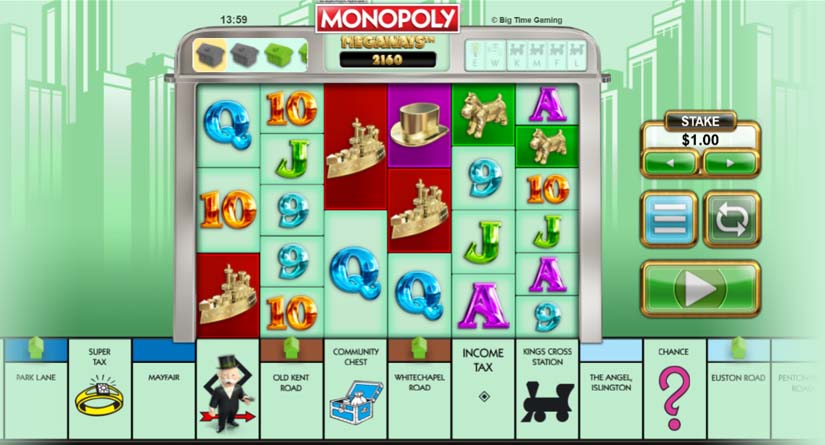 Few games have captured the hearts and minds of the nation like Monopoly. A long-standing family favourite, the property acquiring board game is a feature of households up and down the land, enjoyed by the generations. No surprise then that Monopoly is a regular backdrop for online slots games, with dozens of different slot titles themed around it. Monopoly Megaways is one such example, combining all the best elements from the board game original with the high octane action of a Megaways slot.
The 'Megaways' feature is one of the defining characteristics of this Monopoly slot, presenting players with a huge number of different ways to win on every individual spin. Rather than the usual payline structure, which might limit the available win ways to 10, 15, 20 or so, Megaways gives you the chance to line up combinations in a whopping 117,649 different combinations. That means in practice that if you find combinations on your board in adjacent reel positions, you're likely to find a winner.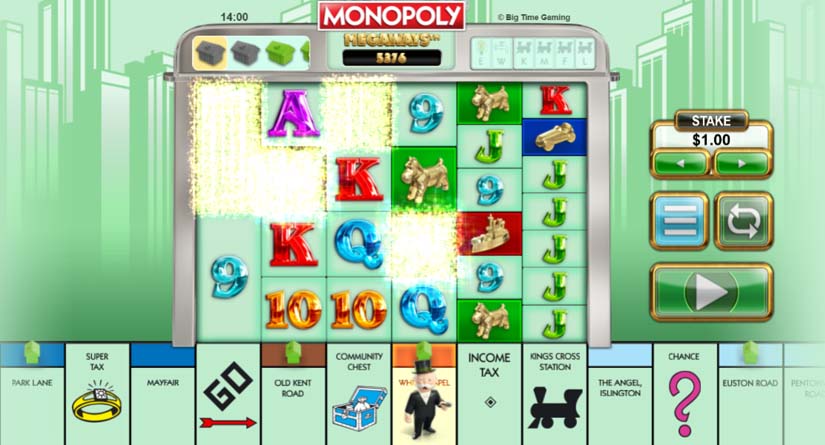 The game is set across six reels, which is slightly unusual compared to the bulk of online slots. This gives a different feel to the action, especially when combined with the Megaways feature, but ensures you get the full benefit of the winning potential locked up in this game. As you'd expect, the reels, symbols and visuals throughout are Monopoly themed, including a game board which runs underneath the reels – more on this in a moment.
The minimum bet available on any spin is £0.20, ranging right through to £20.00 for those who want to push things to their limits. This isn't as high as some other slots, but when you consider the maximum win stands at 14,700x your per spin stake amount, there's still some serious dough in the bank.
In terms of the return to player percentage, which is the most effective way to compare different slots games, Monopoly Megaways posts an impressive 96.50%. That's well above the 95.00% threshold considered average for high paying slots, and means Monopoly Megaways sits amongst some of the highest paying games in the genre.
In addition to the main game action, there are also a number of other feature symbols and additional extras as you play through the game.
Feature Symbols
The wild symbol in Monopoly Megaways is the 'M' logo symbol. When this appears in the base game, or is triggered by the bonus, it acts as a wild symbol to complete paying combinations by adding in whatever matching symbol you need to complete the run. The M wild only ever appears on reels two and six, but these are helpful locations for starting or completing runs of three or more symbols that can ultimately lead to decent payouts.
There is no scatter symbol as such, but the bonus feature delivers from every winning spin, through the Reel Adventure game mechanism explained below.
Bonuses & Jackpots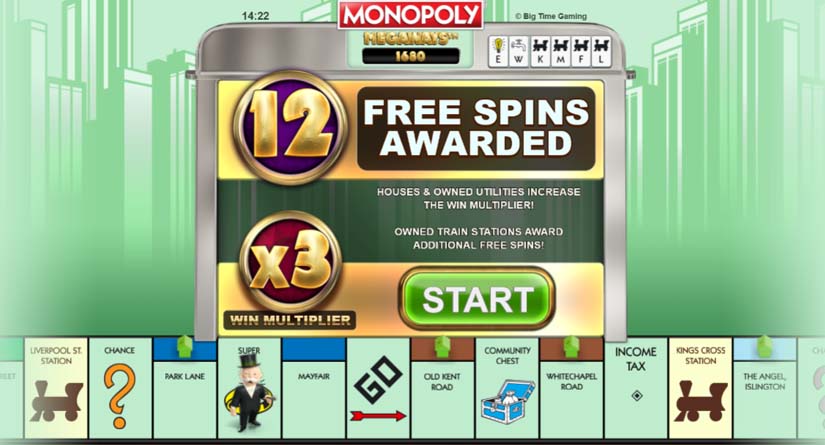 The main bonuses in Monopoly Megaways come from the Reel Adventure mechanic. You can find this game feature in other Big Time Gaming slots like Temple of Treasure. Here's it's a journey through the Monopoly board, complete with all the symbols you'd expect to find – Go, Utilities, Community Chest, Chance, and so on. Each of these pays out a different bonus feature, including free spins, wilds, houses and other goodies. These all help your game by enhancing the wins available from the base reels. Every time you land a win, you get the chance to progress along the board, adding to your bankroll in the process.
Add five houses to a property, or find the right chance card, and you're into the free spins feature. This is where some of the biggest wins in Monopoly Megaways are to be found, with the amount won during this round added to your bankroll at the tail end of the feature. Together with the Reel Adventure, these bonuses make for excellent gameplay. But they can also be lucrative too, and with a bit of luck, can set you on your path to a winning spin session.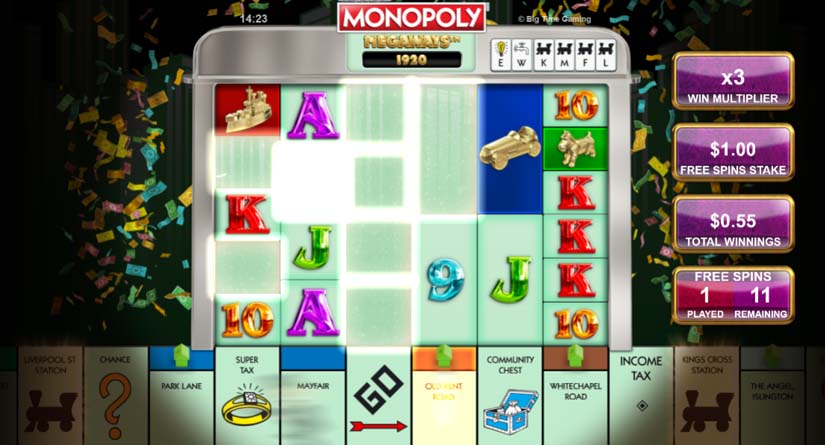 Play Monopoly Megaways Slot Game
If you're a fan of Monopoly, and let's face it, who isn't, Monopoly Megaways is a slot you're going to love. There are enough elements from the board game here to make this appealing, matched with enough in the way of slots action to make the game a high payer. When put together, it's a winning combination that is sure to keep you coming back spin after spin.
Take Monopoly Megaways for a spin today and see how you fare.