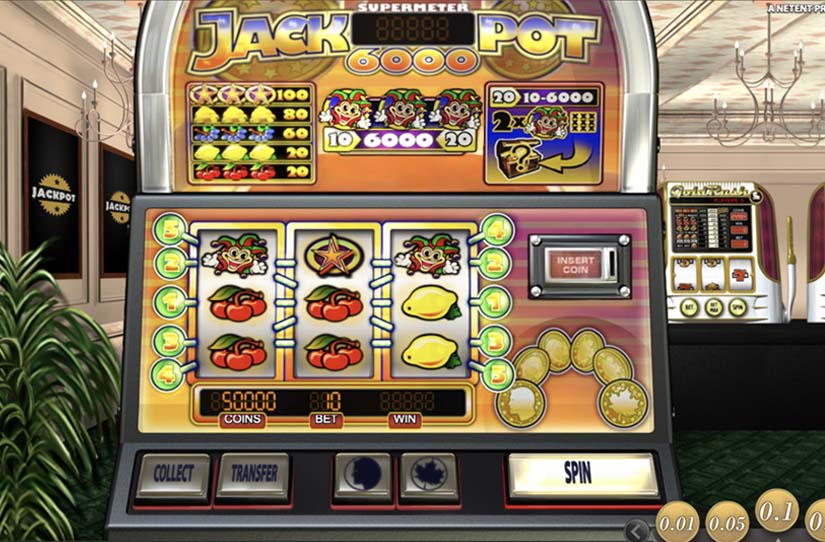 If you've spent much time playing modern online slots, you'll know that things have come on a long way in a short space of time. At their origin, slot machines were much simpler games – simply spin the reels to line up a couple of symbols, and you'd get paid. Most often, these were physical machines located in casinos and bars, where players insert coins and receive payment in physical currency spat out from the machine on a winning spin.
These machines of course still exist today, and make up much of the attraction at Las Vegas and other casino resorts. In many cases, the coins payouts have been replaced by notes or vouchers which can be redeemed for cash – yet the mechanics remain the same.
Physical fruit machines are the inspiration for online slots, but the online versions often veer off into fancy graphics, super bonus rounds and other added extras. But what about those that want to get back to the heart of the action, and spin on a virtual old-style fruity? Jackpot 6000 from Net Entertainment fills that gap.
While there are still plenty of these so-called AWP style slot machines online, few of them do it as well as Jackpot 6000. Designed by one of the world's most successful slots games developers, you'd expect this slot to pack a punch – with the right combination of realism and jackpot winning potential, this game definitely fits the bill.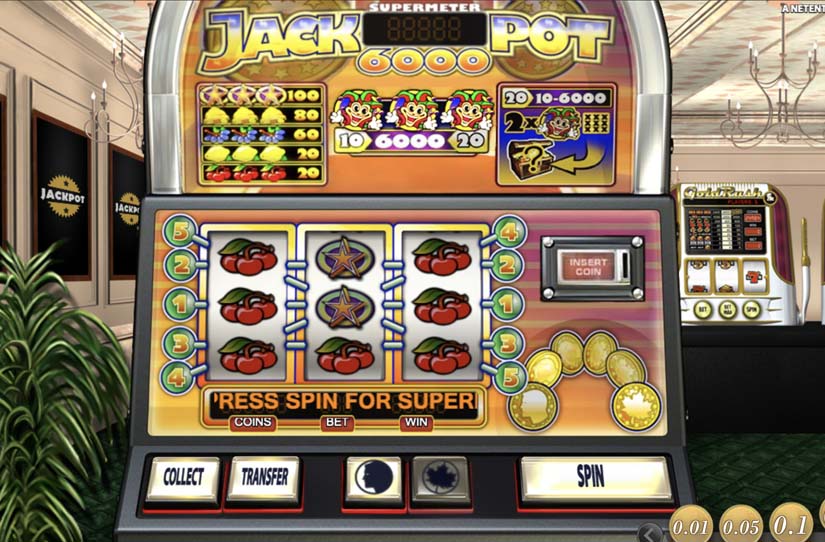 The action unfolds across just 3 reels, in keeping with the format of the traditional physical gaming machines. Players are tasked with lining up combinations of 3 matching symbols across any of the 5 active paylines. Do this successfully, and you'll win a multiple of your stake, determined by the value of the symbols you've matched.
Betting starts at £1.00 per spin, so it's easy to keep count of how much you're spending. This ranges right up to £10.00 per spin, which delivers players access to the bigger wins the game has to offer. When you consider the maximum jackpot stands at a juicy 2000x, that's a lot of money locked inside this fruit machine, just waiting to be won.
The RTP spans a huge range in Jackpot 6000 – starting at 74.90%, up to 98.90% at optimum configuration. As a result, it's important to consider your strategy so you're always playing in the most efficient format to get the biggest wins the game has to offer.
Feature Symbols
There are no feature symbols in the conventional sense, but there are some additional features in here. No wild symbol or bonus symbol as such, but there are a couple of symbols that can combine to give you access to some bigger wins.
The joker symbol combines with the X symbol to get you access to the mystery prize. This is the equivalent of a bonus round in other slots, but without the noise – just a straightforward mystery win when you land two jokers plus the X symbol on a payline.
The jokers also double up as your key to the jackpot, with 3 of a kind lining you up for a 6000x win.
Bonuses & Jackpots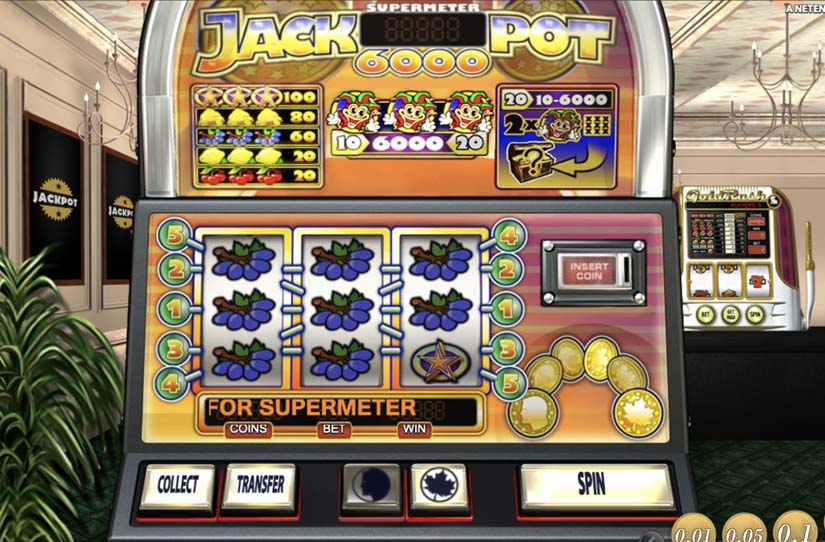 Whenever you win in Jackpot 6000, it's up to you to collect your money from the game – in much the same way as with physical fruit machines. If you want to leave your funds in for onwards play, you can – but hitting the 'Collect' button regularly is good practice for banking the money you win. There's even the opportunity to gamble your wins again on a heads-or-tails coin flip. This double or quits proposition obviously slashes your RTP, but if it pays off, it can be a good way to supercharge your bankroll.
Speaking of RTP, it's always worth remembering that the amount you bet influences the game payouts. Anything less than 10 coins plus Supermeter brings you below 95.00% – whereas in play, these features can take your RTP as high as 98.00%+. Factoring in that you want to be playing games with as high an RTP as possible, there's only one conclusion – play max coins wherever possible for the best returns from your gameplay.
Play Jackpot 6000 Slot
Jackpot 6000 does a great job of emulating physical fruit machines, and fans of the analogue classics will feel right at home with this slot. When you consider there's also the small matter of some sizable jackpots up for grabs, this is a no-nonsense slot that could be well worth your time for a spin.
Try it for yourself today and see if you can be a winner with Jackpot 6000.