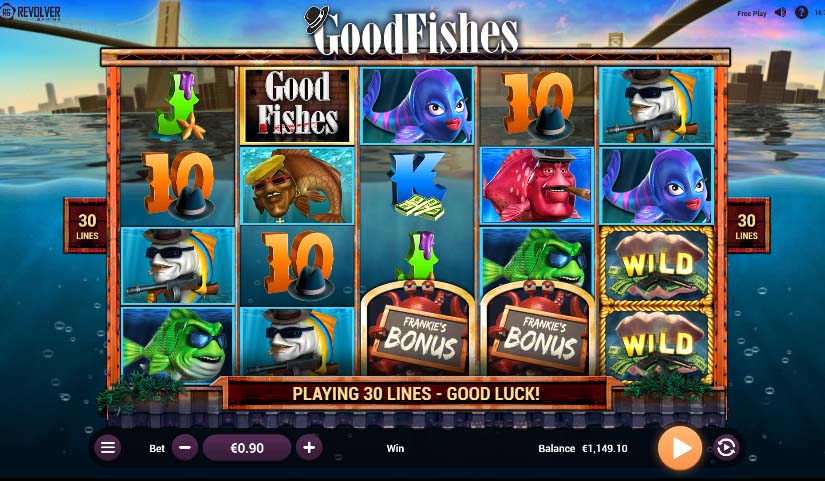 The murky criminal underworld is full of sharks – at least that's the case in GoodFishes, a gangster themed slot from Revolver Gaming. Owing much to that all-time classic gangster film Goodfellas, GoodFishes is an underwater parody that certainly doesn't take itself too seriously. The cartoon fish are all swimming stereotypes of gangsters, complete with flat caps, shades, pork pie hats and machine guns. But don't be fooled by the cheeky aesthetic – this is a game that packs a punch as far as winnings are concerned.
The reels are set against the backdrop of a cityscape, with the main action taking front and centre stage. There are five reels in total, standing four positions tall, for a total of 20 reel positions in view at any one time.
Across these 20 reel positions, there are 30 directional paylines – routes from left to right that award payouts for combinations of three or more of a kind. You'll also find a range of bonus symbols too, which can trigger features or award game enhancers, depending on the type of symbol landed and its position on the reels.
The symbols themselves are fishy gangster themed, with the character symbols the highest value on the board. They are backed up by high card symbols 10-A, which are worth less in combination. However, these symbols occur much more regularly throughout your spinning session, meaning you are more likely to land these combinations more often – even if the payouts are correspondingly lower.
The amount you will win on any spin is a multiple of your bet stake. The further you go, the bigger the prizes can be, so it's important to budget in the best way possible to ensure the biggest wins. Betting starts at £0.30 per spin, with scope to range right up to £300.00 per spin at the highest end of the betting range. With the main jackpot topping out at 33.3x, this means there could be a lot of money riding on that next spin.
RTP is strong too, sealing the deal with an impressive 96.00%. That's a slim 4% house edge, much better value than other comparable slots games – anything beyond 95.00% is generally worth your while, so at 96.00%, there's even more breathing space in GoodFishes than normal.
Feature Symbols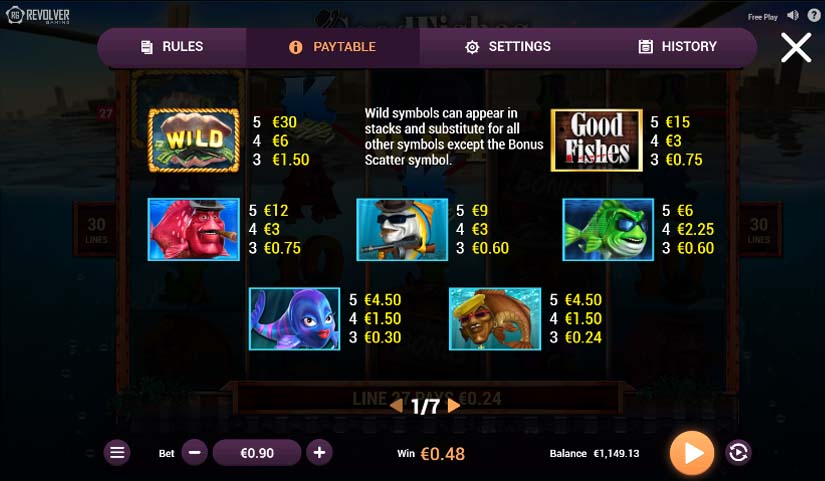 The oyster symbol is the wild in GoodFishes, acting in the usual way by standing in place of any advantageous symbol. If you land two matches either side of a wild, you're paid for three – the same applies to longer combinations, and across any symbols you need. The exception to the rule is the scatter symbol, which is almost always unaffected by wilds on standard slots engines. The same applies in GoodFishes, where you need to land sufficient scatters in their own right to trigger the bonus.
The scatter symbol is the Frankie's Bonus. These are not tied to paylines, so landing any three of these symbols anywhere on the board will grant access to the bonus stage.
GoodFishes Slot Bonuses & Jackpots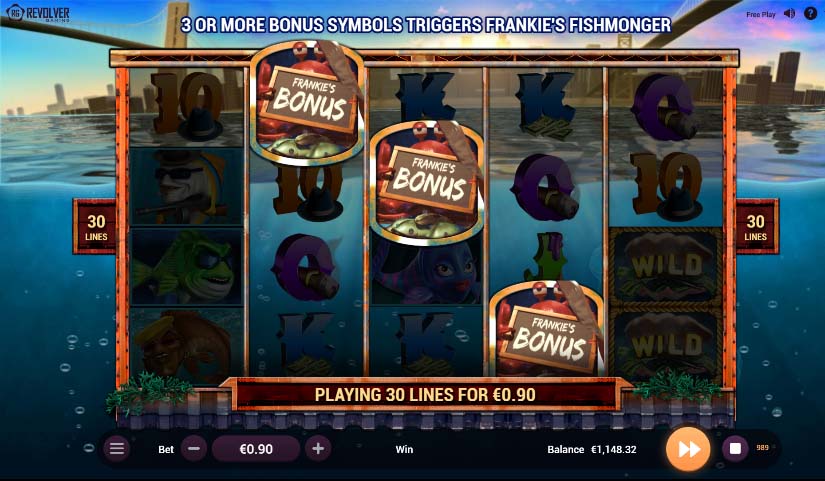 The main bonus round is a free spins plus modifier round, where players have the chance to pick a bonus at random. Choose one of the fish to win free spins, sticky wilds, or free spins with multipliers. There is also an additional feature here which is The Big Catch, where two or more symbol positions become locked, trapping any fish that fall into them. This can help lead towards big feature wins, with the fish released on retriggering the bonus.
Combined with the effects of the wild symbol, scatter pays and the other big wins on the board, the bonus feature helps make GoodFishes a game you can't refuse.
Play GoodFishes Slot Game
If you're a fan of gangster films, there's a strong chance you'll enjoy GoodFishes. Even if you're just looking for a new slot to spin, there's plenty on offer here to catch your eye. From the stunning graphics through to the powerful bonus features, GoodFishes is a solid catch.
Try it out for yourself today and take GoodFishes for a spin.