Golden Gorgon is a slot that carries an ancient Greek theme, specifically in the mythological area. To highlight this, Yggdrasil has added an image of Medusa into the logo of the slot. While the symbols are the vehicles for the theme, you won't really see much elsewhere. There isn't any background to the reels, so it seems Yggdrasil instead focused on the wagering experience rather than the game experience, which isn't really their style. We all know this studio for its very interactive and innovative slots. While there might be a massive jackpot for a game that doesn't have a progressive jackpot, there's also a gigantic max bet limit for the high rollers out there – £400 per spin. It's little wonder why the jackpot is so big. On the other hand, the minimum bet is only 25p, so the wagering window is pretty big and will see players of all budgets adequately accommodated. This is a slot with high volatility, so wins should be rewarding, and you'll also be able to play on your mobile device for added convenience. There are only 25 paylines across the five reels and three rows, but this shouldn't deter you as the wins come when needed.
Feature Symbols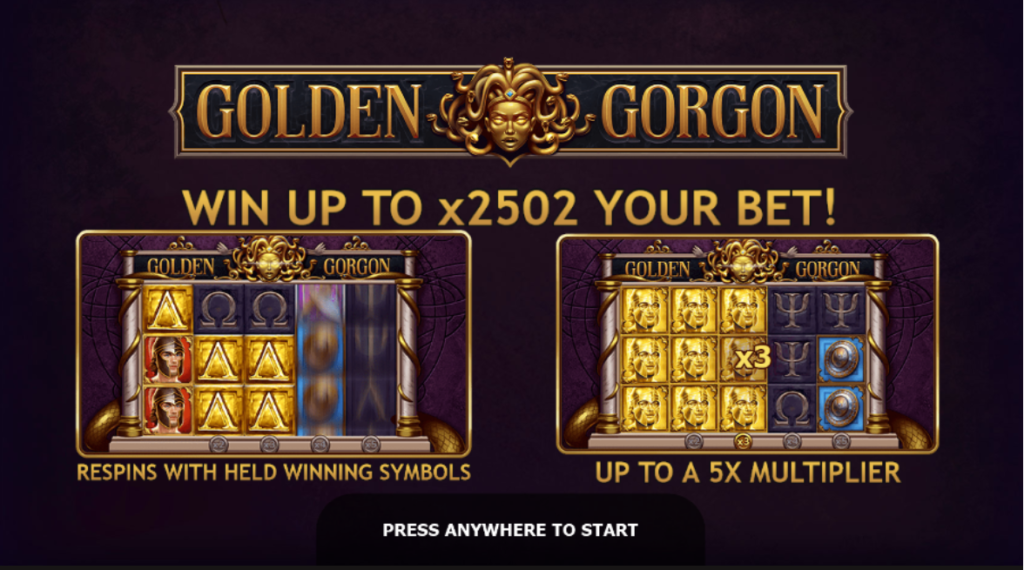 Whenever you look at the numerous online slots that Yggdrasil has released over the years, you expect every release to carry the very creative element they've become known for. In all honesty, there isn't really much creativity in Golden Gorgon, which being a title from this well-renowned casino software studio is a little disappointing. The symbols haven't been developed with any out-of-the-bow thinking, as they are your industry-standard lower value and medium value symbols. And no, you didn't miss anything – there are NO bonus symbols and not even a wild.
So what symbols are there? The lower paying icons are all ancient Greek symbols that you'll immediately recognize and likely won't confuse with the medium value icons. The medium value ones are a little more descriptive of the theme consisting of a shield, a sword and a Greek warrior.
This isn't where we reveal we were pulling your leg and disclose the existence of a bonus symbol. We're afraid to say that there isn't any bonus symbol assistance. However, this isn't to say that a bonus feature doesn't exist, which it most certainly does and will be explained in detail below.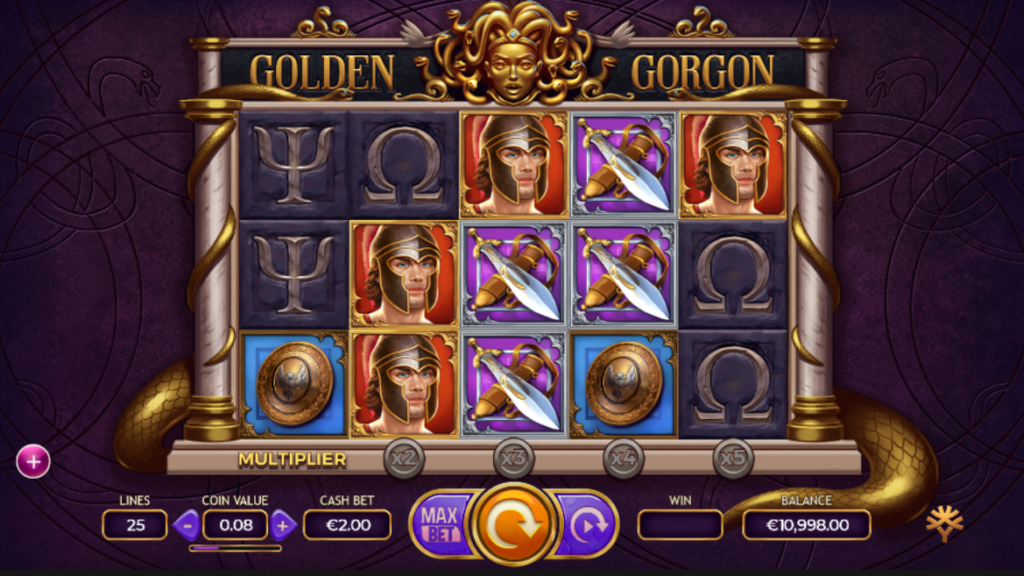 Bonuses
What do players have to do to trigger the bonus feature in the Golden Gorgon online slot? There isn't really much to it. All you need to do is land wins from 3, 4 or 5 of a kind symbol combinations. This will trigger what is called the Golden Gaze Respins.
How the Golden Gaze respins work is that when you land a win in the base game, whether it be 3, 4 or 5 of a kind, the winning symbols will turn gold and lock into the positions they originally landed on. There will then be a respin that could either add more symbols to your previous win, or another whole new winning combination could fall. Regardless, if another win does occur, then there will be another respin. This goes on as long as you're landing wins.
Yggdrasil has added multipliers to the mix, too. From the Golden Gaze Respins, you might fill entire reels with winning symbols, which we'll remind you to turn gold and get locked in place on the reels. Should two or more reels get completely filled with golden symbols, then a multiplier will be applied to your overall win. The multiplier applied to your win is as follows:
Two reels filled – 2x multiplier
Three reels filled – 3x multiplier
Four reels filled – 4x multiplier
Five reels filled – 5x multiplier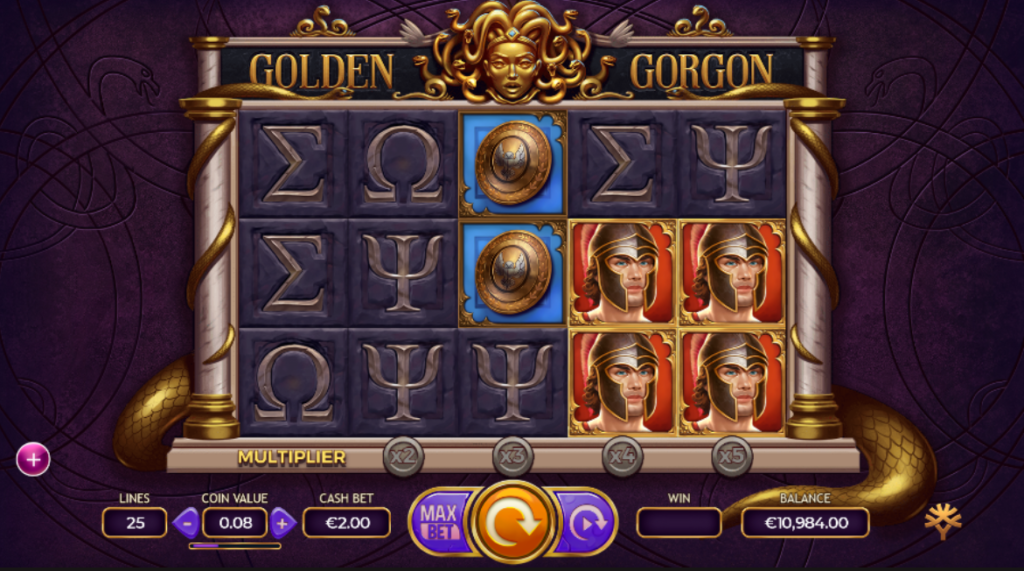 Play Hugo Carts Slot
Players might read this review and think that there isn't much on offer here, with only a respins feature and a few multipliers attached. This isn't too far from the truth, and we must say that, at the very least, a wild symbol could have been added to spice things up. The issue with Golden Gorgon is that the bonus feature gets triggered by winning combinations, but as this is a volatile slot, it means that wins are harder to come by, meaning the bonus feature could be elusive. This feature is cascading reels but without anything else to make the experience worthwhile. We still love Yggdrasil, but Golden Gorgon wasn't one of their more impressive