Where Can I play Genie Jackpots Megaways?
These are the best casinos where you can play Genie Jackpots Megaways:
Videoslots
Slots Magic
PlayOJO
Genie Jackpots Megaways Slot Review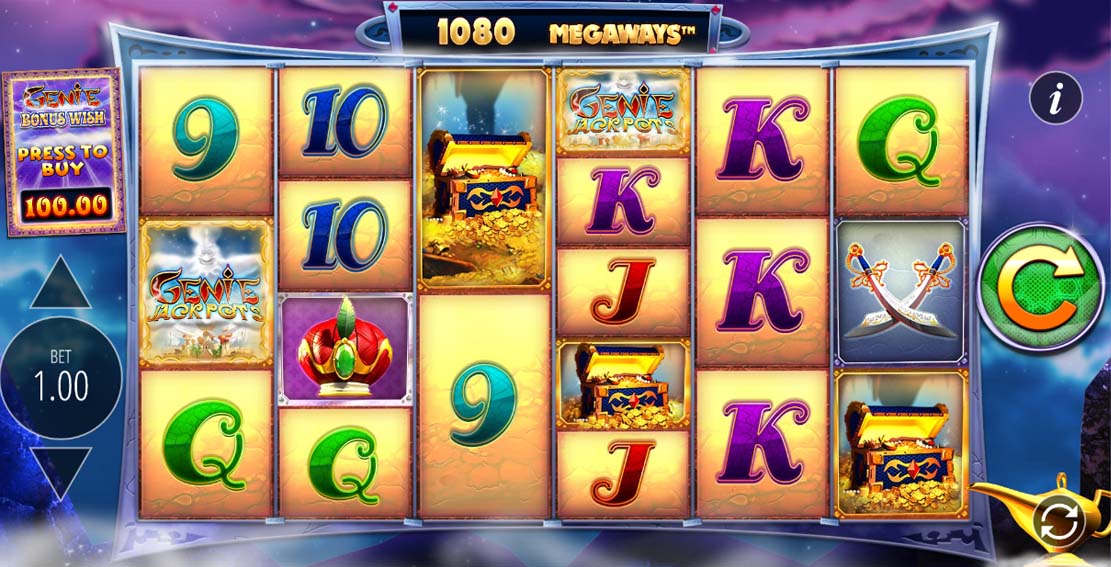 If you had only three wishes what would they be? Perhaps the chance to play Genie Jackpots Megaways and become rich beyond your wildest dreams! At least if you're lucky enough to land the 10,000x main jackpot.
As you've probably guessed by now, Genie Jackpots Megaways is a genie-themed slots game built around the Megaways engine, a firm favourite amongst slot aficionados. This comes down to the distinctive gameplay, large number of paylines and high RTP offered by these type of slots games.
A typical slot will usually have something like 5 reels with 10 paylines, ranging up to 243 or even 1024 for all-ways wins. In the case of Genie Jackpots Megaways, it's 15,625 chances to win on any given spin. There are 6 reels on the board, plus reels of an uneven number of positions, all of which contributes to the unique game structure that makes this slot so interesting.
Of course, this also comes in handy when it's time to talk about jackpots. The maximum prize is big enough, but with RTP sky high at 96.52%, this slot is definitely worth taking for a few spins.
The reels are filled with genies and related symbols. These are the higher paying symbols according to the paytable, and lining up combinations of three or more of these symbols will win you the larger spin wins. You'll also find a selection of high card symbols from a standard deck of playing cards – these are the low paying symbols on your reels. You'll still win if you match a combination, but just at a lesser multiple of your per spin bet.
You'll also come across several different bonuses and modifiers as you play through this game, giving the action an unpredictable feel. Fortunately, these are all to your benefit, providing you with additional opportunities to win over and above combinations on the main reels.
There's also even a Bonus Wish Bet, where you can buy in to the bonus round directly if you're feeling adventurous – 100x your stake gets you your pick of modifiers plus a full blown bonus round to build on.
Feature Symbols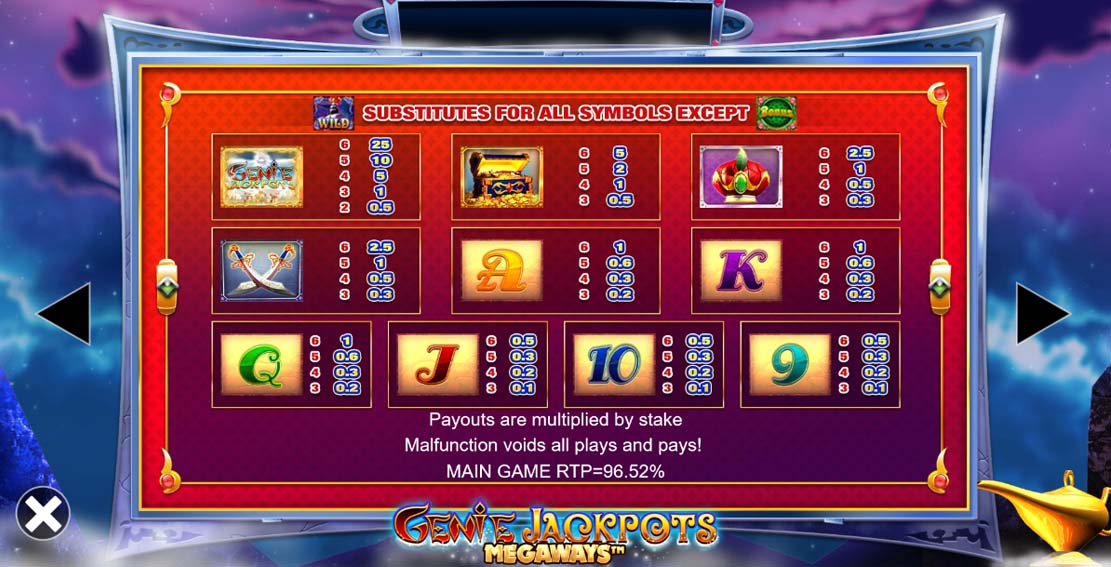 The wild symbol can appear at any time on selected reels, and acts to replace symbols you are otherwise missing from your board. This substitutes for all symbols except the scatter, which you need to land in true numbers in order to trigger the bonus feature. Wilds can appear during both the main game and the bonus feature, and with the help of modifiers, can become even more useful as you progress through the game.The bonus symbol, or the scatter, is your ticket to the main feature, triggered when you land four or more of these symbols on the board.
Bonuses & Jackpots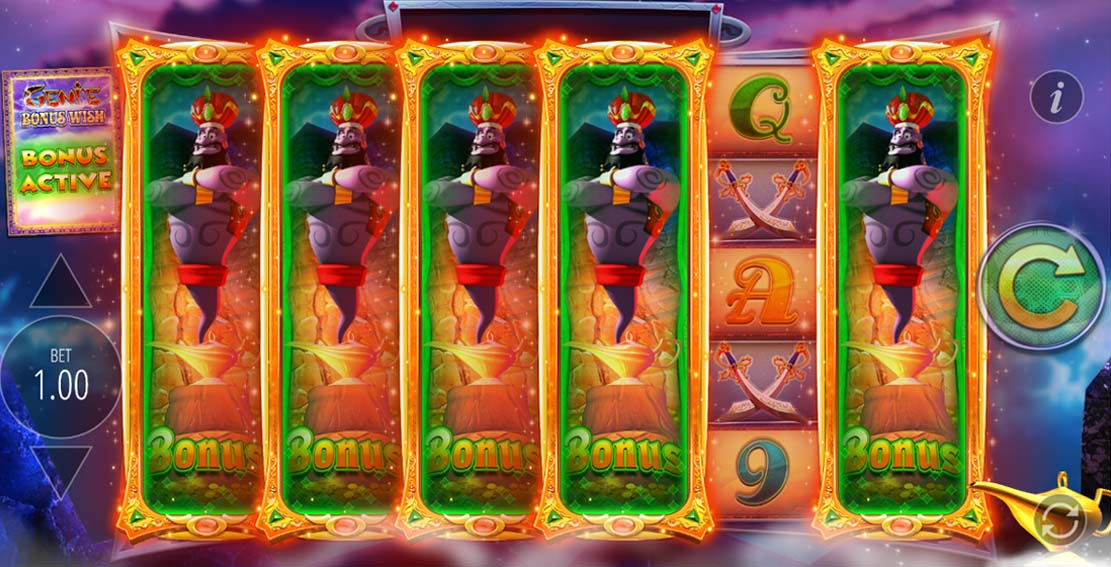 At any time, it's possible to find yourself benefiting from one of four different random modifiers. These include various combinations of extra wilds, multipliers, mystery symbols and bonus symbols, all of which are to the benefit of your reels.
The bonus round awards anywhere from 10-20 free spins, with players asked to choose one lamp from a selection to reveal their prize. The prize includes a number of free spins as well as specific modifiers, which can add additional multipliers, make some symbols sticky and set mystery symbols to change into matching symbols for bigger combinations.
The Bonus Wish Bet is available at any time, and for 100x the stake, you can take another stab at the bonus feature – without having to trigger it directly yourself.
Play Genie Jackpots Megaways Slot Game
Genie Jackpots Megaways is a high paying, fast-paced slot with plenty of extra action. The interesting Megaways construction, coupled with the high paying potential of this slot make it a game to return to, time after time. Just hope the genie is ready to award you with one of these bonus features – with the chance for serious wins to rack up over the bonus round, it's a large part of what makes this game so popular.