Game of Thrones Slot Review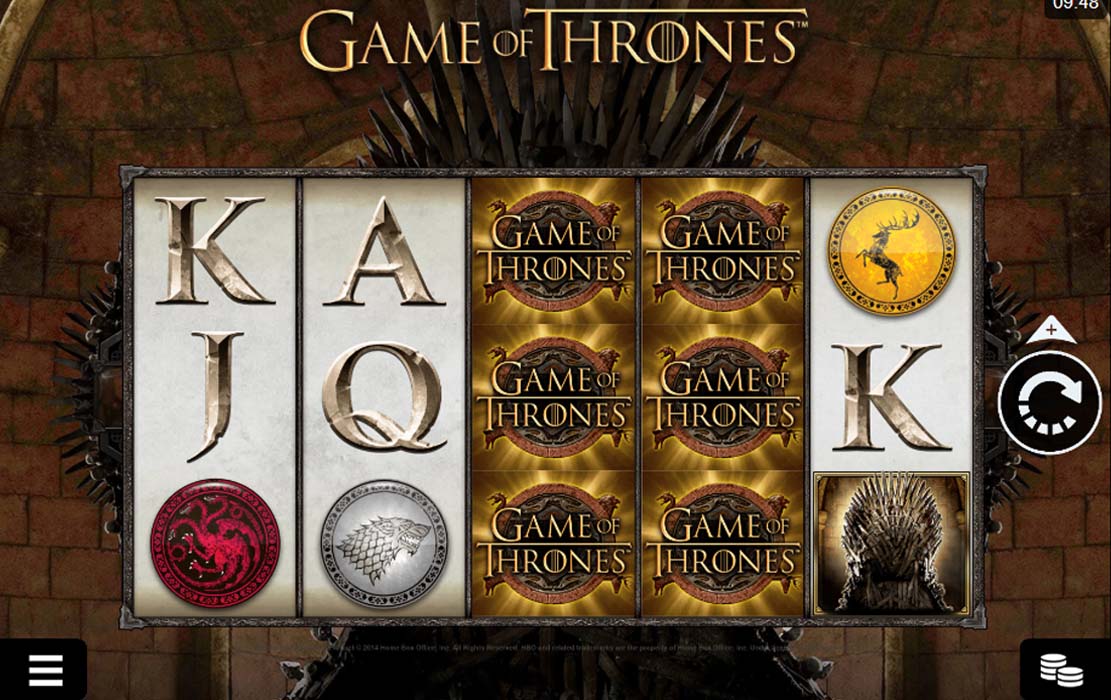 Few TV shows have had even close to the impact of Game of Thrones. Adapted from a series of novels by Geroge R. R. Martin, Game of Thrones has been enjoyed by millions of viewers worldwide, and sparked countless memes and popular culture references that will stand the test of time. Dubious finale aside, this is a TV show that has set a new bar for TV shows to come – and it's one that will take some surpassing. So when Microgaming announced they were releasing a Game of Thrones slot, it was one of the most eagerly anticipated launches of the year.
The game itself draws on elements from the show, and GoT fans will be more than happy with the results. But even if you're not a particularly big fan of the show, or you've been living under a rock and somehow missed the Game of Thrones whirlwind, there's still a lot to like in this slots title.
The game is set up across a fairly common reel set, five reels across standing three positions high. The first thing you'll notice is the incredible graphics, which are similar to the styling of the show. This runs from the reel background to the symbols on the reels themselves, which are all worked to a high quality, giving the slots action here a premium feel.
If it's action you want, do not be fooled by the straightforward appearance of the gameplay here – there's a lot more to it once you get the spinning underway.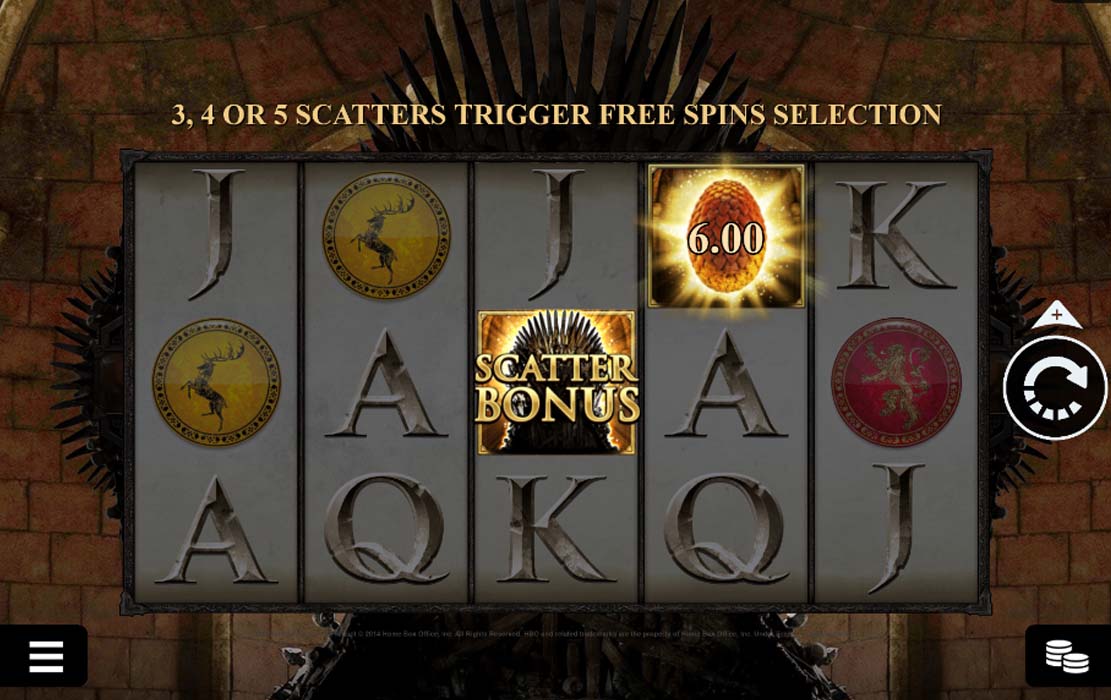 There are 15 paylines on the reels, and you get paid a payout of a multiple of your stake depending on the value of your combination. The higher value symbols on the paytable are the combos you want to aim for, though you're likely to land lower combinations with greater frequency. Look out for symbols including the seals of the four families, which are joined with high card symbols to make up the reel positions.
Betting gets underway from just £0.15 per spin, but there's scope to push this up as far as £75.00 a spin. The main jackpot is 3,000x, and this is a multiple of the stake, so the more you bet, the more you can win if your luck is in – it's completely up to you how best to play it.
The RTP, or the return to player percentage, is the best way to compare different slots, calculating the percentage house edge. In the case of Game of Thrones, it stands at 95.01%, which is about average for high paying slots. When you consider this is also a slot with a huge jackpot in the base game, that makes Game of Thrones even more appealing.
Fans of the show in particular will go wild for the bonuses, which is where some of the best action is to be had. These include free spins and multipliers, as well as a gamble function for those feeling extra lucky.
Feature Symbols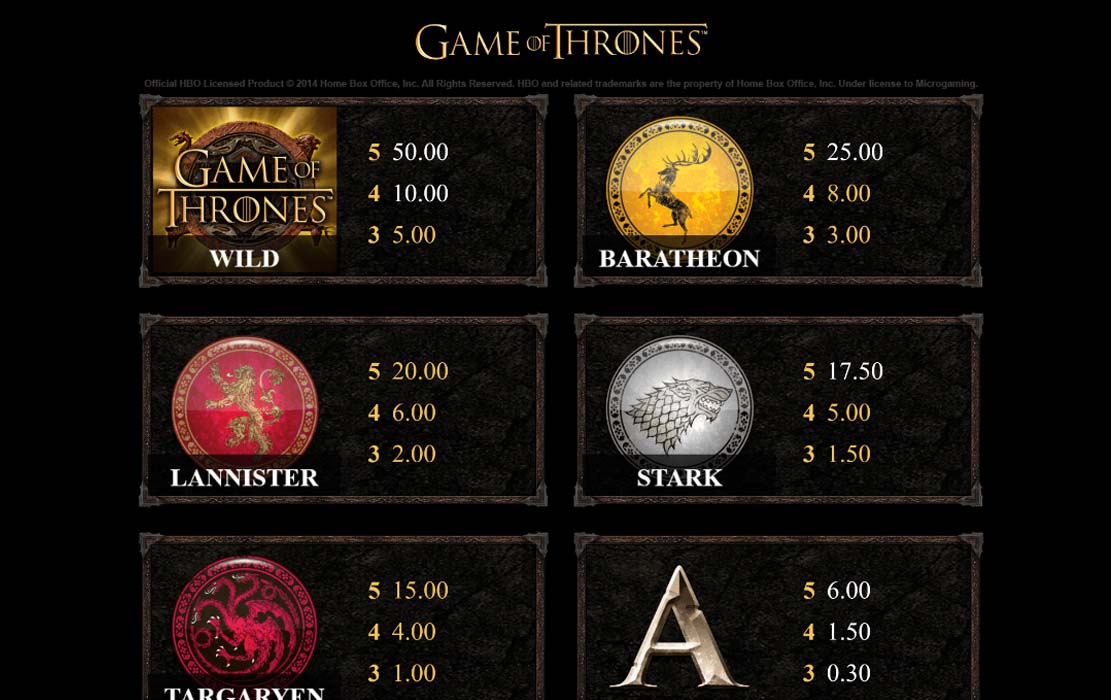 There are a couple of feature symbols of note in Game of Thrones, the most notable of which is the wild symbol. This is the Game of Thrones logo, and you'll see this popping up most frequently – don't worry, it's a good thing each and every time this falls on your reels. Wilds substitute in place of missing symbols to make more combination wins possible – in other words, a wild will help you convert a combo into a fully paying line, even if you're one symbol short. So wherever a wild falls on your reels, you're in with a much bigger chance of walking away a winner from that spin.
There's the Iron Throne symbol, which is the scatter or bonus symbol in this slot. This can't be substituted by the wild, so you'll need to find at least two of these symbols on your reels in order to trigger the main game bonus feature.
Bonuses & Jackpots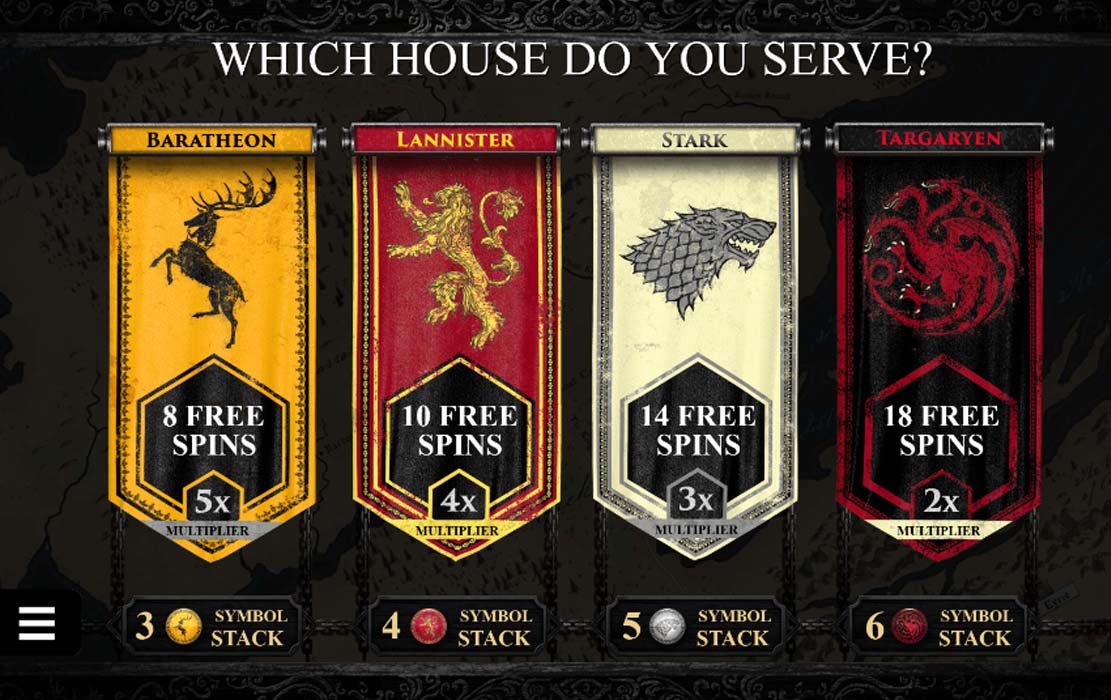 The bonus feature is a free spins round, with different bonuses available for each of the four houses. These offer differing combinations of free spins and multipliers, and it's the player's choice – choose more free spins with a lower multiplier, or fewer spins with a higher multiplier, depending on your strategy. Or just choose your favourite house from the TV show – the choice is yours.You can also retrigger these spins during the round too, which can allow you to make the most of the bonus feature when it rolls around.
Once you land a winning spin, there's also the chance to gamble for an even bigger prize. This is a double-or-quits proposition so you could lose your winnings if it doesn't go well. But used sparingly, this is a good way to double down on your winnings to make those feature wins really count.
Play Game of Thrones Slot Game
If you're a Game of Thrones fan (and let's face it, who isn't?), this is the slots game for you. With plenty of action from the TV show, and more than a fighting chance of winning some decent money as you play through the game, Game of Thrones from Microgaming is one slot you don't want to miss.