Fat Rabbit Slot Review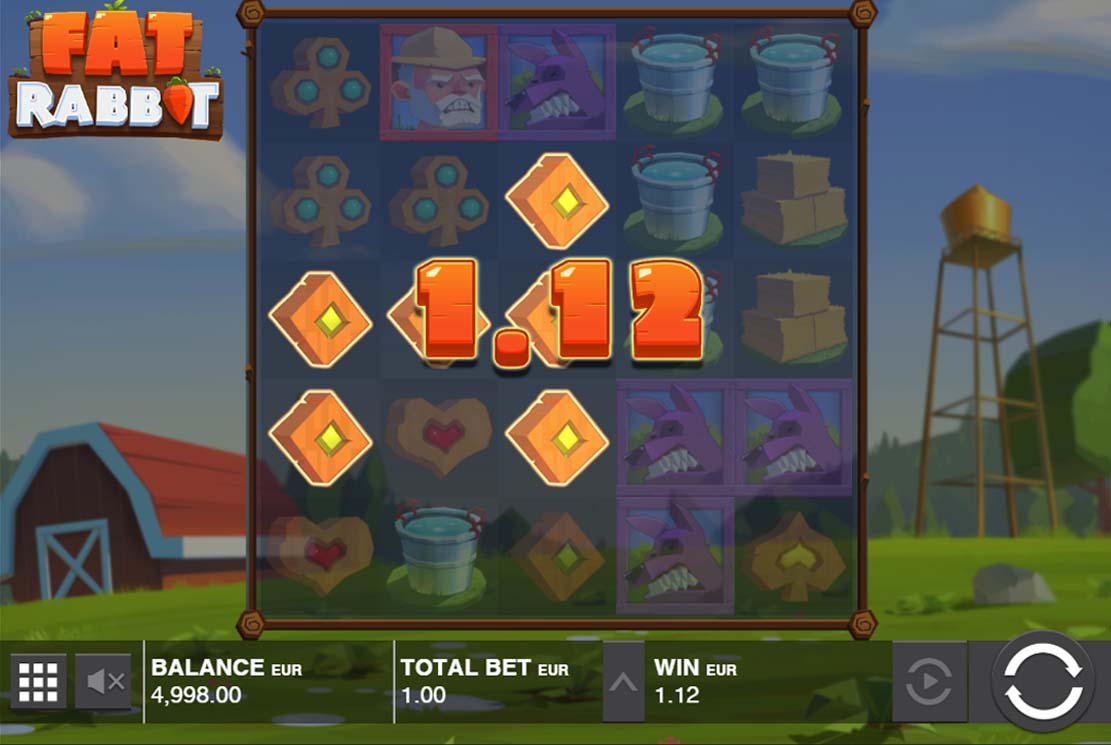 Farmyards are perhaps not the most likely backdrop for some exciting slots action. But from time to time, they do feature, and Fat Rabbit is perhaps one of the best examples we've come across. Obviously this is no rabbit farm, and the rabbit in question is less than welcome – it's written all over the farmer's face. It's up to you to help the rabbit continue to gain weight as it munches its way through the farmer's freshly grown produce, hopefully netting yourself some juicy wins along the way.
Developed by Push Gaming, Fat Rabbit doesn't look anything like your standard slot. Sure, there are 5 reels which is common, but these reels stand some five positions high, creating a square grid. This creates 50 paylines, on which players can win multiples of their stake for lining up matching symbols of three or more positions.
The symbols on the reels take on a cartoon feel, which adds to the humour running throughout this game – you didn't think a slot called Fat Rabbit would be serious?! The stylised blocky 3D graphics give a unique feel to proceedings, with symbols including the farmer, his dog, a bucket of water and hay bales. These are the highest paying combinations, so ideally it's these symbols you want to line up to land paying combinations.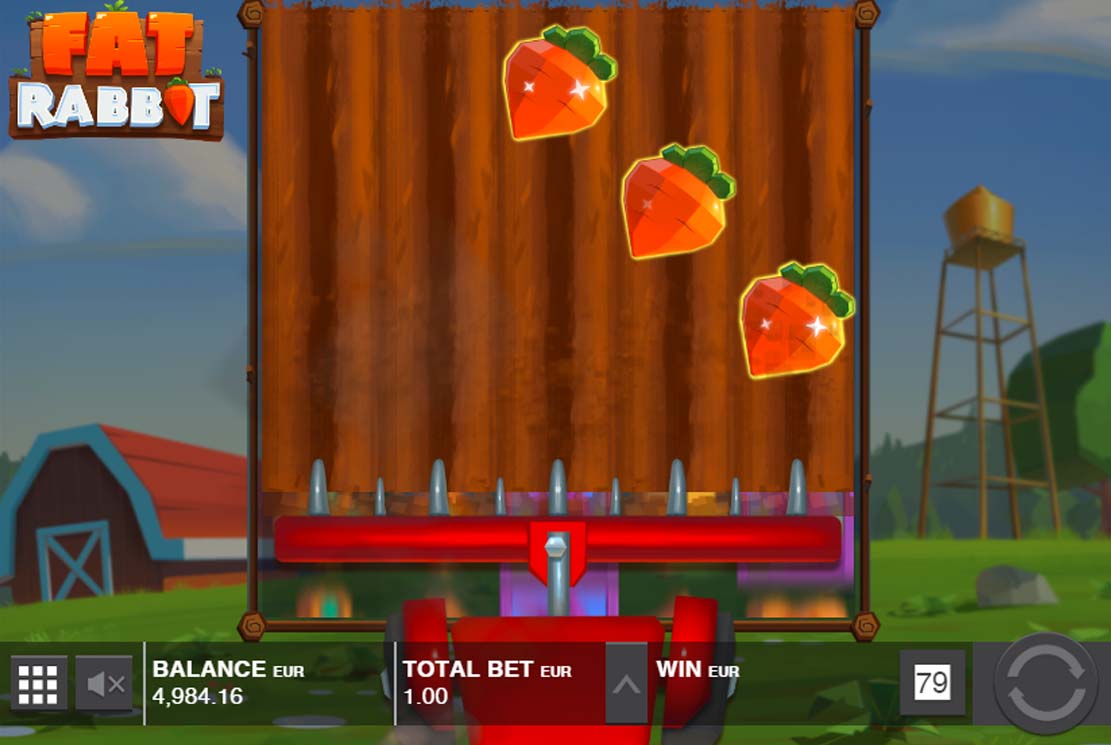 You'll also find suited symbols carved in wood – these are the low paying symbols. You can still match these in combinations no problem, it's just that the payout comes in at a lower rate than for the higher value symbols. These appear more frequently, hence pay at a lower rate, but you'll find combinations of low paying symbols are easier to land, which offsets this somewhat.
Humour aside, there's a lot more to this game than just some pretty graphics. The betting begins at a mere £0.25 per spin, so there's room for any player budget. At the upper end, you can play right through to £100 per spin. When you consider the jackpot clocks in at 20x, that's up to £2,000 on a single spin, not to mention the feature wins you can pick up from the bonus round.
RTP-wise, it's also a high payer. We recommend anything over 95% RTP as being a high paying slot game, ane Fat Rabbit passes the test at 96.45%. That's clear of average and then some, meaning it's easier to win more in the long-run compared to other slots.
The bonus features are triggered by bonus symbols, as well as a randomly occurring bonus that can strike at any time. There's also a wild symbol which will help you out on your way to fattening up this rabbit for a bumper payday.
Feature Symbols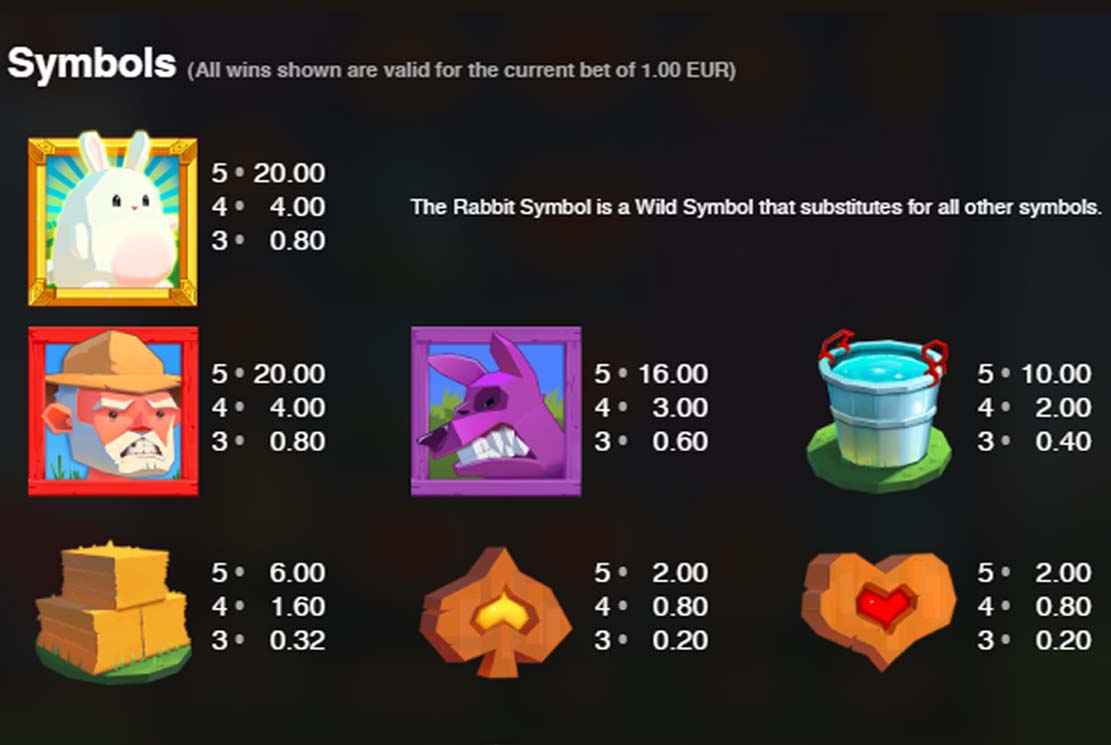 The somewhat chubby white rabbit is the wild symbol in the game, acting in the usual way by switching for any symbols you need it to on demand. This is automatic – the game simply interprets the wild as any symbol that would create a combination if it matched symbols either side, which means you get paid for more combinations, more often with the help of wilds. The only exception to this rule is the bonus symbol, which must land in true numbers to trigger the bonus.
There's also a wild carrot symbols which has the same effect. In order to trigger the bonus, you need to line up both a wild carrot and a wild rabbit in view, which is your ticket into the main bonus round.
Bonuses & Jackpots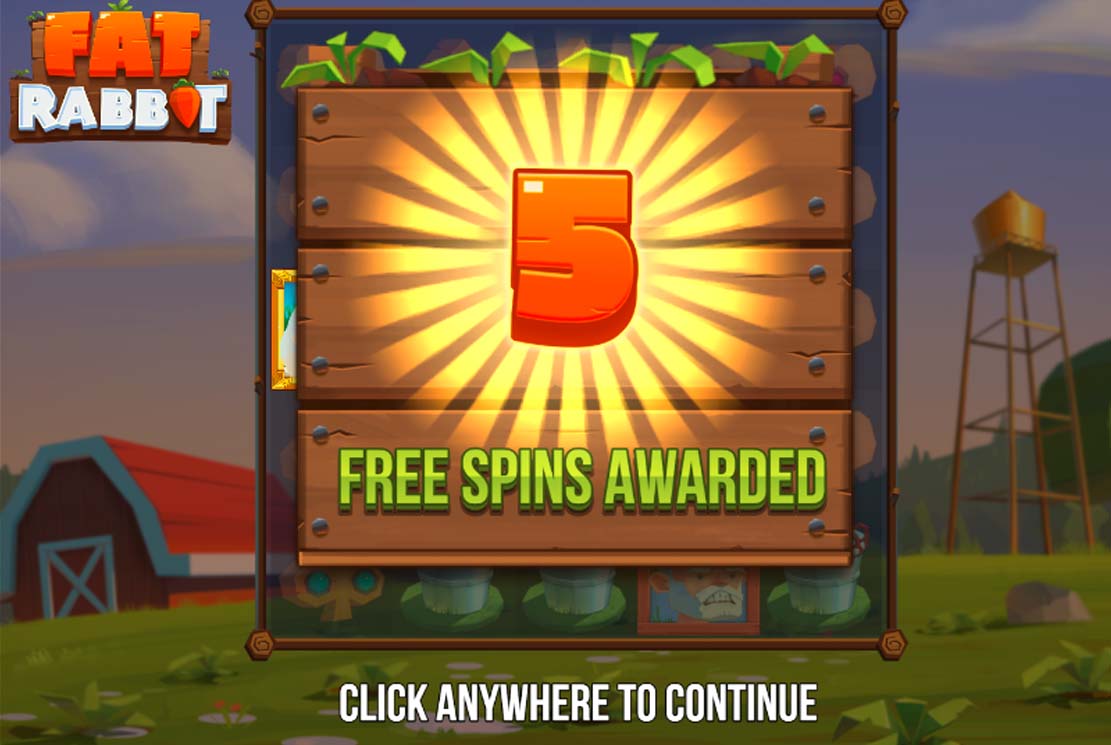 The main bonus is a free spins round, which starts with an allocation of five free spins. Every time you spin, any rabbits will eat the carrots in view, and move to that position as they do so. You also fill a bonus meter with each carrot munched, which delivers more free spins when you've eaten enough. With each completed meter, you get a further 3 spins and an ever bigger rabbit, right up to a massive 5×5 wild rabbit for the biggest wins the feature round has to offer.
There's also a random harvest bonus, which occurs at any time during the main game. A tractor runs across the field both vertically and horizontally, turning up wild carrots as it does so – these are then applied to the reels to see if there are any combinations available, which is yet another chance to win.
Play Fat Rabbit Slot Game
Fat Rabbit is great fun, and it's clearly a slot that doesn't take itself too seriously. But underneath the laughter, there's some big winning potential, especially at max bets. The bonus round too can be especially lucrative, and if you fatten your rabbit up to a 5×5 wild, you're laughing.