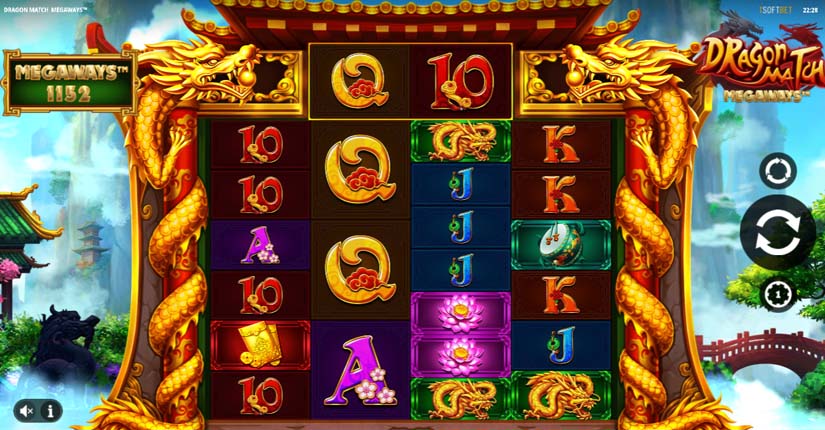 The Chinese theme – ancient Chinese theme, to be specific – is one that has descended onto the reels on numerous occasions. It is up there with the Egyptian and Irish themes as the most popular in the online slots scene. iSoftBet has seen it as a great idea to pull the Chinese theme out once again in the very gold-look Dragon Match Megaways slot. These days there isn't much we haven't seen before when opening up a game, especially the Megaways format, but here you'll see some elements that are going for the eyebrow-raising effect, such as the number of paylines and a ferocious free spins feature. Let's mount the back of a dragon and swoop onto the scene for a closer look.
As the name suggests, the theme is all about dragons. We're not talking about cute, animated ones, but rather beasts from the ancient Chinese culture that symbolise wealth. This is where you want to be playing after a few rounds of Dragon Match Megaways – being able to flash some cash. And the chances to win cash are there. There are a whopping 3,136 paylines that can land you winning combinations over only four reels. There's also great optimisation on iOS and Android devices, so players who like to get their thrills on the go. There are two negatives that stand out, however, with a RTP ratio of 95.66% and the slot being high volatility. The RTP is a little low, and high volatility means a bit of frustration.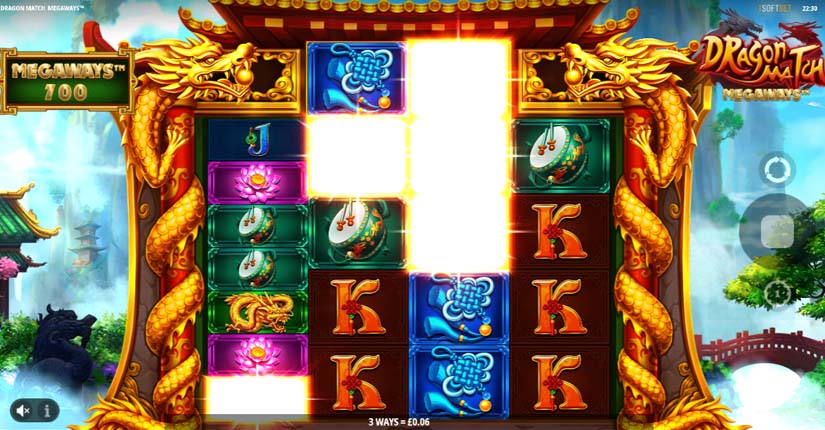 Something that does light up like a dragon's target of fire is the maximum bet. These days we're used to seeing very high amounts that players need to drop to win the jackpot. We're talking numbers over £100, so we're pleased to see a manageable £20 as the max bet. There are also cascading reels, which means that win reactions can happen. This means that you'll essentially get a respin every time you land a winning combination.
Feature Symbols
The casino software studio that created Dragon Match Megaways is iSoftBet, and they decided to tow the ancient Chinese theme line with the symbols they went for. The symbols of this theme are always very similar and nothing that you haven't seen before. They also follow the higher and lower value icons. The lower value ones are the playing cards 10, J, Q, K and A, which the higher value symbols being a selection of Chinese objects. There's a drum, an ornament, a flower and a money pouch with gold coins.
There's both a wild, and a scatter icon that one can land on the reels. The wild stands in for all regular symbols to create a winning payline, except the scatter. The scatter is the golden dragon, and this is what you need to get some cash prizes.
Bonuses and Jackpots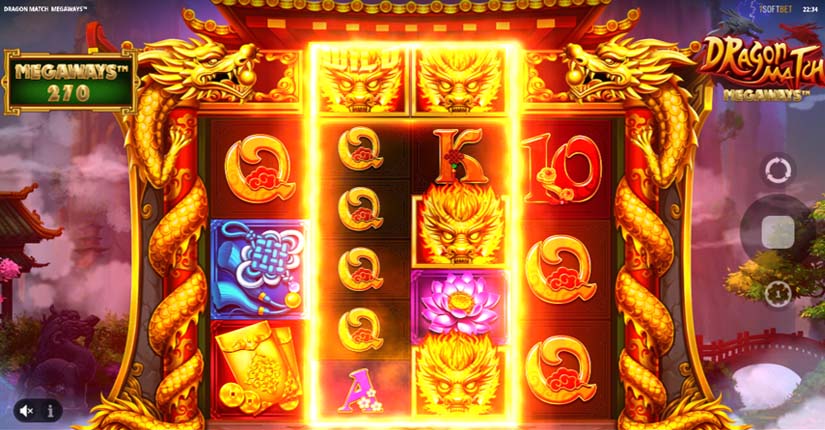 There are free spins in Dragon Match Megaways online slot, and you'll need to land scatter icons to get them dropping through the reels. However, instead of having to land three or more scatters on the same spin, you'll need to land only two scatters on the top row. When you manage this, you'll be randomly awarded 1 of 4 free spin options. Before explaining them, it's important to note that all win reactions through the cascading reels trigger a 1x win multiplier in the free spins. You'll either get 12 free spins starting with a 1x multiplier, eight free spins with a 3x multiplier, five free spins with a 5x multiplier or a mystery amount of spins and multiplier. With any luck, it'll be 12 spins with a 5x multiplier.
Play Dragon Match Megaways Slot
Playing Dragon Match Megaways online slot isn't half bad. The free spins are definitely worth the wait once they get triggered, while you won't have to wager obscene amounts to get a decent return on what you dropped per spin. There are a few blips such as the RTP ratio and having to contend with high volatility, but these dragons are breathing a whole load of winning opportunities onto the reels, and they require you to go out and slay them.