They say we should never judge a book by its cover, and while this is true in most cases, there are loads of iGamers out there with a preference for slot machines online, bringing a theme that makes the game more enjoyable. The theme of Big Piggy Bonus Slot sees a central character being played by a pig that also happens to be a bank manager and giving you unobstructed access to the bank vault. Is it the best theme for a slot machine we've ever seen? Probably not, but there aren't really any complications being served up, and the animations aren't too bad. Inspired Gaming has taken a lighter approach that is designed to give you easier winning chances that are pretty straightforward instead of convoluted features that leave you more confused than flush with cash.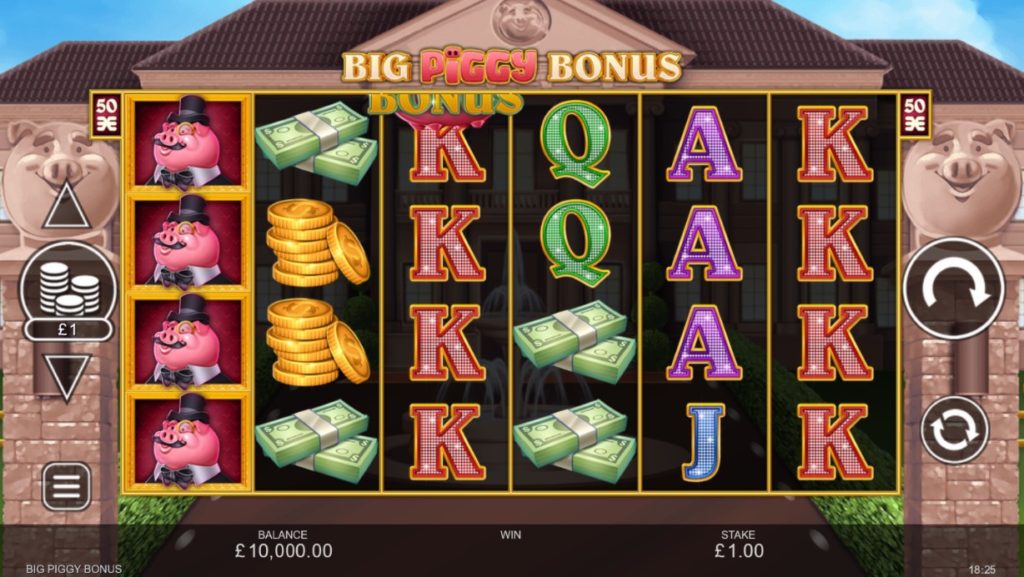 Feature Symbols
This area of Big Piggy Bonus Slot demonstrates the simplicity of the slot, as the formula of the symbols has been made quite traditional with no strange surprises. They're split into the lower value, medium value and bonus categories. Remember, as a side note, there are six reels and three rows that make up a reel grid of 18 windows. There's actually a higher number of symbols in Big Piggy Bonus than your average slot. However, it doesn't seem to make any difference. There are also 50 paylines on which 3, 4, 5 and 6 of a kind winning symbol combinations can appear.
The symbols that make up the lower-paying icons are playing card royals J, Q, K and A, with all of them carry the same values. The medium paying symbols are all objects that can be stored in a bank vault and include coins, banknotes, a silver ring, a gold ring, bank cards and gold bars. Of all the regular symbols, the gold bars will give you the biggest win.
There are also a couple of icons that you'll want to see landing as often as possible, and this is because they have the ability to make things happen out of the blue. The first of these is the piggy bank manager, which is the wild icon. The function of the wild is to act as any regular symbol required to make up a winning symbol combination. The second of the special icons is the piggy bank and is the scatter. The scatter can't be substituted by the wild, but we'll explain all its splendour next in the bonus section.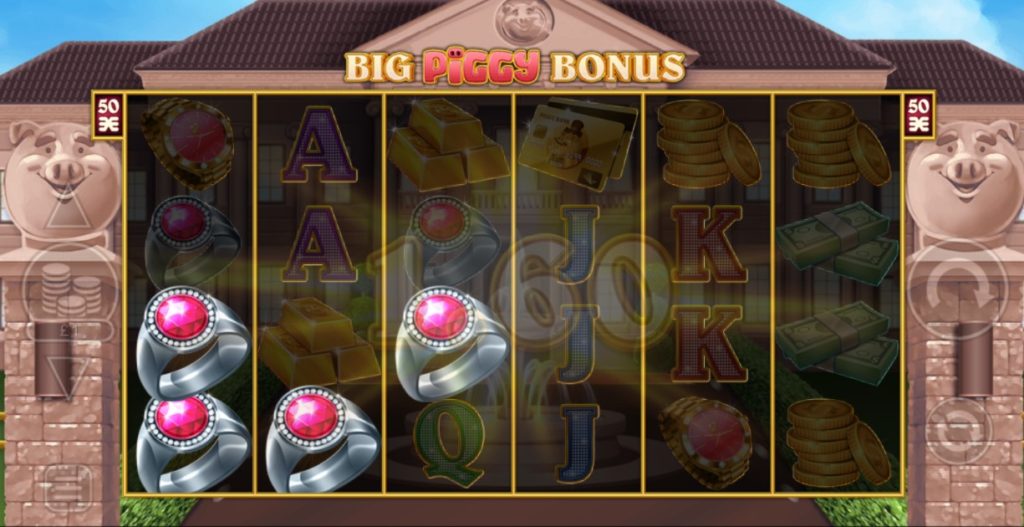 Bonuses
Depending on what sort of online slots experience you like, this bonus feature might be fantastic or underwhelming. Again, it will probably appeal to the traditional players out there that like their slots machine straightforward without any convoluted stages.
What we have is a free spins feature, and while very common and not the most innovative of bonus features that could have been included in Big Piggy Bonus Slot, it still does the job of giving you plenty of cash. In order to trigger it, you'll need to land three or more piggy bank symbols anywhere on the reels on the same spin. What will happen next is that all the scatters that triggered the feature will lock into place and become 'pick me' objects, with the intention for players to be to click on one of the scatters. Once clicking on one of the piggy banks, there will be a multiplier revealed, which will be 20x, 25x, 30x, 50x or 100x your bet. This is what will be applied to your overall winnings once your free spins have finished.
You might be wondering how many spins you'll receive. The free spins continue until you've won equal or more of the multiplier amount you chose. You'll also notice that all wilds that land during the spins, lock in place for the duration of the feature.
Play Big Piggy Bonus Slot
There's only one reason players might have for not wanting to play a slot that can pay 12,500x your bet, and this is that there isn't as much flash as the types of slot titles that capture attention through innovative bonus features and themes that resonate using popular culture. Playing Big Piggy bonus will mean taking in lower but consistent wins, and if you have patience, then the number you rake in might become something that piggy bank could never dream of holding within its modest interior.