Given the rising popularity of live casino game shows, it was just a matter of time before someone combined them. Playtech beat everyone else to the punch, giving us Who Wants to Be a Millionaire Roulette. The developer did a great job of carrying over the TV show elements while still giving us an engaging roulette game. The top prize is an awesome 2,000x your total stake.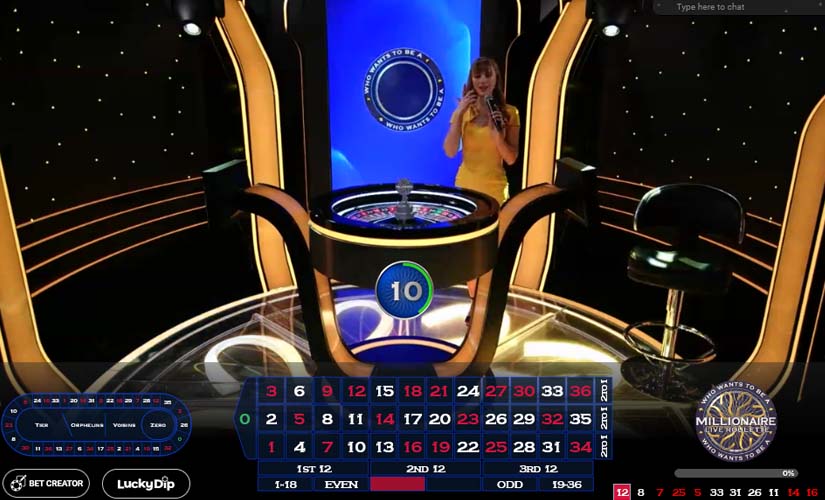 Visuals & Gameplay
When you first launch the game, you will be met with a roulette wheel, similar to Mega Fire Blaze Roulette. A host is present, interacting with the players and spinning the roulette wheel. The online roulette game does not look similar to Who Wants to Be a Millionaire until its special feature becomes active. At that point, the studio shifts into something more reminiscent of the TV show. In a flash of brilliance, Playtech's release places the camera across the host during the bonus. Making you feel like you are the one in the hot seat!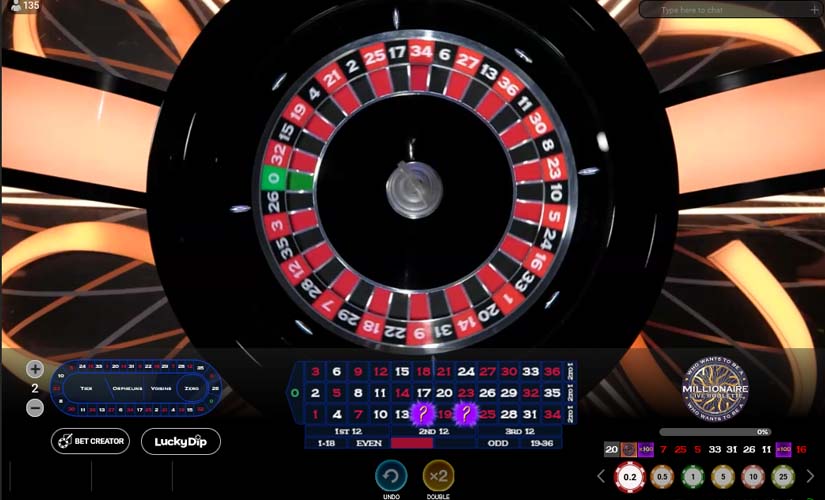 Who Wants to Be a Millionaire roulette is played on a standard European roulette wheel with a single zero. Casino members can place a variety of outside and inside bets in this game. Only inside bets are eligible to enter the release's special features. All bets must be placed before the betting time closes. Once that happens, the round proceeds and the winning number is drawn. If you correctly guessed the number, you win a prize. Bonus rounds play if everything lines up perfectly.
Who Wants to Be a Millionaire Roulette Bonuses
Every round, one to ten numbers on the betting grid are picked to be Millionaire Numbers. The numbers are picked randomly. The game can highlight Millionaire Numbers in one of three ways.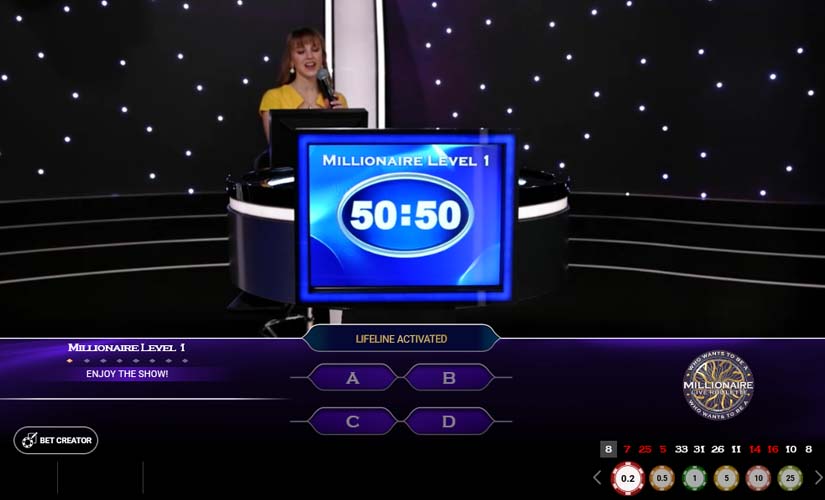 Millionaire logo icons. These can appear as bronze or gold. They are guaranteed to initiate a Millionaire round with eight questions for bronze or ten questions for gold.
A 100x icon. If this number is drawn, players receive a 100x your bet payout.
A question mark. It can grant one of two rewards. The first lets you pick between a Millionaire round with a 150x maximum win or a 50x instant reward. The second is a choice between a Millionaire round with a 300x maximum win or a 100x instant reward. Which one you get is random. Question mark Millionaire rounds last for five questions.
Millionaire rounds are styled after the Who Wants to Be a Millionaire TV show. However, we do not answer actual questions. Instead, each round gives you four options. Each one hides a random multiplier beneath it. All Millionaire rounds have guaranteed multipliers for the first couple of rounds. If activated through a question mark, your first three rounds have a guaranteed win. For the bronze and gold symbol bonuses, the first five rounds are guaranteed wins.
During those guaranteed rounds, all four options you can choose have a multiplier beneath them. These multipliers are added together as you pick them. After the end of the guaranteed round, some of the boxes will contain an X icon. Picking a box with an X ends the bonus round. The only other way to end the special feature is to reach the top of the ladder.
During Millionaire rounds, players can use three lifelines. 50-50 will remove two possible answers, leaving just two to choose from. Ask the Audience polls a virtual audience to pick an answer. Ask the Host and he'll remove the answer with the lowest multipliers. The payout you receive from the bonus depends on your bet. If you directly bet on a Millionaire number, you receive the full payout. Meanwhile, a line bet will pay a sixth of the total multiplier win.
Play Who Wants to be a Millionaire Roulette
One of the most surprising things we discovered was Playtech's release has an RTP of 97.29%. This is almost identical to a standard European roulette table, which has an RTP of 97.3%. The developer achieved this by decreasing the normal payouts for all inside bets.
This does not affect you as much as you might think. Bonus rounds are very lucrative and can make up for the decreased standard rewards for inside bets. If you are looking for a live roulette game with some awesome special features? Who Wants to Be a Millionaire roulette should be on your radar.