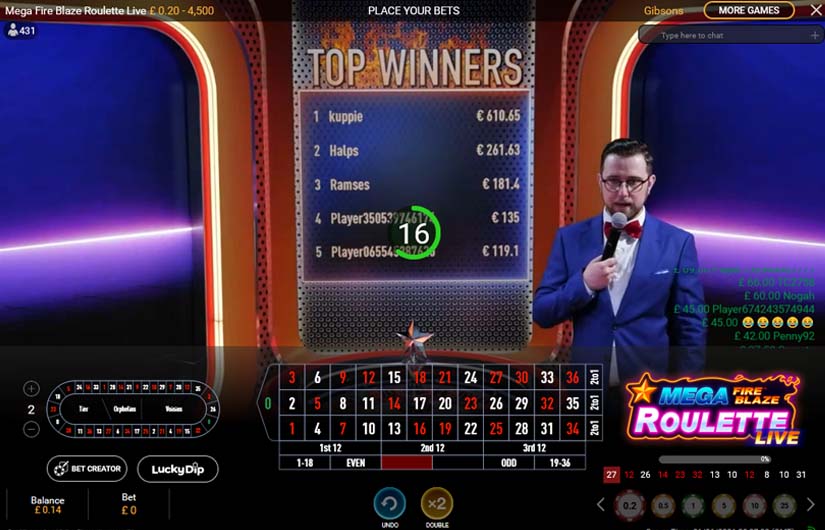 Mega Fire Blaze Roulette Basics
The core of Mega Fire Blaze Roulette will be familiar to many casino members. The game is built on the back of European Roulette. It is played on a wheel with thirty-seven pockets. Each pocket corresponds to a number: 1-36 and a single zero. Outside of zero, all numbers are split into red and black positions. The RTP for this title is 97.30%, the same as European Roulette.
Every round starts with a betting period. During this brief window of time, players can place their wagers on the betting field. We place stakes on the betting field to try and predict where the ball will land. Players have access to multiple wagers. You can place bets on one number directly or place a stake that covers multiple numbers simultaneously. You can also place multiple bets at the same time.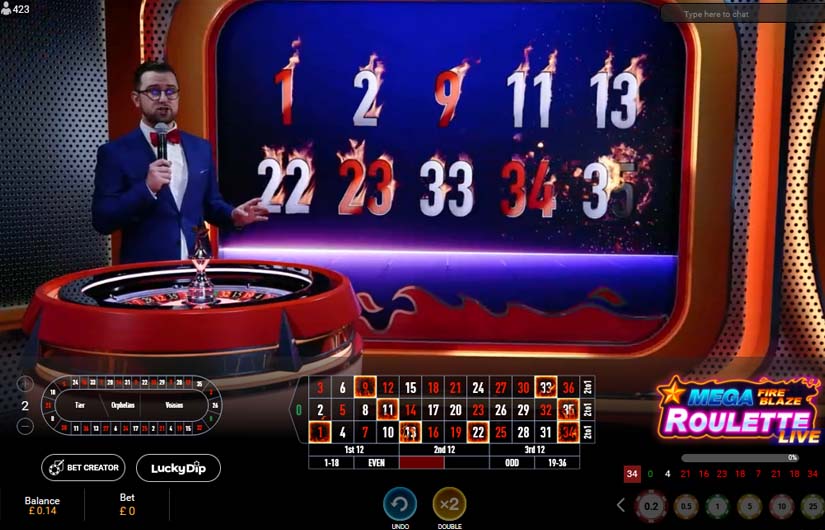 If you correctly predicted where the ball would land, you will receive a cash prize. The type of reward you get depends on the bet you played. A wager that covers multiple numbers will grant a smaller prize compared to betting on one number and guessing right. After the round ends, prizes are paid out to winners, and the next round begins.
Mega Fire Blaze Roulette Special Features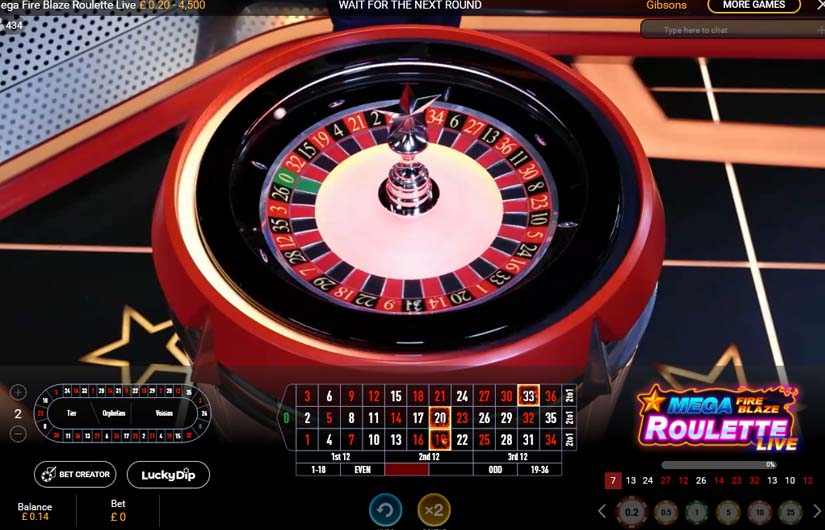 After you place your bets, Mega Fire Blaze Roulette's bonus rounds come out to play. Every round, up to five fire numbers are selected. The numbers are chosen randomly each time. If a Fire Blast occurs, up to ten fire numbers can be chosen instead. If a ball lands on the chosen number, it initiates the special feature. However, this only happens if you placed a bet on said number ahead of time. Only inside bets count towards activating the bonus.
When triggered, the special feature leads you to another screen. Here, we see a grid comprised of three rows and twelve columns. The playing field is then divided into six chunks. Each chunk is comprised of six empty positions. Above each chunk is either a multiplier or a jackpot value. The available jackpots are:
Mini – 20x
Minor – 100x
Major – 500x
Grand – 2000x
During the bonus round, Mega Fire Blaze Roulette will start dropping multiplier orbs on the grid. The orbs can appear with values ranging from 1x to 50x. When an orb cascades down the grid, it has a chance of landing and becoming sticky. Players get three reel cascades. If none of the orbs stick to the grid, the counter goes down by one. If even one orb stick to the grid, the counter resets back to three.
The bonus ends when the count reaches zero, or the grid is filled. Completely filling a six-position chunk marks it as completed. When a section completes, the assigned multiplier is added to all the multiplier orbs in that chunk. In case it was a jackpot, a small wheel will spin to determine which jackpot was won.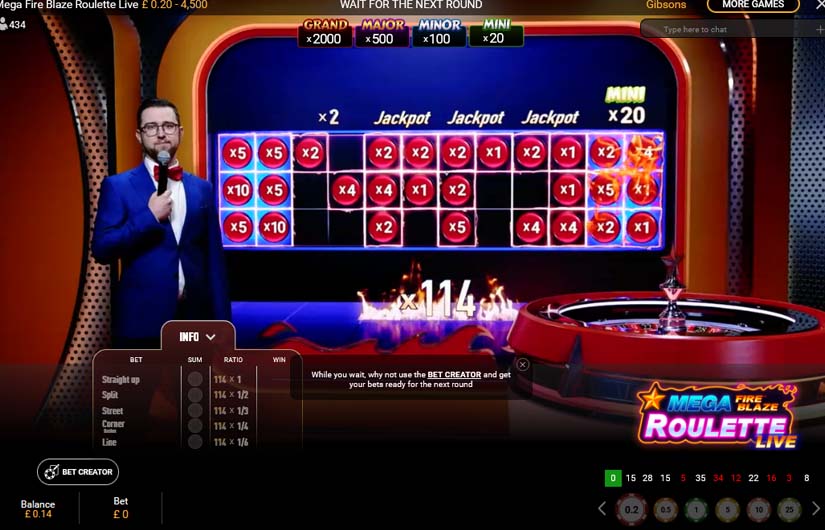 All multiplier orbs are then added together and granted as a cash prize. How much you win depends on what your qualifying bet was.
If you qualify with a Line bet, you will receive 1/6 of the total multiplier prize.
Corner wagers get 1/4 of the total multiplier prize.
Street stakes earn 1/3 of the total multiplier prize.
Split bets score 1/2 of the total multiplier prize.
Straight number wagers are awarded the total multiplier prize.
Bets in Mega Fire Blaze Roulette
Available wagers in this release can be split into two categories: outside bets and inside bets. Outside wagers are low-risk bets that cover a large portion of numbers at once. There are two types of outside bet. First up are even money bets. They cover eighteen out of the thirty-seven available positions. These bets are 1/18-19/36, Odd/Even, and Red/Black. Each one pays 1:1, or even money when won. Other outside bets include column and dozen wagers. They cover twelve numbers and pay 2:1 when won.
The remaining wagers in this Playtech release are inside bets. These stakes cover fewer numbers but pay better to offset the risk. You can find these bets, how many numbers they cover as well as how much they pay listed below.
Line bet covers six numbers, pays 4:1
Corner bet covers four numbers, pay 6.5:1
Street bet covers three numbers, pays 9:1
Split bet covers two numbers, pays 14:1
Straight up bet covers one number, pays 29:1
Experienced roulette players will know these payouts are lower than European Roulette's are. This is because the game can boost the payouts of all five inside bets using the multiplier. If you play the straight number bet, you can get a 9999:1 reward. You cannot get a bigger win than this! Additionally, Mega Fire Blaze Roulette is capped to a maximum payout of €500,000.
Closing Thoughts
The concept of roulette wheel with multipliers is nothing new. However, Playtech goes one step further when designing this release. Multipliers are not awarded randomly but are unlocked using a special feature. Additionally, you can now use all inside bets to trigger the bonus instead of just playing straight up numbers.
Not only is the bonus easier to unlock, it is also more fun to play. It shows the developer has iterated on Quantum Roulette, and worked hard to improve it. If you enjoyed Playtech's previous multiplier roulette wheel, you have to try this one, too.