With temperatures that soar to 110 degrees Fahrenheit (43 degrees Celsius) or more during the summer, it's not an exaggeration to say that Las Vegas can get uncomfortably hot during the summer months. Locals will lament that "it's a dry heat," but the truth is that once you go over 100 degrees, humid or not, hot is hot. And Las Vegas is Hot with a capital H.
The obvious remedy to this, of course, is to stay inside the casinos. Las Vegas casinos have air conditioners that blast around the clock (and at almost sweater weather-like temperatures). Plus, casinos have practically refined the pool scene to an art form, providing guests with day clubs, swim-up bars and poolside blackjack. Basically, they've made it possible to never have to get out of the cool water or venture too far from the protective AC if you don't want to.
But if you're itching to explore beyond the casino walls, here are a list of activities that are fun yet won't cause you to break a sweat.
Mt. Charleston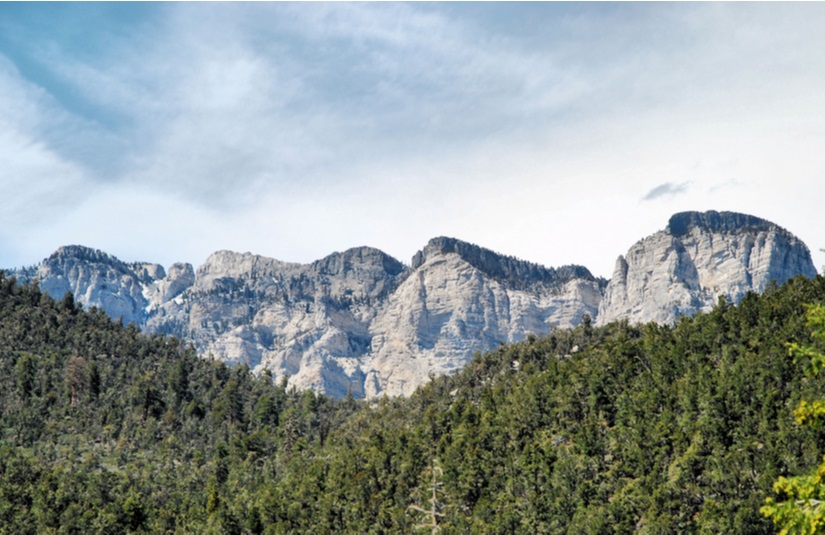 Mt Charleston is only an hour outside of Las Vegas, but remains one of Southern Nevada's best-kept secrets. The scenery is spectacular and looks nothing like the surrounding desert (we're talking thick forests, snow-capped mountain peaks and actual wildlife). In the winter, the mountain serves as a local ski resort, but during the summer, it's a great (and really, the only) place to go hiking and camping. Because most of the hiking trails start at over 6,000 feet above sea level, the temperatures tend to be about 30 degrees cooler than anywhere in the city. In total, there are 60 miles of hiking trails, culminating in a nearly 12,000-foot Charleston Peak. If hiking isn't your thing, however, you can still enjoy a drive through the mountain and lunch at the Mt Charleston Lodge.
2. minus5° Ice Experience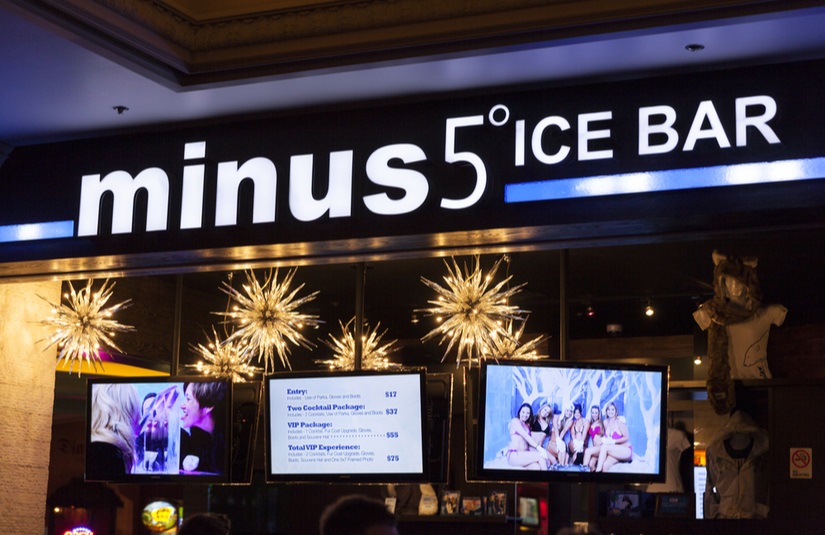 If you want to cool off fast, the minus5° Ice Experience can help—just enter the bar, grab a frozen cocktail and sit on a block of ice (yep, you read that right). Everything at minus5° is made of ice, including all the furniture, the bar and even the cups. The bar even has interactive ice sculptures. It's gimmicky for sure, but there's something cool (no pun intended) about being able to tell friends you drank in an igloo in the middle of the desert. Or at the very least, it makes for a fun souvenir selfie.
The minus5° Ice Experience has three locations in Las Vegas: The Venetian, Mandalay Bay and the LINQ Promenade.
Wet 'n' Wild and Cowabunga Bay
One of the most efficient ways to beat the desert heat is by jumping (or sliding) into a pool, and at one of Southern Nevada's two water parks, you can do both.
The two water-themed amusement parks—Wet 'n' Wild and Cowabunga Bay—both offer water slides, raft rides, wave pools, winding rivers, splash pads and several dining options. The only notable differences being that Wet 'n' Wild has more slides (over 25 slides in total) while Cowabunga Bay has a more intense wave pool and a lengthier lazy river. Some report Cowabunga Bay is better the choice if you have kids under age 10 in tow.
Both Wet 'n' Wild and Cowabunga Bay are located about 25 minutes from the Strip.
Miracle Mile Shops at Planet Hollywood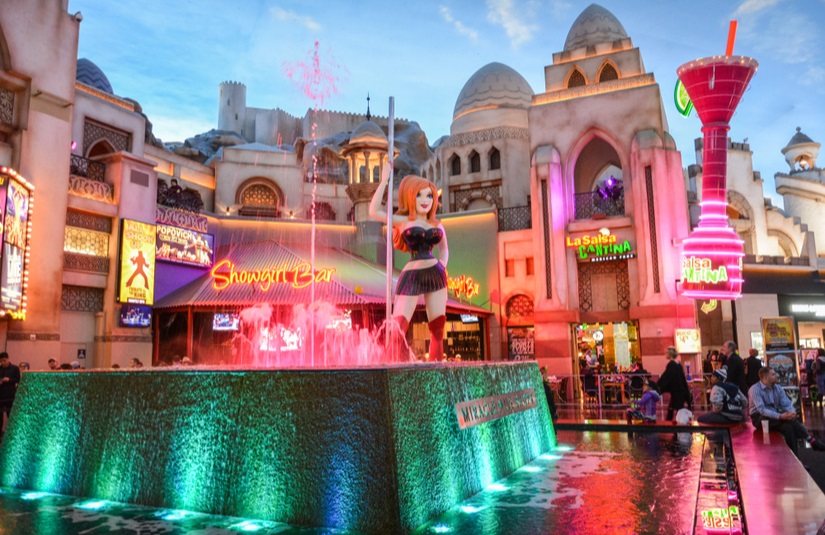 If you're looking to soak in the AC, the Miracle Mile Shops is the place to go. Not only is the shopping plaza a mile long, but with 170 stores and 15 restaurants, there's no shortage of shopping or dining options. The Shops are conveniently located on the Strip, bordering the Planet Hollywood Resort and Casino, so you won't have to travel far to get there.
While you're window shopping, pop in for a drink at the Tipsy Robot—a bar staffed entirely by a robotic bartender. How it works is this: Select a drink from the menu (or design your own) using the bar's app and then wait while a robotic arm mixes and serves you your drink. It's kitschy for sure, but that's party of the fun.
You can also check out the Shops' fountain show, which features shooting water, fog, music and more. You can find it in front the V Theatre.
Forum Shops
The Forum Shops is more than just a mall. With a color changing ceiling, Roman architecture, talking statues and a fire and water show, it's a Las Vegas an attraction onto itself.
But perhaps most impressive is the 50,000-gallon aquarium that features more than 100 species of aquatic animals, including string rays, puffer fish and more. The aquarium is free and so is below-the-scenes tour, offered most weekdays at 3:15 p.m.
And then, of course, there are the stores themselves—a mixture of high-end retailers like Versace and Louis Vuitton as well as mall mainstays like the Gap and Nike.
Mob Museum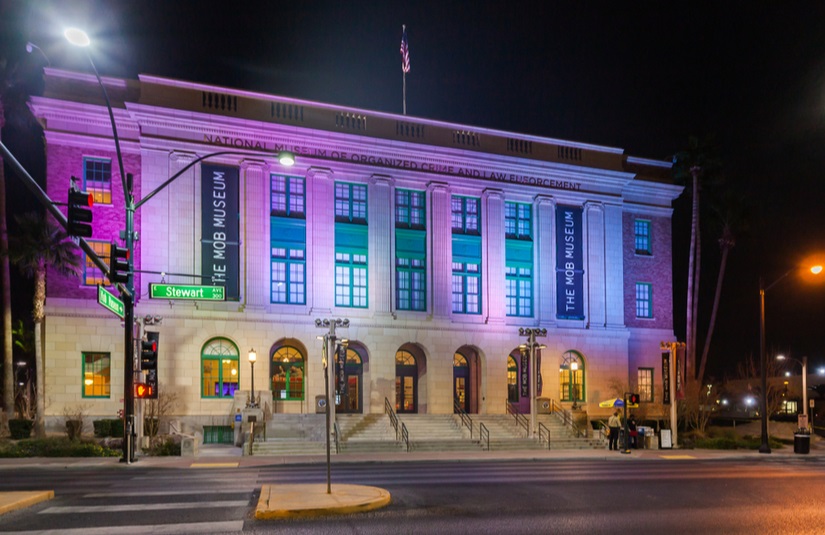 Las Vegas may not be known for its museums, but believe it or not, it actually has several that are outstanding, including The Atomic Testing Museum and the Nevada State Museum. Some of its more popular museums, however, are outdoors, such as the Neon Museum, or are small, such as the Bellagio Gallery of Fine Art, making them not great choices if you're looking to maximize your cool-off time.
But the Mob Museum is the ideal place visit if you're looking to escape the heat because first of all, it's large. The 41,000-square-foot, three-story exhibit space is located inside the refurbished Las Vegas courthouse—the same courthouse that held actual mob trials in the 1950s. It's one of the city's last remaining historical buildings. And second of all, the museum is crammed with a ton of fascinating interactive exhibits, including an FBI firearms training simulator and a crime lab. You can easily spend several hours combing through artifacts from famous mobsters like Al Capone and Tony Spilotro or watching high-tech theatrical presentations of the history of the mob in Las Vegas and around the world.
The museum also has a speakeasy in the basement, aptly named The Underground. There you can enjoy a Prohibition-era cocktail, and, if you go in the evening, you may catch a live jazz performance.
Lake Mead National Recreation Area
As far as water attractions go in Las Vegas, The Hoover Dam gets most of the attention. But Lake Mead is equally impressive, especially if you're looking for somewhere to go swimming or boating. The Lake Mead National Recreation Area is 1.5 million acres (twice the size of Rhode Island). Lake Mead is also the 16th largest manmade lake in the world.
You can drive up and down the 820 miles of shoreline, but if you're feeling adventurous, one of the best ways to explore the lake is by boat. Boat, kayak and Jet Ski rentals are available at the marinas or you can book a sunset cruise on an old fashioned three-level paddle boat.
The best part about Lake Mead is that it's located just 30 minutes from the Strip, so you can easily go for an early morning swim or tour and be back to the air conditioned casinos by lunch time.
Area 15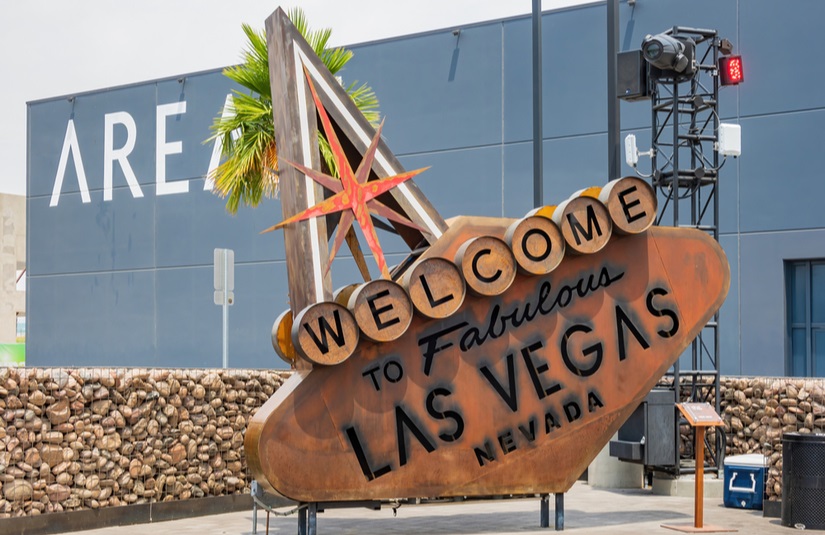 Area 15 is the latest attraction to open in Las Vegas (it opened in late 2020) and it's generating a lot of buzz. Describing Area 15 can be tricky, however, as it's part interactive art museum, part shopping and dining plaza and part wacky playground. It also has serves alcohol. But the good news for summertime visitors is that it's mostly located indoors—in a massive, 200,000-square-foot warehouse across from the Strip.
Some of the things you can do at Area 15 include: Axe throwing, VR, golf simulation and hang gliding. But the most popular attractions are the interactive art exhibits, which include an immersive Van Gogh exhibit and the psychedelic performance art experience Meow Wolf, among others.
Area 15 is worth a visit if you're interested in quirky art or are simply looking for something unique to do. Area 15 is open until midnight on weekdays and 2 a.m. on weekends.