It wasn't that long ago that hoards of people began shouting on forums and blogs about the celebrity status of Bitcoin and how it was going to be the greatest currency-alternative on the planet … yet despite it's infamous peak at nearly £15,000 at the start of 2018 and subsequent recover to around £9,300 in the summer of 2019, it hasn't really impressed as much as the hype suggested it might.
Now we aren't here to dismiss the value of e-currencies, nor to deny the fact that when global currencies show negative signs, that the crypto space isn't as lucrative a market space as Gold or Silver; but we would be remiss to say that the instability of the currency was far beyond almost any natural volatility one might expect in the mainstream currency arena.
But what we are here to determine is whether the numerous casinos promoting bitcoin as a currency are lucrative enough to take up on their bonus offers, or whether the risk of the currency far outweighed the rewards that could be won. Today that price of Bitcoin is sitting around £6,100, meaning that if you deposited £50 at one of the sites, you would be using around 0.0082BTC. The potential to win at a casino is every bit as possible as if you were choosing to play at any number of other real money online casino sites, however the value of your e-wallet is what may take a hit. Imagine you staked £50 on the Roulette table and your number came up – leaving you with £1,800 or 0.29BTC.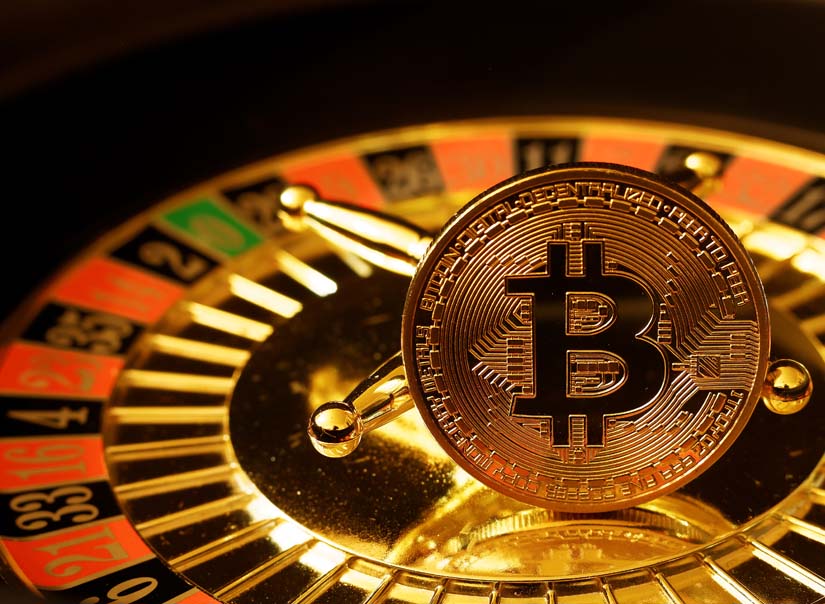 In reality, this seems like a fantastic example, one that many of you may understand the appeal of, but what happens if during your play, the price of 1BTC nosedived. While you might have celebrated your £1,800 windfall, you might go to cash out only to find out that it is now worth £1500. So who's to blame and what could you do about it? Well the answer, while distressing, is simple – nothing. When you make a deposit, you buy into the currency and not the security of a standard currency e-wallet, meaning you are every bit as vulnerable as the currency traders themselves.
Of course, the opposite might happen as well, your £1,800 might suddenly become £2,100 at the time of withdrawal, meaning you get the chance to celebrate a double victory, however here comes the catch. Firstly, will you more than likely find that the casino has 'fixed' the price of the BTC at whatever you bought in at when they are obligated to pay you a higher fee, or better yet, in order to transfer it back out – you are liable for multiple fees.
So what is the answer? The fact of the matter is that Bitcoin casinos are every bit as enjoyable as the standard online gambling sites you find when you trawl the web, but until the currency becomes more regulated or stabilises itself to not be as jumpy in terms of its' value – this year alone has seen highs of £8,000 and lows or £3,800 – it would be foolish to think that any Bitcoin casino can offer the level of financial security that a typical casino could do. Having said that – 2020 seems to be a very different year to all others – so there's no telling what might happen in a few months time.