For decades Las Vegas has been known as a top destination for casinos, bars and deliciously over-the-top variety shows. But recently the Entertainment Capital of the World has become known for its dining options as well. With over 2,300 restaurants, several of which have Michelin stars, Las Vegas easily ranks among the top foodie destinations on the planet. While dining out in Vegas is far from cheap (99 cent shrimp cocktails and all-you-can-eat buffets are, for the most part, a thing of the past), the city's restaurant options are as unique and varied as more cosmopolitan foodie hubs like New York or Los Angeles.
This has drawn the eye of many notable influencers in the food scene, including a number of famous chefs. Las Vegas is now home to more than 50 celebrity chef restaurants—a number that continues to grow every year. The following are several of the most popular, organized according to location.
Mandalay Bay
1. Aureole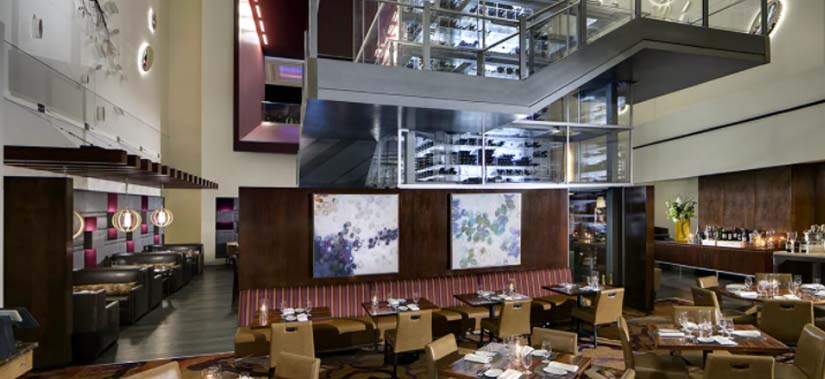 Aureole is the brainchild of chef Charlie Palmer, winner of the James Beard Foundation Award for "Best Chef in America." Aureole serves "New American" cuisine; dishes like the popular grilled swordfish and seared foi gras. Chef Palmer also designed a clever "parallel" menu, which allows guests to try a single flavor prepared in two distinctly different ways, as well as a fresh market menu, which offers meals made with seasonal ingredients.
What Aureole is most known for, however, cannot be found on a menu. The four-story tall wine tower is the restaurant's biggest draw. Guests who order a bottle can watch as one of the restaurant's high-flying "wine angels" is dispatched via a pulley system to "fly" to the top of the tower and retrieve the wine. It makes for interesting tableside entertainment.
2. Libertine Social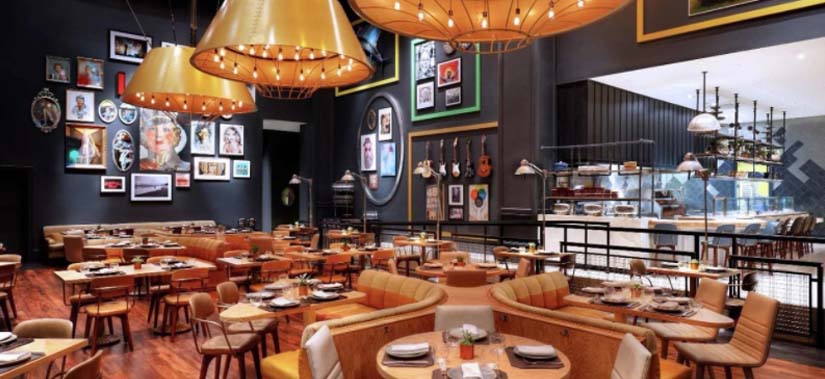 Libertine Social showcases the talents of "Iron Chef America" and James Beard Award winner Shawn McClain. Libertine Social is McClain's second Las Vegas restaurant (Sage at ARIA was his first). Libertine Social's menu was also designed by mixologist Tony Abou-Ganim, making the restaurant a great place to enjoy an early evening cocktail.
Guests rave about the rosewood wagyu skirt steak, which is served with chimichurri, salsa verde and grilled shishitos. The Basque style cheesecake with strawberries and graham crumble is also popular.
MGM Grand
3. Emeril's New Orleans Fish House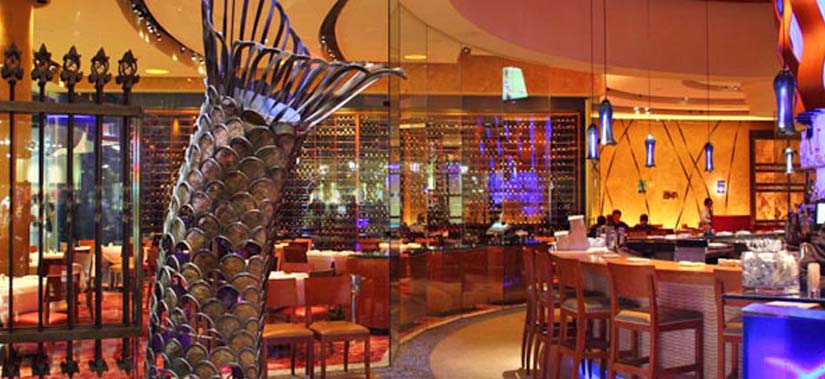 Emeril's New Orleans Fish House was created by Chef Emeril Lagasse and features many New Orleans cuisine mainstays, such as seafood and Andouille sausage gumbo, BBQ shrimp, po boy sandwiches and creole-spiced French fries.
Emeril's also has a raw bar, which offers freshly shucked shellfish, crab remoulade, and shrimp cocktail. For the adventurous eater, there's also fried Florida frog legs and slow braised alligator meatballs. Emeril's has a casual and airy feel, which makes it a fun choice for those looking to avoid formal dining.
Sahara Las Vegas
4. Bazaar Meat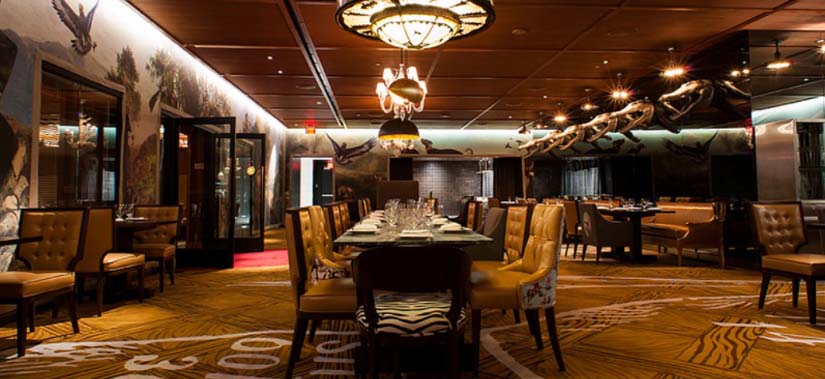 Bazaar Meat features a menu designed by Chef Jose Andres and showcases a variety of traditional Spanish fare, from Mediterranean muscles and sea urchins to seared quail and oxtail as well as more unique concoctions, such as a cotton candy foie gras appetizer.
The desserts and specialty cocktails are also delicious, such as the Salt Air Margarita (Milagro tequila, Combier, lime, topped with salt air).
Park MGM
5. Best Friend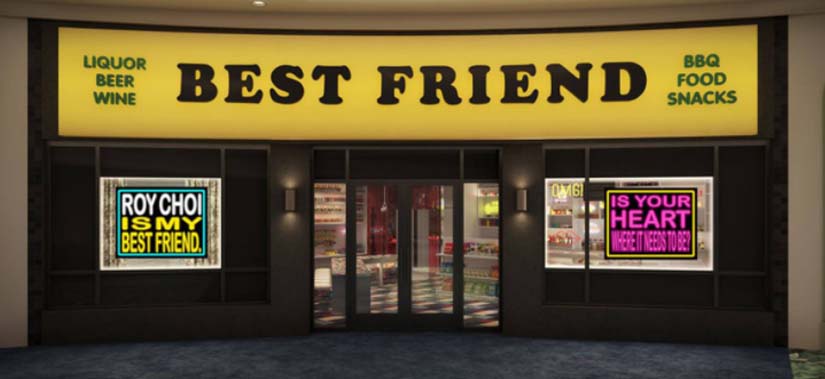 Best Friend is a quirky Park MGM restaurant designed by Chef Roy Choi, star of Netflix's "The Chef Show." While the entrance of Best Friend more closely resembles a 1990s Los Angeles liquor store than a fancy Las Vegas restaurant—you have the neon signs, walk-up bar and merchandise shelves to thank for that—looks can be deceiving. This restaurant and lounge serves a deliciously offbeat Korean-Mexican-fusion cuisine that has won the hearts of many a food critic.
The kogi short rib tacos are popular as is the chili cheese spaghetti.
The Venetian
6. Bouchon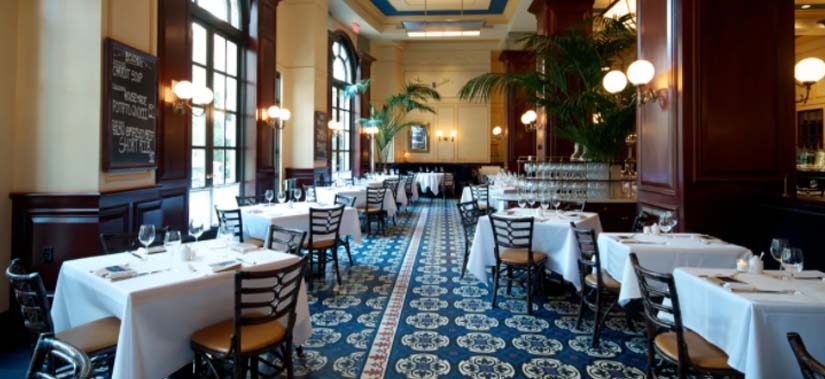 Bouchon belongs to Chef Thomas Keller. Keller is probably best known for the Napa Valley restaurant The French Laundry, which earned him the title of "Best California Chef." Time Magazine also named him "America's Best Chef."
Bouchon is a Lyonnaise-style French bistro that serves classic French bistro fare, including steak frites, quiche and boudin noir. The restaurant offers a high-class atmosphere with velvet seating, a mosaic floor and a hand-painted mural by French artist Paulin Paris.
The Cromwell
7. Giada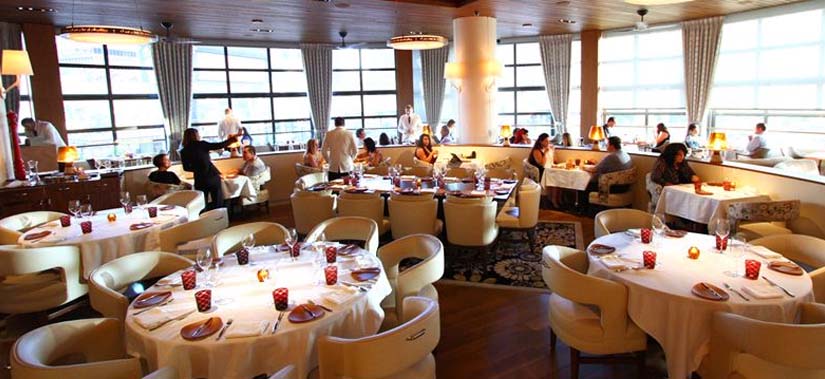 Like the name suggestions, Giada is the creation of Chef Giada De Laurentiis, (of Food Network fame). Giada serves "California-influenced" Italian food, such as lemon spaghetti and Italian fried chicken. The marsala herb chicken meatballs and vegetable Bolognese rigatoni are especially tasty.
Chef De Laurentiis also opened a second restaurant, Pronto by Giada. Like Giada, Pronto serves Italian food, but in a fast casual environment (think coffee shop). Pronto by Giada is at Ceasars Palace.
The LINQ
8. Guy Fieri's Vegas Kitchen & Bar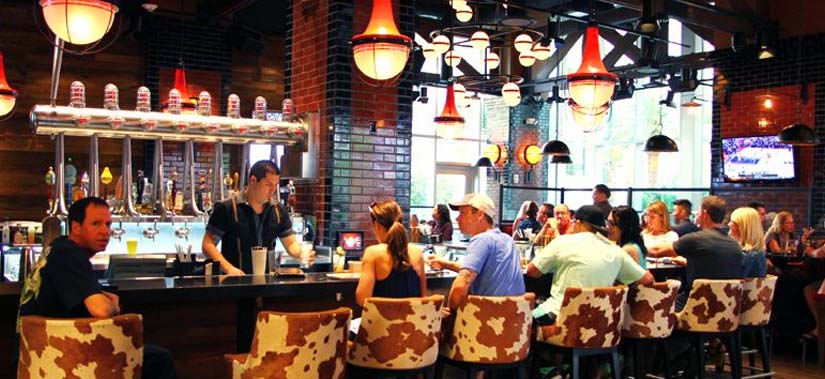 Chef Guy Fieri is one of the most well known chefs on this list, thanks the popularity of his TV show "Diners Drive-ins and Dives." Fieri specializes in tasty junk food with a twist; a fact he doesn't shy away from (case in point: one of the items on his menu is called "Trashcan Nachos.").
Guy Fieri's is a good choice for those looking to nosh on some finger-lickin' classic American food, as the menu features hangover favorites like wings, tacos and gigantic Bloody Mary's. The food has racked up the accolades over the years, too. For example, the bacon mac and cheeseburger took home the top prize at Burger Bash in New York City. Fieri's Vegas fries (fries tossed in Buffalo sauce and topped with shaved blue cheese, carrots and celery) are also popular.
Fun fact: Guy Fieri went to school in Las Vegas. He graduated from the University of Nevada Las Vegas (UNLV).
Caesars Palace
9. Hell's Kitchen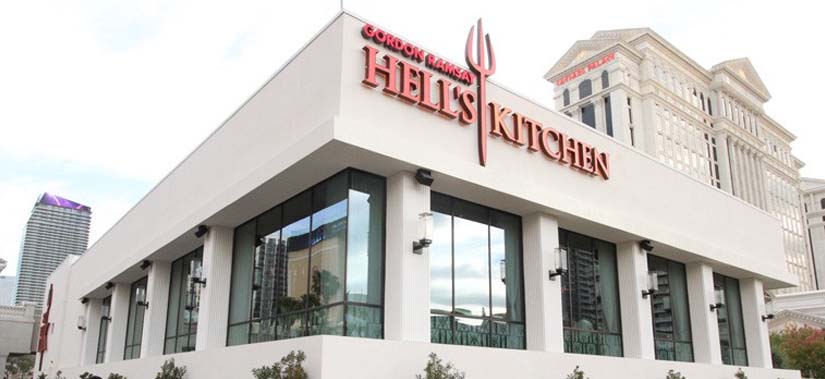 Hell's Kitchen presents a menu created by none other than Las Vegas legend Gordon Ramsey. Chef Ramsey is the reportedly the richest chef in the world and he has five restaurants in Las Vegas, but Hell's Kitchen is arguably his most popular. Every week the restaurant showcases favorites from the latest episode of the TV show Hell's Kitchen, which was the inspiration for the restaurant's menu and esthetic.
Dinner entrees include the beef wellington (with potato puree, glazed root vegetables and a red wine demi-glace) and the crispy skin salmon (with warm white beans, seabean salad, iberico chorizo and a citrus beurre blanc).
10. Nobu
Nobu likely needs no introduction, as the restaurant chain helmed by Chef Nobu Matsuhisa is known the world over for its high-end and exquisitely prepared Japanese cuisine.
Nobu Las Vegas is notable for its unique decor. Lining the restaurant's exterior are giant curved bamboo structures made to resemble traditional Japanese baskets and hanging from the ceiling are light fixtures made to look like Japanese tea whisks. These one-of-a-kind touches go a long way to creating a cozy yet elegant environment.
One of Nobu's signature menu items is the platter of whitefish, clam and scallops, which is served with a block of Himalayan pink sea salt. Also popular are the black cod with miso, the Chilean sea bass with balsamic teriyaki, the squid pasta and the creamy spicy crab.
11. Guy Savoy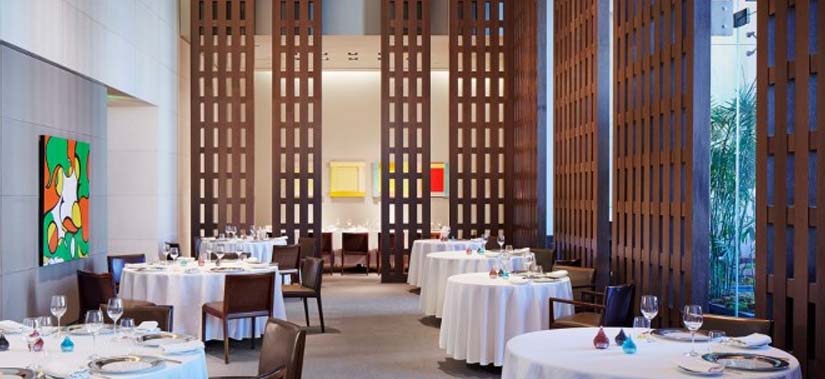 Guy Savoy has the distinction of being Chef Guy Savoy's only US restaurant. Savoy's flagship restaurant in Paris has three Michelin stars and La Liste named it the "Best Restaurant in the World."
Guy Savoy's talent lies in his ability to take elaborate French dishes and simplify them in creative and delicious ways, like the artichoke and black truffle soup, for example, or the New Zealand lamb with asparagus. All of the desserts are light and not overly sugary, so as not to overwhelm. The creamy chocolate fondant is addicting.
12. Mesa Grill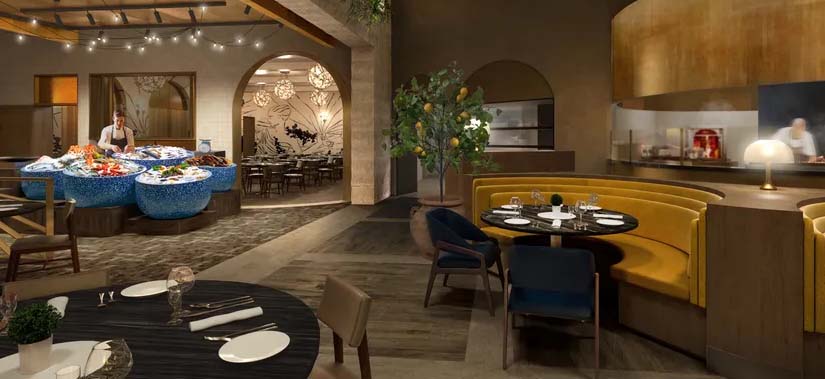 Mesa Grill, the vision of Chef Bobby Fley, showcases Southwestern cuisine with a twist, such as the blue corn pancakes (served with barbequed duck and habanero chili sauce) or rotisserie filet mignon (seasoned with a coffee rub and served with wild mushroom-ancho chile sauce and green chile corn pudding).
Everything at Mesa Grill features bold flavors, including the desert. The chocolate espresso layer cake with toffee sauce and rich espresso butter cream strikes the perfect balance between sweet and unexpected.
The Bellagio
13. Michael Mina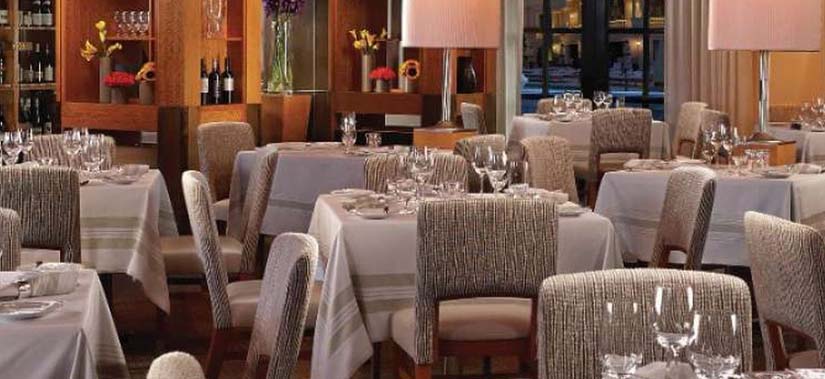 Chef Michael Mina is a James Beard-winner and the celebrity chef behind the popular Strip-side seafood restaurant Michael Mina. The menu includes seafood prepared in culinary styles from the Mediterranean, France and even Japan.
The foie gras, which is carved tableside, and the steak with creamy mashed potatoes, are both delicious choices. The foie gras peanut butter and jelly sandwich is a surprisingly tasty treat for those looking for a more out-of-the-box option.
Michael Mina also offers a stunning view of the Bellagio pool and gardens.
14. Spago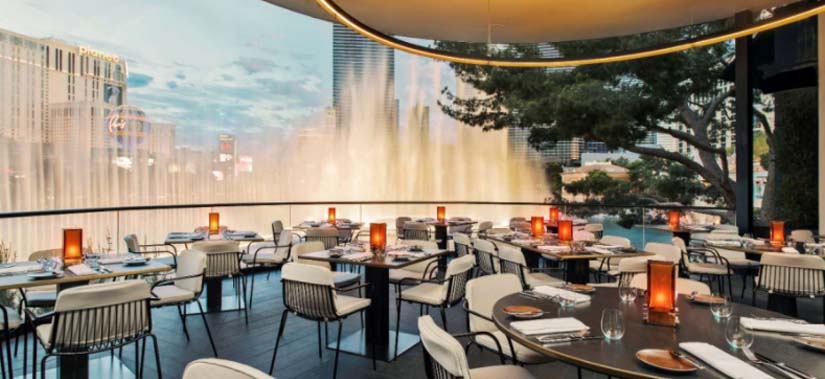 Spago is the creation of Wolfgang Puck, Las Vegas' original celebrity chef. Spago's menu includes Puck's classic California cuisine, inspired by the chef's weekly visits to the Santa Monica Farmer's Market. Expect fresh seafood, handmade pastas and dreamy desserts, like the Spiked Lemon—a chiffon cake served with Japanese Yuzu Cream and Citrus Mousse.
Guests coming for dinner can enjoy the sunset through the floor-to-ceiling glass windows or catch the dancing water show from the restaurant's patio.
The Mirage
15. Tom Colicchio's Heritage Steak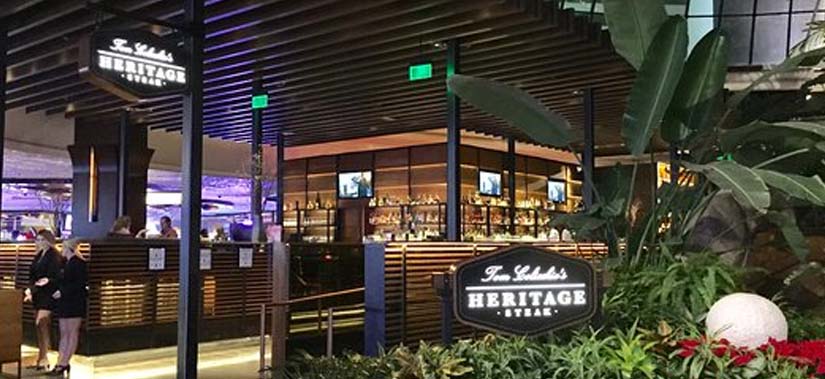 Heritage Steak is the geneses of New York Chef Tom Colicchio (from TV's "Top Chef"). The restaurant prepares all of its steaks over an open flame in both wood-burning ovens and charcoal grills.
Popular menu items include the New York strip steak (served with a pepper chutney Bordelaise) as well as duck breast (served with duck chorizo and smoked peaches). The restaurant has a rustic, natural vibe befitting of a steak house—leather décor and wood-beamed ceilings—and a classy and cozy atmosphere.