Roulette is an ever-popular choice on FOBTs, or Fixed Odds Betting Terminals – the machines you find in your local bookies, pubs and clubs. Players enjoying taking a punt on this classic casino game, with developers doing their level best to ensure a high standard of game design, graphics and gameplay features. 100/1 Roulette is arguably one of the most popular variants, which has made the crossover to the online world.
Playing 100/1 Roulette, as the name implies, gives players the shot at landing wins at a much larger rate than those possible in a standard game version. With the chance to win up to £500 on every single spin, and the potential for a high spin speed for those executing a planned playing strategy, there's plenty of opportunity in this variation of roulette. But how does 100/1 Roulette compare to other standard versions of the game?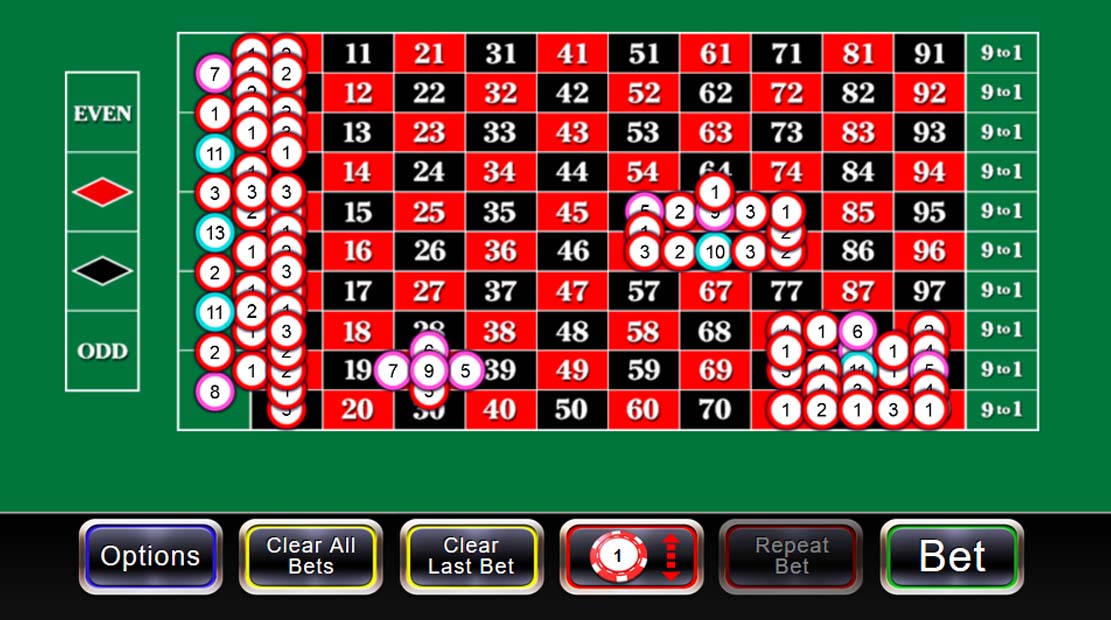 What Is 100/1 Roulette?
100/1 Roulette is similar in many respects to regular European roulette. Yet in others, it is fundamentally different. The first thing you'll notice is that rather than a standard roulette wheel, the game unfolds on a wheel with 105 positions – there are numbers 1-100, plus symbols in the form of circle, square, star, diamond and triangle. While the gameplay is the same, in that players choose their numbers, place their bets and wait for the ball to come to rest in the hope of a payout, this revised wheel makes for an altogether different challenge.
As the name of the game implies, the maximum win available is 100/1, paid for a straight up number. All the same range of bets are available as you'd expect from regular roulette, but with revised payouts taking into account the variable of a different number set. So the avenue bet in this case, for example, covers 15 numbers plus 5 symbols, instead of the normal scope of this type of bet in regular roulette play.
Players can get started betting from just 10p per spin, which opens up 100/1 Roulette to a wide audience of roulette fans. Bets can range to as much as £50 or even £100 per spin, depending on the game settings you choose, and with a 100/1 return on the table, it's not too hard to see how this can add up into a potentially very significant payout.
In addition to the regular bets, you'll also find a number of bets specific to the 100/1 Roulette layout, which are fully detailed in the game's paytable and on the game layout itself. It's worth taking a few minutes to read over this information, so you can best decide how to proceed – from an RTP optimisation point of view, the best bet remains a single, straight up number.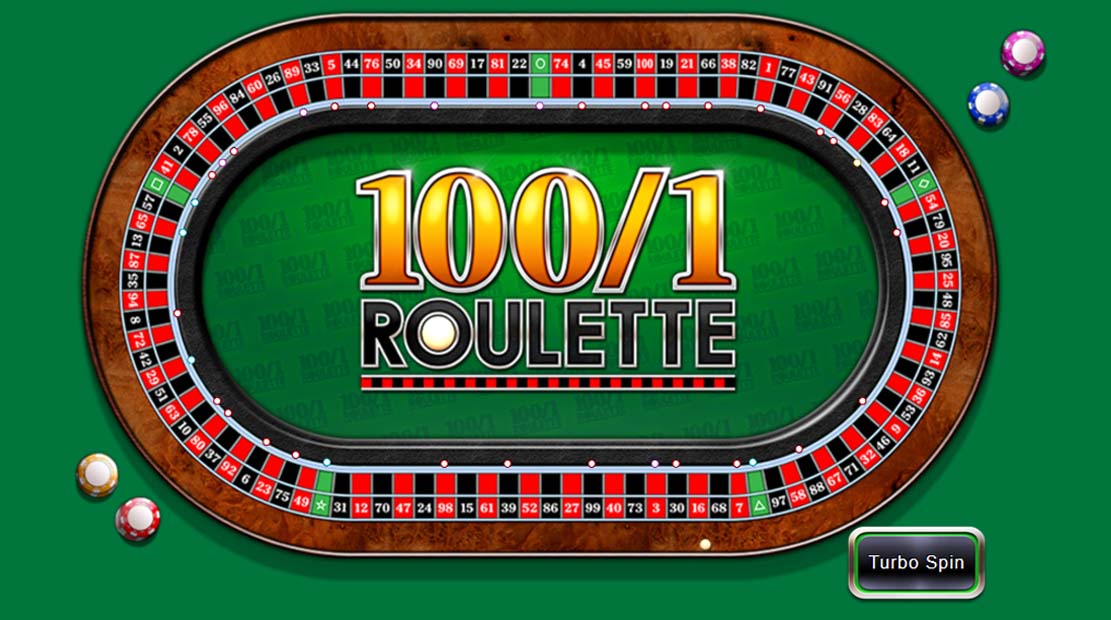 Why Is 100/1 Roulette a Popular Choice?
100/1 Roulette is certainly different to standard variations of the game, while still retaining all the good stuff you know and love from roulette. This has made it an increasingly popular choice with casino gamers looking to mix things up a little.
Perhaps the most obvious advantage here is the higher returns on offer. Land a straight up number and you'll be laughing all the way to the bank with your 100/1 return. Compared to regular roulette, which pays 35/1 for the same outcome, it's clear why so many players prefer this setup.Other players like the challenge of contending with a new roulette layout, including new betting options, which are not available to them in other roulette versions. As a way of mixing up the action and giving you something a bit different to play, 100/1 Roulette does a good job, and rightfully earns its place as roulette version that continues to win over players worldwide.
Downsides to 100/1 Roulette
While the payouts on the table are naturally much better than in a standard roulette game, you should take care to factor in that there are actually more numbers on the wheel than in a standard game. This means that yes, the returns are bigger, but also that the likelihood of landing a straight up winner on a single spin is correspondingly lower.
That doesn't mean you have less of a chance of winning, and the RTP in this game does extend beyond 96% when played with optimum strategy. But it's worth bearing in mind that while the payouts are bigger, the payout event is comparatively less likely, at least in the case of a straight up single number.
Otherwise, the action here is pretty much indistinguishable from your typical European roulette game, and most players will have little difficulty in switching between these two types of roulette.
Play 100/1 Roulette
100/1 Roulette is a refreshing take on a traditional casino favourite, and few could deny that the promise of such big wins isn't a welcome change from the normal roulette experience. Whether you enjoy playing multiple different versions of roulette already, or you heard about the massive returns on offer in this game and want a slice of the action for yourself, 100/1 Roulette is one variant that's not to be missed.
Try it for yourself now and play 100/1 Roulette today.
100/1 Roulette FAQ
How many numbers are on a 100/1 roulette wheel?
There are a total of 105 areas on the 100/1 roulette wheel – numbers include 1 to 100 and 5 symbols comprising of a circle, square, triangle, star and diamond.
What bets can I place playing 100 to 1 roulette?
You can place a straight up bet on a single number paying 100/1, a row bet that pays 9/1 and black-red or high-low paying at 1/1.
Can I play 100/1 roulette for free?
Yes, all casinos offer a demo version of the roulette game, allowing you to test the game out before you decide to play for real money.