When we think of fruit machines today, we often think of elaborate games. Fancy themes with beautiful animations and a massive variety of special features. However, this was not always the case. Fruit machines, also referred to as online slots have a much humbler origin, which dates back to physical machines. These games were much more primitive compared to their current digital counterparts. However, their fun simplicity made them a blast to play.
As such, the genre of fruit machines has continued to exist even to this day. They may not be as popular, but they have a very strong following. Every so often, software providers will launch a new one for players to enjoy. Still, how do they stack up compared to the games that inspired them? Can you still play all those beloved classics? We look to answer all of these questions in this article.
Can you Play Fruit Machines Online?
Thankfully, plenty of fruit machines can be play from the comforts of your home. Software providers have created many new games. Some are very literal recreations of the fruit machines we loved back in the day. Others take the theme and general idea, but add new things into the mix. Sticky Wilds, free spins and progressive jackpots are just some ideas fruit machines incorporated over the years.
What about older releases? What about slots that were popular in brick-and-mortar casinos, before the internet took over our lives? Some software providers, like IGT, have gone through the effort of porting some of their classics online. However, many casino games never received the same treatment. The best way to find out if the slot you want to play is available online is to google it.
Top Online Fruit Machines
Fortunately, we still have plenty of options when it comes to fruit machines. As such, picking our favourites has been incredibly difficult. Still, we managed to narrow it down to four picks. They are:
Juicy Fruits
Sticky Fruits
Fire Joker
Mega Joker
Do not take this order as us prioritising one over the other. We enjoyed each of these games equally for different reasons. Rather than rush our explanations, we will describe what we like about each game in its own paragraph.
Juicy Fruits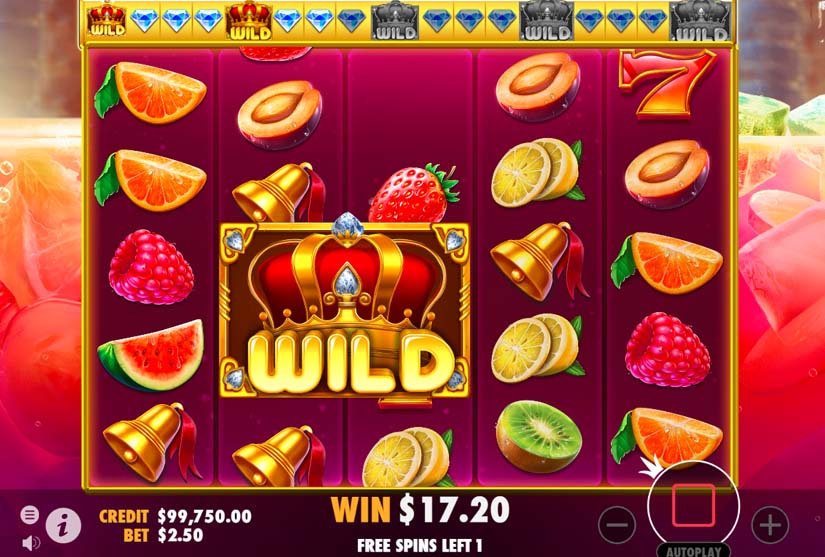 Juicy Fruits is definitely the newest slot in this list. However, its spot is more than well deserved. The visuals are top notch, with a detailed and beautifully animated background image. We all like to indulge in a cocktail or two, which served as inspiration for Pragmatic Play. All the delicious fruits from the reels are found floating in the carbonated drink. It looks gorgeous, which will win over many players.
The game is played on a five-reel, five-row board with fifty fixed paylines. This is a highly volatile release, with an RTP of 96.52%. This is better than the current industry average.
During normal gameplay, Wilds can appear as a 1×1, 2×2, 3×3, 4×4 or a 5×5 symbol. Three or more Scatters awards six free spins. During free spins, a 1×1 Wild is always present on the screen. It moves to a random position with each free spin played. Every third Scatter you collect retriggers the bonus. This grants up to three additional free spins, and increases the size of the Wild. You can also opt into the bonus bet. This increases your wager, but doubles your chances of winning free spins.
Sticky Fruits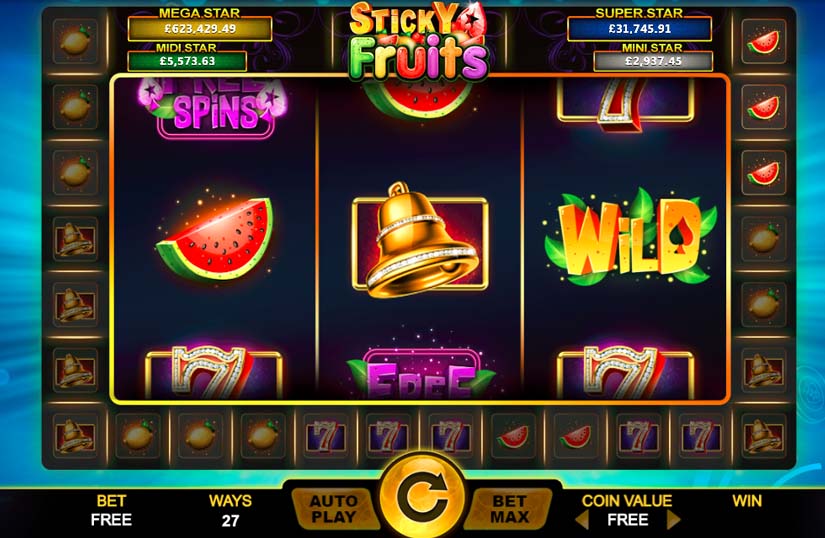 Some casino games launch everywhere to draw players in. Meanwhile, others are exclusive to their respective platform. Such is the case with Sticky Fruits and Sticky Fruits Classic. Both titles are games you can only play at PokerStars casino. While the titles are undeniably fun, that exclusivity will not sit well with everyone. However, what can you expect if you choose to play at PokerStars?
Sticky Fruits Classic and Sticky Fruits are played on a three-reel board with twenty-seven paylines. Their gameplay comes out the same, owing to the free spins and border frame bonuses. However, Sticky Fruits also comes with a set of four progressive jackpots that Sticky Fruits Classic lacks. That means Sticky Fruits has an RTP of 95.09%, and is the better version to play.
Fire Joker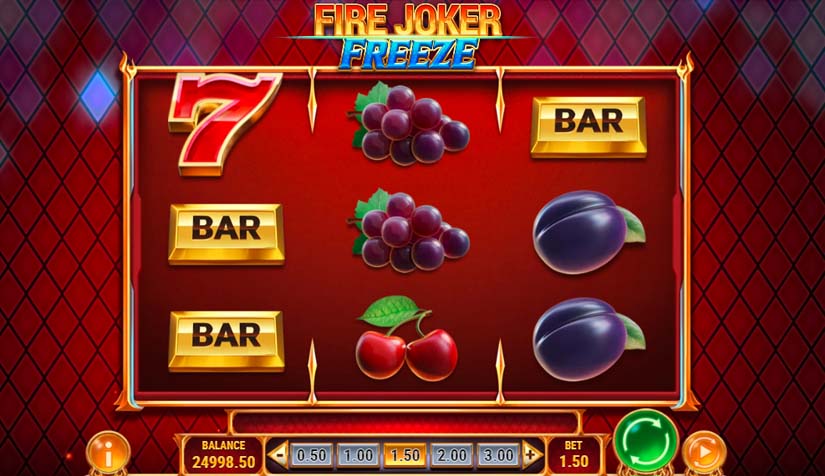 For fans of something a little more traditional, Play'n GO offers Fire Joker. The visuals look nice, but they do not take centre stage like in Juicy Fruits. The slot offers medium variance action with an above average RTP of 96.15%. All of this takes place on a three-reel board with five paylines. Fewer in number than Sticky Fruits, but that just helps make it more authentic.
That does not mean Fire Joker does not have its charms. If two of the three reels hold the same symbols, the third one will re-spin. This increases your odds of forming a win. Under the right circumstances, you can also activate the bonus wheel with multipliers. This allows you to boost your winnings up to 10x.
Mega Joker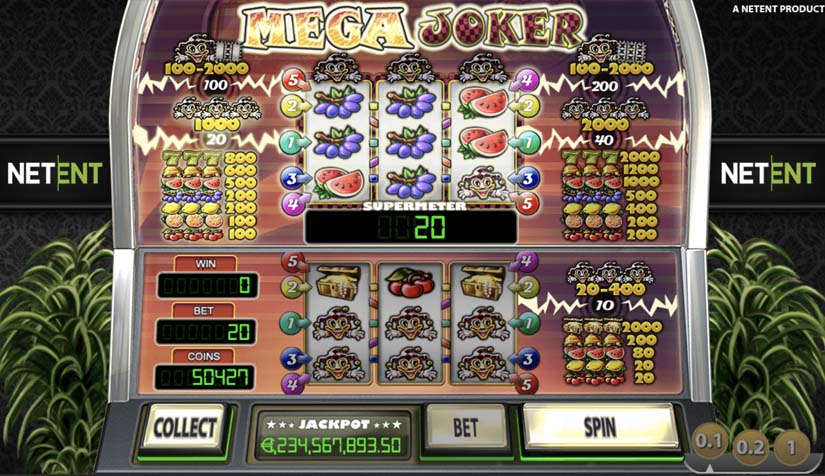 If we are talking about iconic fruit machines, we cannot ignore NetEnt's Mega Joker. This game is as close as genre defining as you can get with online slots. Even its design is reminiscent of the one armed bandits we love to play. The game stands out for two reasons. Some versions of it are configured to offer an RTP as high as 99%! Another area where it stands out is its special feature.
After winning a round, you can collect your winnings or play in Supermeter mode. You can bet different amounts in Supermeter mode. The more you bet, the easier your chances of hitting the mystery win will be. You cannot win more than 2000 coins in Supermeter mode. There is also a progressive jackpot, which can be won randomly on any spin.
Are Fruit Machines Fixed?
Like all other online slots, fruit machines are subject to strict rules and regulations. If you are playing at a licensed casino, the odds of any fruit machine you play being rigged is non-existent due to RNG technology. As such, you can rest assured the games you are playing are not trying to cheat you. Provided you stick to our recommended casinos and games, that is!
Conclusion
If you are a fan of fruit machines, you will be happy to hear they are still going strong. Without the limitations of the real world, some software providers have given them incredible gameplay variety. New special features and reel structures spice up the experience we all know and love. At the same time, some fruit machines stick to the formula their physical counterparts used before. No matter which type of game you like, the world of online casinos has you covered.