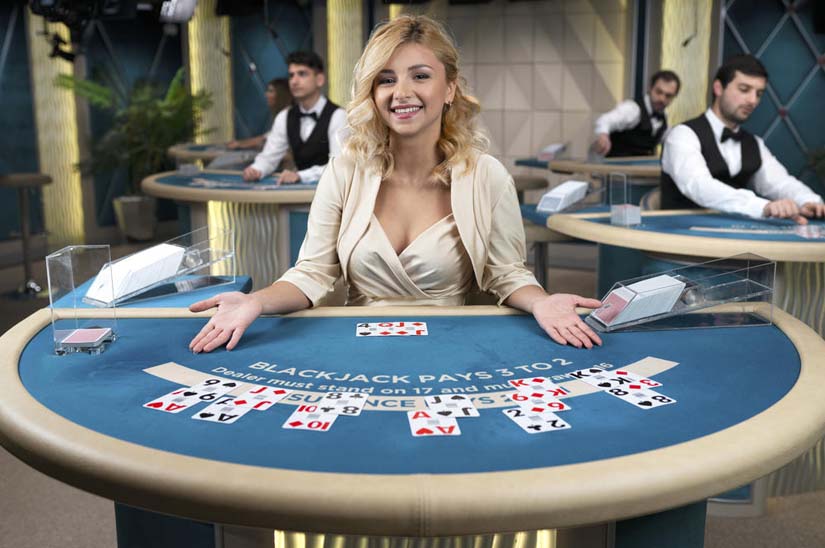 For thrill seekers and casino-enthusiasts alike, the premise of playing Blackjack in an old-school casino is hard to match. The ability to stare down the dealer, to feel immersed in the action and to touch the cards with your own hands can offer an adrenaline drive that few other things can match. So when it comes to the idea of playing Blackjack Online, the 'real feel' can sometimes pale in comparison. But all that can change now thanks to the surging popularity of Live Blackjack, affording you the same interaction you would have at a bricks and mortar casino from the comfort of your own home. But just what is it about playing Live Casino Blackjack that makes it all that different from the bog-standard versions you find at almost every online casino around?
Live Dealer Blackjack Interaction
As we said, one of the greatest thrills in Blackjack is the ability to go face-to-face with the dealer and players, and by playing against a live dealer, you can do just that. In a variety of game formats, you can watch the cards being cut, the live dealer distributing the cards and – more importantly – see their face when you clinch that all important final card. However, the dealer can stand for so much more than a physical opponent … with many versions of Live Blackjack Online offering you the chance to chat and liaise with the dealer and other players, the sense of comradery that you would normally only find in a real casino can finally be emulated in an online platform.
How do you Hit and Stand in Live Blackjack?
While many might be wondering whether you will still be stuck using the simplistic boxes that most online versions are infamous for, Live Blackjack actually offers an alternative to those feeling a little less anti-social than normal. Not only are you able to interact with the dealer through voice and chat, but you can say things like 'Hit' or 'Stand' alongside other verbal instructions, to ensure that your gameplay is as fluid as the real thing. Just remember not to get carried away and lose your edge in a moment of madness.
Live Blackjack on your Mobile
Perhaps the best advantage of choosing to play Blackjack Live is the ability to do it from wherever you are. While this affords you the chance to sign in and have a flutter whenever you want – the limitations many might believe they face due to them playing on their mobile are suprisingly fewer than you think. With the introduction of 5G, lag-free streaming platforms, dedicated mobile casino applications and more, playing Live Blackjack on your mobile has never been more simple.
Are the Rules different to Online Blackjack?
The simple answer is no. While playing live blackjack can offer a new level of immersion and interaction that others can't, the reality is that the same blackjack basic strategy rules still apply and the same house edge is in play at any given time. Having said that – different versions may offer additional side bets and insurances, so be sure to shop around before you make your choice.