It may seem like food trucks are a new trend, but according to the NY Times, street food has been around in one form or another since the 1870s. It wasn't until after the economic downturn in 2008, however, that street food and food trucks became the sought-after gourmet dining experiences they are today. 
Food trucks have become so popular in Las Vegas that several of them have earned national media attention. Though there are hundreds of food trucks slinging everything from hot dogs to lobster at festivals across the Vegas Valley, we've rounded up six of the most popular.
1) Stripchezze Food Truck
Like several of the food trucks on this list, Stripchezze markets itself as a "gourmet food truck," which may seem like an interesting choice considering they specialize in American comfort food commonly found on a kids' menu (grilled cheese sandwiches and mac n' cheese, for example). But this isn't any ordinary macaroni. Stripchezze serves cheesy classics with a twist, like an Asian-style cheese steak or mac & cheese eggrolls with kimchi sauce.
By far the most popular item on the menu is the "Jam on It" sandwich (grilled cheese with bourbon jam, marinated bacon and tomato). The sandwich is the perfect blend of sweet and salty.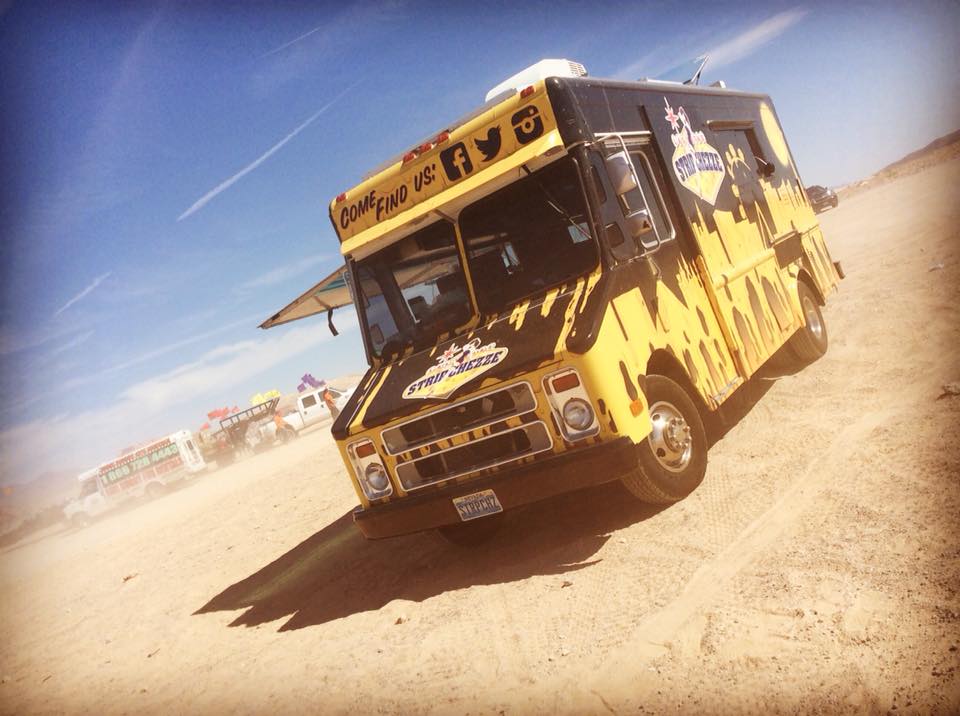 2) Poke Express
Poke Express has been part of the Las Vegas culinary scene since 2010 and includes a food truck and two physical restaurant locations. Poke (Hawaiian for "to slice") is a delicacy first invented in Hawaii in the 1970s. The traditional poke dish includes diced raw fish (yellow-finned tuna is most common), green onions, sesame seed oil and soy sauce. It can also include chili peppers and wasabi, and is commonly served either by itself, over rice or with a salad. It is a mainstay of Hawaiian cuisine but has also become popular across North American, particularly in Las Vegas, which is known as the "9th Hawaiian Island," thanks to the city's large "expatriate" Hawaiian population.
Poke Express was founded and is managed by natives from Hawaii. The food truck's menu features (yep, you guessed it), a variety of poke dishes. Two of their most popular are the Spicy Ahi Poke with Mayo and the Salmon Poke with Sauce (Farmed salmon poke with sweet or citrus sauce).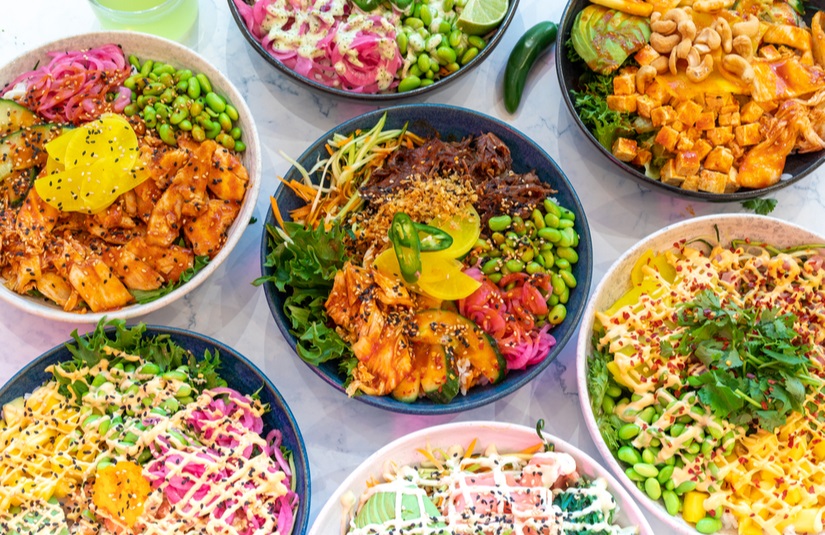 3) The Cookie Bar
​The Cookie Bar sells everything you'd expect from a gourmet dessert-themed food truck and some things you wouldn't—like alcohol-infused cookies and beer brownies. This is Vegas, so perhaps it shouldn't come as a surprise that their menu includes such popular treats as the "Tipsy Velvet" (Red velvet cookies infused with vodka) or the Chocolate Mojito (mint chocolate chip cookie infused with mint Vodka).

The Cookie Bar is a family business run by a mother-daughter team. The duo brings more than 30 years of baking experience to the business and together, they mange three small food trucks. Everything is made from scratch—even the brown sugar.
The most popular items on the menu are the Booze Much (Baked puffed corn coated with rum-infused caramel sauce) and the Oreo Kitchen Sink (Chocolate chip cookie bottom, double stuffed Oreo middle and a homemade chocolate brownie on top).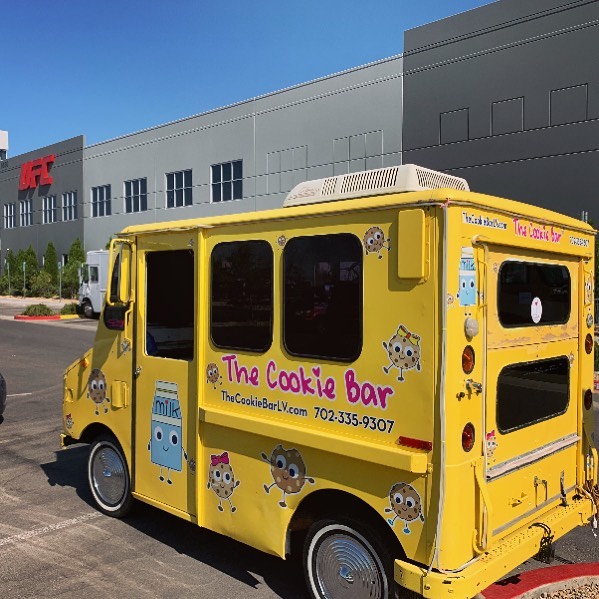 4) Raging Tacos
In a city with no shortage of Mexican food trucks, it can be tough to stand out from the crowd, but Raging Tacos has earned itself top-review status on Yelp, no doubt due to its delicious, fresh food and simple, limited menu. Run by two friends, Raging Tacos specializes in top-tier Mexican street food (or as the owners explain it, traditional Mexican food with a "modern West Coast vibe").

All of the tacos are served on 5.5-inch tortillas, making it possible for one taco to easily serve as an entire meal (they're "girthy" according to the truck's owners).
Two of the most popular menu items are the Carne Asada Taco and the Carne Asada Burrito, both which come with avocado, cheese, pico and beans.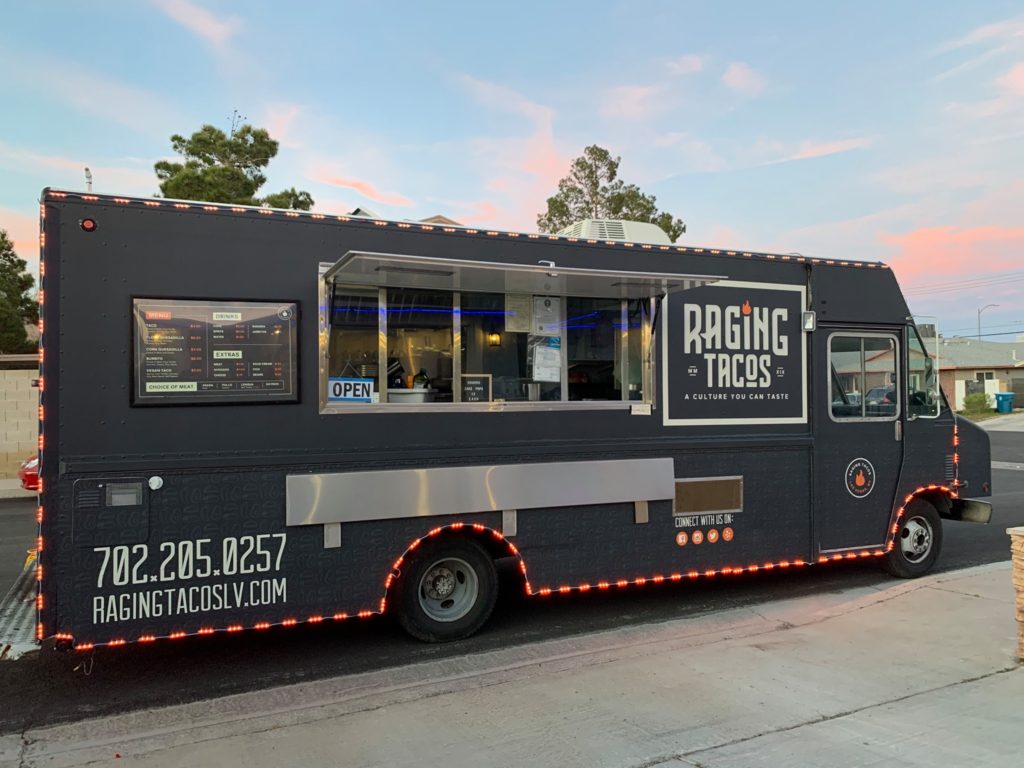 5) Dude Where's My Hotdog
This food truck with the quirky name has become so beloved with Vegas locals, it's not uncommon to have to wait in line. In fact, Dude Where's My Hotdog garnered so much attention, it won a "Best of Las Vegas Award." As the name suggests, the Dude Where's My Hotdog food truck specializes in hot dogs, but not just any ol' sausage in a bun. Their menu features creative items like the Bangkok (an all-beef or tofu hotdog topped with made-from-scratch Thai peanut sauce, cucumber, bell pepper, onion, shredded carrot and cilantro) or lobster tail corndog (deep fried four-ounce lobster tail served with siracha mayo).
One of their most popular dogs is the Nacho Dog (a hotdog topped with tortilla chips, salsa, guacamole, cheese and crema).
6) Cravin' Creole
The Cravin' Creole food truck (or "Mobile Gourmet Restaurant" as they like to be known) serves dishes inspired by classic Louisiana cuisine. The truck's chefs source local, fresh ingredients to make popular southern specialties like Po' Boys, red beans and rice, gumbo and seafood pan roast. All of their dishes are cooked fresh and incorporate certified Cajun/creole seasonings imported from Louisiana for a taste of authentic Cajun cooking.
Must-try dishes include the Gumbo Poutine and the Jambalaya Eggrolls.